You can't 'move the drill' in a pandemic
The death of college football players is almost as old as the sport itself, but it shouldn't be accepted, especially this year
"Move the drill," is a phrase in football that means, when a player gets hurt in practice, you get all the necessary equipment and people, and move them to a different part of the field to make room for the injured player.
You move the drill and the player stays on the ground, where he got hurt, and he'll get medical attention from the trainer.
The rest of the football machine keeps going.
If the risks of a college football season are as bad as the Big Ten and Pac-12's medical advisory groups believe they are, schools can't afford to simply move the drill this fall, taking those who are healthy and marching on.
The first-ever college football national champion(s) were crowned for the 1869 season, when Princeton and Rutgers split a pair of regular-season games. Both have since been retroactively named national champions by the National Championship Foundation.
Twenty-five years later in 1894, there was one of the first-ever recorded deaths of a college football player. "The skull of Harry Knight, a member of the Drexel institute football team, was crushed in a practice game with the university of Pennsylvania at Philadelphia on the 20th," reported the Ashland (Kan.) Weekly Journal, matter-of-factly, six days after Knight's death. "He died in the university soon after."
Thirty-three days later, Georgetown's George Behan was one of three players to die from fatal injuries suffered on Thanksgiving Day. The Democrat and Chronicle of Rochester, New York reported Behan's death on Dec. 10, 1894, in a story headlined, "Manslaughtering Sport":
"The charge is seriously and openly made that the injuries of which young Behan is dying were purposely inflicted by Columbia men, whose object was to weaken the opposing team by compelling Behan's retirement from the game. So this death will be followed, as all deaths caused by injuries received on the gridiron ought to be, by indictments and trials for manslaughter … Three young men killed as the result of one day's foot-ball and more injured or disfigured for life! Considering this record, we feel more than justified in our demand that the game of foot-ball be abolished in this country."
No one tell the Democrat and Chronicle's 19th-century editors that college football is now a multi-billion dollar industry.
While times have changed in many ways, from Rutgers no longer being a national championship contender to the improved safety measures established by rule changes to the modernization of medicine and football helmets, death still lingers as a risk for those who play the sport.
But while the death of college football players is almost as old as the sport itself, it should never be accepted, especially not this year.
At least one player has died in 94 of the 151 seasons in the sport's history, according to Wikipedia's list of American football players who died during their careers. Say what you want about Wikipedia, but be careful because it might only prove to reinforce this point: There's a very good chance that the pre-Internet deaths of some players in the 1800s and early 1900s have been lost to history. The Wikipedia list includes Behan's death after a Thanksgiving Day game in 1894, but not the two other college players who reportedly met the same fate from injuries suffered the same day.
Previously: Athletes, staffers ask for more mental health resources amid budget cuts
To be clear, not all of these deaths – each of them included on a list that's far too long – occurred during practices or games, or from some form of athletic training.
Far from it.
The tragic part is that the "cause of death" column often reads like a summary of CSI: Miami episodes:
"Shot to death on freeway"
"Homicide by shooting"
"Homicide (Stabbed)"
"Drowned"
"Shot during home robbery"
"Struck by drunk motorist while riding bike"
All of those deaths listed above were in 2014, by the way, a year in which 17 college football players died, according to the list.
Maybe all these off-the-field deaths – the shootings, the home invasions, the drownings, the hit-and-runs – illustrate why sports should be played. No, players won't be sent packing from their campus if their team doesn't play this fall, but maybe a regimented practice and competition schedule would prevent additional, outside harm to athletes, many of whom will now have more free time without a formal season, plus less of an incentive to stay inside to quarantine.
Mississippi State running back Kylin Hill, a First Team All-SEC selection last fall, referenced this in a recent tweet, although once again, a fall without football doesn't mean a fall without athletes on campus.
Maybe university presidents, chancellors and athletic directors are damned if they do and damned if they don't, where the likelihood of their athletes being in harm's way or dying is potentially increased regardless if football is or isn't played – just that the potential causes of death would be different in each scenario.
Sadly, suicide is listed as the cause of more than a few deaths on the list of college football players who have passed away. For many players, this might be their first fall without football that they can remember (since they were 9-years-old? Seven? Five?), which is why proper mental health resources for athletes is critical during the school year.
When you look at the football-related deaths of players, especially those who played in the sport's infancy, they often read like someone who died at war.
"Crushed skull during practice game against Penn" (1894)
"Broken vertebrae during game vs. Columbia A.C." (1894)
"Heart attack in game vs. Navy" (1903)
"Typhoid" (1904)
"Internal injuries suffered in a scrimmage" (1910)
"Pneumonia following in-game rib fractures vs. Army" (1912)
"Blood poisoning after in-game leg injury" (1913)
College football, and football in general, has long been compared to war and battle. Perhaps some of this is understandable, given that the last time there was a worldwide pandemic in 1918, military training camps existed at colleges across the country and football rosters were fielded from those camps.
Previously: A John Wooden-era college basketball scheduling model to consider for 2020-21
Sports Reference's Simple Rating System (SRS) metric rates the Great Lakes Navy as the best college football team in the country that season and Mare Island Marines was ranked No. 12, one spot ahead of Notre Dame.
But those football-to-war comparisons have long been played-out. And they're arguably dangerous, too, if taken too literally when considering what is acceptable behavior in coaching, the level of exertion or sacrifice required by athletes, and, potentially, what level of losses are simply considered the cost of doing business.
Former Notre Dame coach Lou Holtz went on Fox News this week and compared playing college football this fall during the pandemic to storming the beaches of Normandy in World War II:
"Let's go play. I think that we shut everything down for six months, I'm going crazy about being quarantined. I think other people are tired of it. Let's move on with our life. When they stormed Normandy, they knew that there were going to be casualties, there's going to be risk."
Where do you even start when someone compares the liberation of Hitler-led Germany's occupation of France, which resulted in roughly 6,600 American soldiers being killed, wounded or missing in action on June 6, 1944 alone, to, say, playing Boston College at noon E.T. in Week 3?
Football was inherently dangerous prior to the pandemic, which has killed more than 165,000 Americans, per the CDC.
A reported 19 football players died from playing football in 1905, including 11 high schoolers and three college players, according to the Chicago Tribune. It got so bad that President Teddy Roosevelt got involved to try to clean up the game. While the number of on-field deaths (or deaths caused by on-field injuries) are thankfully no longer at that level, it's not as if safety measures have completely eradicated death from the sport.
After playing games on a Saturday in September 2017, two players – College of Wooster's Clayton Geib and Midwestern State's Robert Grays – passed away on the following Monday and Tuesday, respectively. Geib said he was ill after playing Ohio Wesleyan and his cause of death was listed as "cerebral edema with brain death, acute respiratory failure with hypoxemia and acute kidney injury," according to The Daily Record, while Grays was injured after making a tackle and later hospitalized.
Neither played at the FBS level, so for many, unfortunately, their names might be reduced to a footnote or an entry in a data table or Excel spreadsheet somewhere, if you've heard of them at all. Because players at bigger schools who die far too early due to football-related injuries might be memorialized somewhere in the sport's lore, with their true legacy potentially being reduced or whitewashed.
The phrase "Win one for the Gipper" comes from former Notre Dame fullback George Gipp, the school's first Walter Camp All-American, who died in his final year playing college football.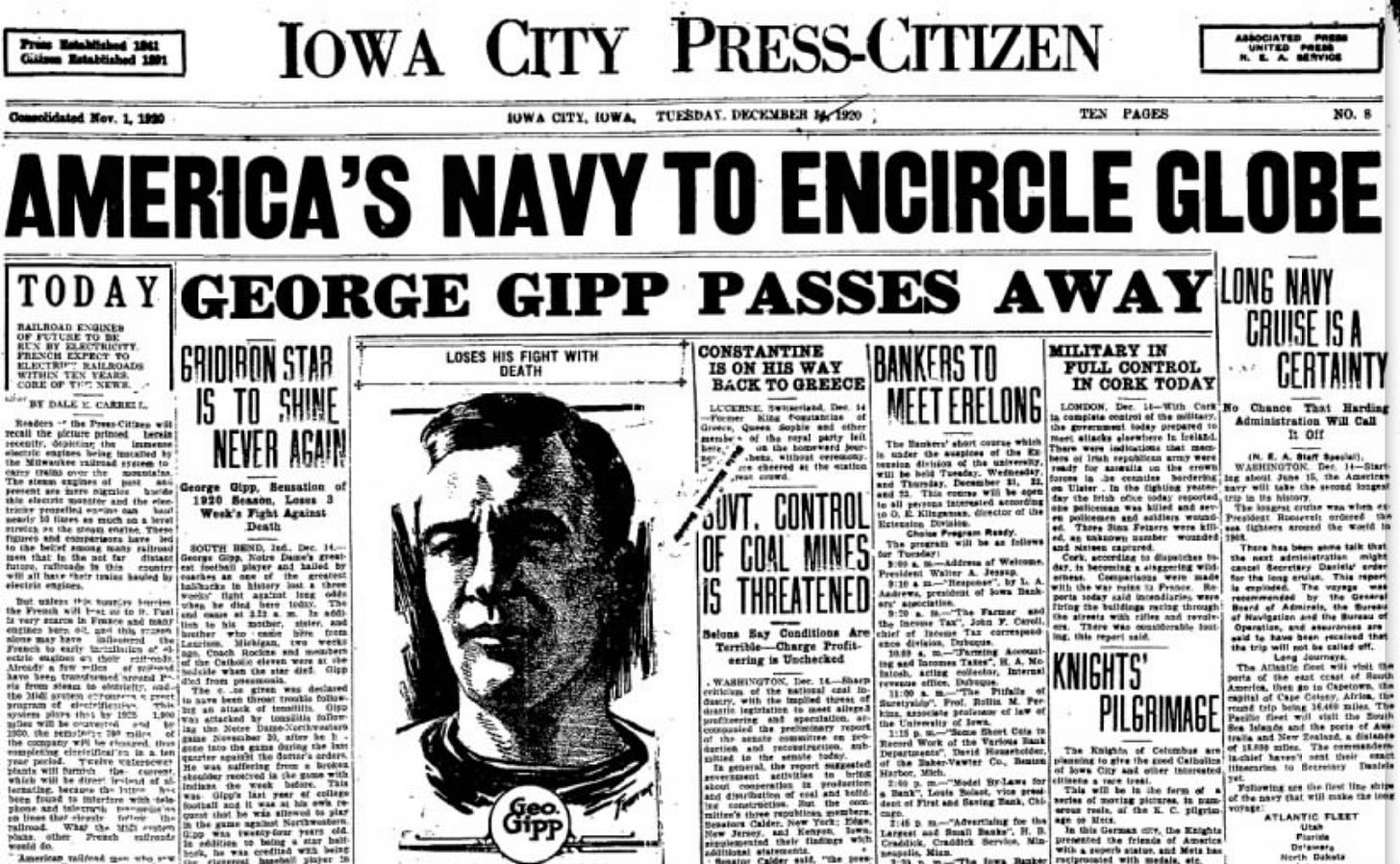 A wire story that ran in the Iowa City Press-Citizen on Dec. 14, 1920 read:
"George Gipp, Notre Dame's greatest football player and hailed by coaches as one of the greatest halfbacks in history lost a three weeks' fight against long odds when he died here today … The cause given was declared to have been throat trouble following an attack of tonsilitis. Gipp was attacked by tonsilitis following the Notre Dame-Northwestern game November 20, after he had gone into the game against the doctor's orders. He was suffering from a broken shoulder received in the game with Indiana the week before. This was Gipp's last year of college football and it was at his own request that he was allowed to play in the game against Northwestern."
A separate wire story cited his family and coach as trying to absolve football of any blame in his death, reporting, "Football will not be blamed for the death of George Gipp according to Coach [Knute] Rockne and relatives of Gipp. His participation in football was neither directly nor indirectly responsible for his death."
A third story said streptococcic throat disease and pneumonia "helped weaken the athlete."
Heck, Iowa State's stadium is named after Jack Trice, who died at 21 years old after suffering internal injuries in a game against Minnesota. Details about the play when Trice was injured are fuzzy at best, as there were conflicting reports about whether he was on offense or defense, whether he had attempted a potentially dangerous roll block, whether he was accidentally stepped on, or whether something much more sinister happened.
Richard Johnson recently wrote a good piece about Trice's career, the disputed circumstances around his death and his legacy:
Many players died in those days, but if conclusive evidence emerged that a player had been killed with intent, it could have started a second great referendum on the sport, 18 years after Roosevelt put his foot down.

The theory of Trice's self-prophesied roll block leads to a confident conclusion that the whole thing was just an accident. This is the result of a century-long game of telephone. If he screwed up a maneuver and got stepped on, then oh shucks, it's just a darn shame. It also boosts the poignancy of his letter, creating an eerie prescience.

And it could have been an accident.

But it also could have been murder.

It is not far-fetched to believe the only Black player on a field in 1923 was targeted. According to many reports, Minnesota players deliberately injured Iowa's Ozzie Simmons 11 years later. They knocked him unconscious as many as three times, forcing him to leave the game by halftime.
The entire sport of football was one governor's signature away from being banned from the state of Georgia in 1897 after 17-year-old Georgia football player Richard Von Albade Gammon died the morning after a head injury suffered in a game against Virginia. The AP reported:
"In October 1897, almost 34 years to the day before Richard B. Sheridan, football player on the 1931 Army team died of hurts received in the game with Yale University, Vonalbade Gammon [sic] playing with the University of Georgia team, was fatally injured. … His death caused state-wide movements for eliminating football from athletics of state-owned institutions. Petitions were signed, legislators were urged to vote for the ban, and finally the General Assembly voted favorable and only the Governor's signature was necessary to make it unlawful to play football at state-owned institutions."
It was later revealed that Von Albade Gammon's mother asked Governor William Yates Atkinson to veto the bill, which he did.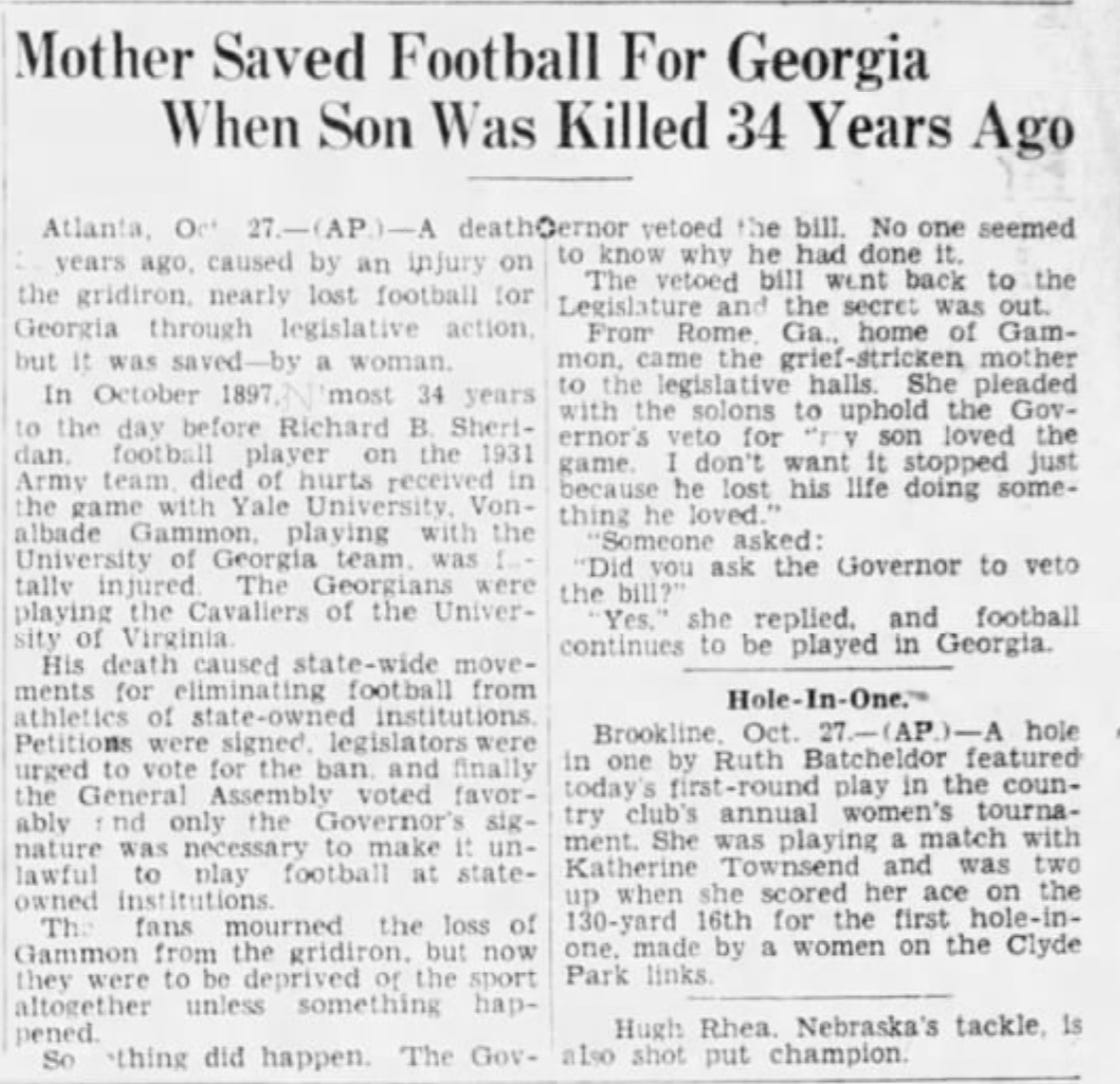 Five college football players died last year – none from on-field injuries or overexertion in practice – but from causes of death including opioid overdose, suicide and homicide, according to the list.
According to Wikipedia, the last year in which a college football player didn't die, for any reason, was 1988. The next year that passes without a football player dying might be the first in a generation, maybe longer.
Previously: A timeline of the University of Minnesota's response to the murder of George Floyd
Sadly, one college football player has already died this year, Toledo's Jahneil Douglas, who was shot and killed in July.
There's no excuse to let this year's death total climb to two because of the virus.
Last month I talked to Dr. Ron Waldman, a professor of global health and infectious diseases expert at George Washington University's Milken Institute School of Public Health and he wondered what it would take for the season to stop, if it starts in the first place:
"Once you get started, what would it take to stop? What do you need to say, 'Well, we can't do this anymore'? Does somebody have to die? Does somebody's grandmother have to die? Does there need to be hospitalizations? Does [it take] a few positive tests? I think that really needs to be specified and thought about seriously beforehand as well because once the train gets out of the station, then it gets a little bit hard to stop until it's too late."
I'm not a doctor and I don't know the details behind how one conference's medical advisory board can get a perspective on COVID-19 that's "sobering," while another's can say, "Yes, we can continue to go forward."
That's not at all to say that everyone in a profession thinks, or should think, the same way. Two college football writers who are voters in the AP Top 25 poll can have vastly different opinions on the same team. Meteorologists from different TV stations can make different analyses about the forecast for the same region.
But this can literally be a life-or-death issue, not whether Minnesota is the No. 8 team in the country or closer to No. 17, or whether Chicago's weather is going to be partly sunny or facing scattered showers.
So all medical advice should be shared and analyzed openly right now, right?
I have no idea which conference's medical advisory group has the best set of data or the best interpretation of the data that's available. Neither do you.
If the perspective of the ACC, Big 12 and SEC's doctors and medical advisors is the best, which currently allows for football to be played, then I wish it was out there in the open for everyone to read and discuss.
If the caution shown by the Big Ten and Pac-12 is a more medically sound approach, then I wish the same.
The history of football is filled with death – from the playing of the sport, to the training for the sport, and simply for being at the wrong place at the wrong time in circumstances that have absolutely nothing to do with football. I would hate for the list of college football players who have died this year to get any longer than it already is – one – for any reason, whether it's due to COVID-19, the result of continued social unrest or racial injustice in the U.S., or untreated mental health concerns that stem from the previously mentioned sport and societal issues.
Whatever decisions are ultimately made by the ACC, Big 12, SEC and the rest of the FBS conferences regarding the fall football season, I hope that they're made with the players' physical and mental health and safety in mind, protecting them from both the virus and violence, because there was already an inherent level of danger, and, frankly, acceptance of death in college football, even before the COVID-19 pandemic, months of social unrest and clashes with law enforcement, and whatever else the last five months of this terrible, turbulent year will bring.
---
Recap of the last newsletter
Click the image below to read the newsletter.

"In the FAU and Illinois surveys, Out of Bounds found that between 15 and 30 percent of fans, depending on the school and the question, said they would no longer plan to attend football games for various health and safety measures this fall, including if there were regulated entrances and exits at the stadium, tailgating not being allowed, their current seat and parking locations being changed due to social distancing, and the marching band not being allowed to play."
Read the full newsletter here.
---
Connect on social media
---
Thank you for reading this edition of Out of Bounds with Andy Wittry. If you enjoyed it, please consider sharing it on social media or sending it to a friend or colleague. Questions, comments and feedback are welcome at andrew.wittry@gmail.com or on Twitter.