Texas A&M found AED pads that had been expired for over eight months
'Without the EAP [Emergency Action Plan] check, she would have been playing games with expired ones.'
One of the factors considered by university and conference administrators, as well as medical advisory groups, over the summer about the ability to hold fall sports was the potential for heart complications from COVID-19, although the weight of those concerns has likely varied from conference to conference.
Out of Bounds has previously reported on the final update from the Pac-12's COVID-19 Advisory Committee before the conference postponed all sports through the end of the year, and the presentation included multiple slides dedicated to potential heart complications. Out of Bounds also spoke with Dr. Michael Ackerman of the Mayo Clinic, who was invited to a Big 12 Zoom call that was held hours after the Big Ten and Pac-12 postponed competition on Aug. 11.
Ackerman told Out of Bounds about the meeting, "I simply gave them a perhaps little bit different perspective, maybe a fresh perspective about the heart and maybe the weight of the heart lessened enough on their balancing scales." The day after the Big 12's Zoom call, Oklahoma State Athletic Director Mike Holder told West Virginia University President Dr. Gordon Gee, "Without you and Dr. Ackerman the Big 12 wouldn't be playing football, or any sports this year."
Whether or not the potential heart complications from COVID-19 was a reason for Big Ten and Pac-12 university presidents and chancellors initially deciding not to play fall sports, it's more important than ever for universities and conferences to make sure their health and safety protocols are in order, especially those that are competing in sports this fall.
An automated external defibrillator, or AED, is "used to help those experiencing sudden cardiac arrest," according to the American Red Cross. "It's a sophisticated, yet easy-to-use, medical device that can analyze the heart's rhythm and, if necessary, deliver an electrical shock, or defibrillation, to help the heart re-establish an effective rhythm." AEDs include pads, which are placed on a patient's chest "to monitor heart rhythm and provide a shock if needed," per AED.com.
According to emails obtained by Out of Bounds, a member of Texas A&M's athletic department discovered on Aug. 7 that the Cardiac Science AED pads located outside of the university's soccer building had expired at the end of November. Soccer is considered a high-risk sport by the SEC, along with basketball, football and volleyball, and the Aggies' first soccer game of the season is scheduled for Saturday, Sept. 19 at Ole Miss.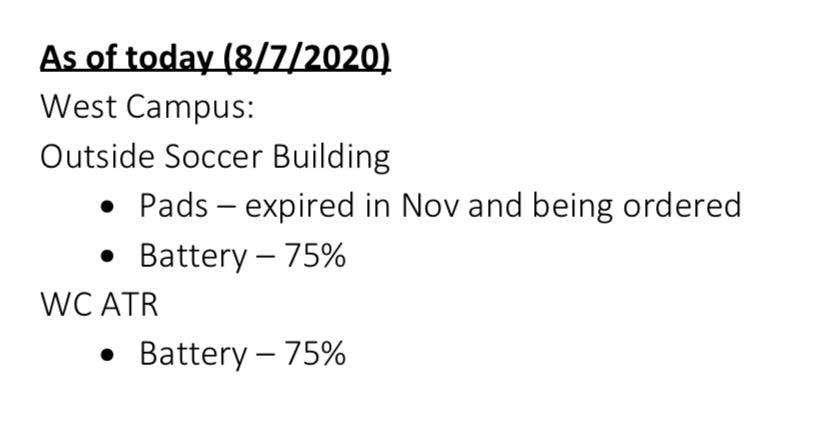 According to AED Brands, "If AED pads are used beyond their expiration date, they will not adhere to the skin as well, particularly when cardiopulmonary resuscitation (CPR) is done. During CPR compressions, AED pads with poor adhesion may pull away from the skin, thus reducing the chances that the AED will provide effective analysis and therapy.
"Because of the chemical breakdown of the gel in the defibrillator pads, the manufacturers of AED pads cannot guarantee that the pads will have enough adhesion to work properly after a certain amount of time has passed. Therefore, the pads have an expiration date to help ensure that sudden cardiac arrest patients have the best possible chance of survival.
"Typical life expectancy of AED pads are between 18 and 30 months. Therefore, it is vital to conduct routine maintenance and supply checks of all your AED units and medical emergency supply kits to ensure that your AED program is in compliance.
"The risk of not doing so could cost someone his or her life."
In an email sent on the afternoon of Aug. 7, Associate Athletic Trainer Andi Tate, who works with the school's soccer program, asked Associate Head Football Trainer Louis Duran, "Do we have any extra Cardiac Science AED pads?"
Cardiac Science is a life-saving device provider.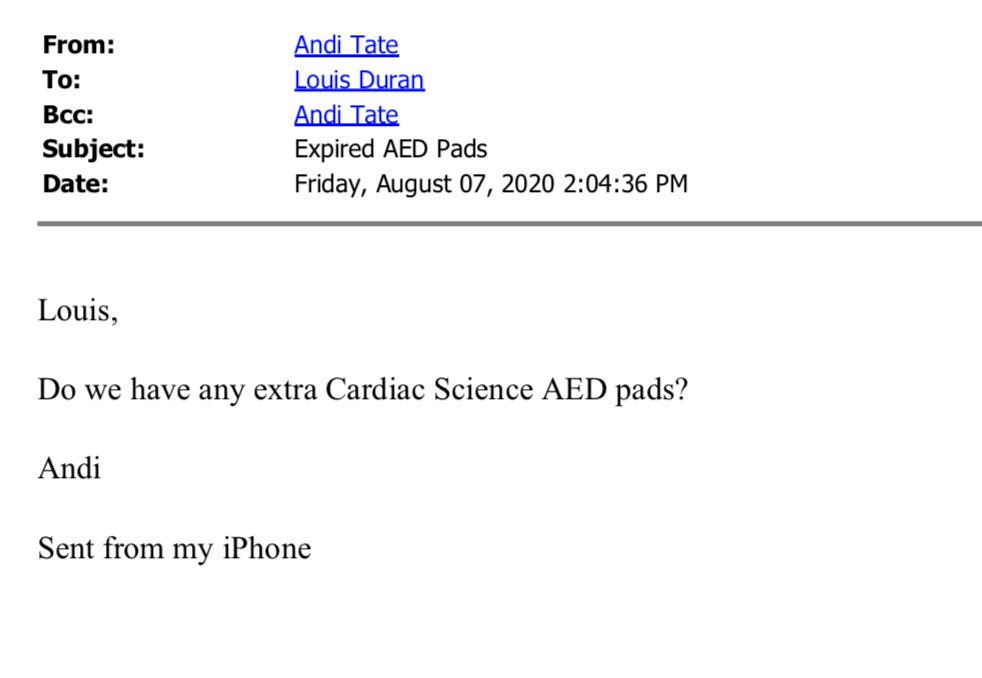 Duran responded, "We only have extra zoll in stock, no cardiac science. When do the cardiac science ones expire?" ZOLL is a company that develops medical devices and software.
"Expired at the end of November," Tate responded. Duran then forwarded the email thread to Director of Athletic Training Daniel Jacobi.
In an email to Director of Olympic Sports Athletic Training and Physical Therapy Sheri Walters, Jacobi wrote later, "I'm hoping there is more to this story other than her pads expired in November of 2019 and she's just now doing a check to identify that. If that is the case, there are too many issues with that scenario to list in this email!"
"All emergency equipment should be audited and logged monthly," Jacobi continued.
Here's the full email Jacobi sent Walters.
(Click the image to open in a new window)

According to an email sent by Walters, Texas A&M conducted its Emergency Action Plan (EAP) check for the NCAA on Aug. 7 and Tate was "showing the students how to check the batteries and the pads. That's when the expired ones were noted."
"Without the EAP check, she would have been playing games with expired ones," Walters wrote.
The EAP check may have prevented a catastrophe.
But the question is why had the AED pads been expired for more than eight months, with the season quickly approaching?
Walters, the Director of Olympic Sports Athletic Training and Physical Therapy, wrote to Jacobi that the monthly emergency equipment checks "must have been discussed prior to my arrival."
"I asked her when I got here what the procedure was for the AED checks and was told that [Senior Associate Athletic Trainer] David [Weir] has a master list and that he notifies staff when it's time to update things close to expiring," Walters wrote. "Thought that was weird - everywhere else I've been it was monthly and managed within each specific facility."
(Click the image to open in a new window)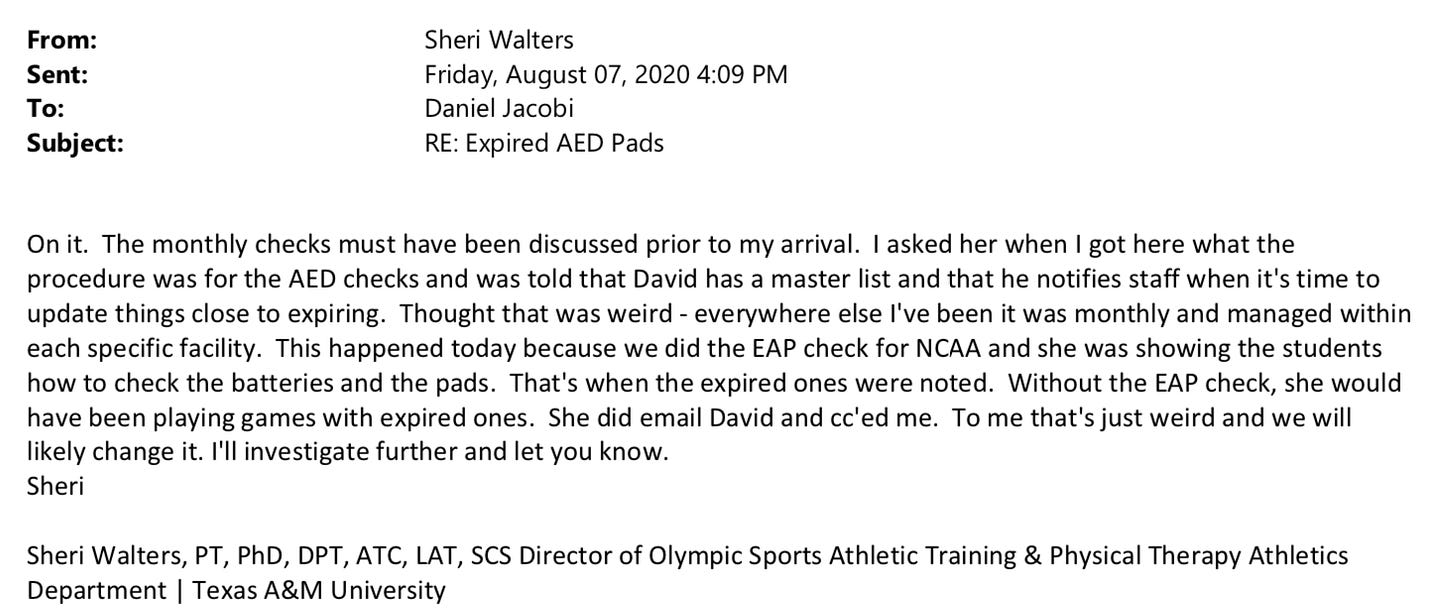 "Planned access to early defibrillation should be part of your emergency plan," reads one part of the NCAA's Sports Medicine Handbook.
Here's more from the handbook:
Institutions should have on file and annually update an emergency action plan for each athletics venue to respond to student-athlete catastrophic injuries and illnesses, including but not limited to, concussions, heat illness, spine injury, cardiac arrest, respiratory distress (e.g., asthma) and sickle cell trait (SCT) collapses. All athletics health care providers and coaches, including strength and conditioning coaches, sport coaches and all athletics personnel conducting activities with student-athletes, should review and practice the plan at least annually.
Ironically, on the morning of Aug. 7 – the day that Texas A&M found the expired AED pads – the SEC emailed the conference's athletic directors a copy of the SEC Medical Guidance Task Force's recommendations for COVID-19 management.
By the end of the work day, Walters had emailed the school's Olympic certified athletic trainer email list about the "very expired" AED pads:
All,

We discovered some very expired AED pads today while running through a sport EAP. Please check your AEDs ASAP and update the spreadsheet in the O: (Folder: Emergency Action Plan; File: AED spreadsheet 2020). This needs to completed by the end of day Monday and then monthly moving forward.
Earlier in the afternoon, after Tate had discovered the expired AED pads, she tried to make changes to the athletic department's AED spreadsheet to reflect the current status of the AED batteries and pads on Texas A&M's West Campus, but it was a read-only file, which offers one potential explanation for how Texas A&M may have gone more than eight months without identifying the expired pads.
"I tried to update the AED spreadsheet," Tate wrote to Weir in an email, "but it's read only so my changes won't save."
---
Recap of the last newsletter
Click the image below to read the newsletter.

"Because, if in an election year, politicians can campaign for a fall football season in the Big Ten in key battleground states (but conspicuously, with no specific mention of cross country, field hockey or soccer seasons, or the return of sports in the MAC, Mountain West or Pac-12), then those same politicians should also be willing to collaborate with college football coaches to discuss potential legislation or improved police training that's designed to prevent systematic, racial injustice in this country."
Read the full newsletter here.
---
Connect on social media
---
Thank you for reading this edition of Out of Bounds with Andy Wittry. If you enjoyed it, please consider sharing it on social media or sending it to a friend or colleague. Questions, comments and feedback are welcome at andrew.wittry@gmail.com or on Twitter.