Column: Politicians campaigned for Big Ten football. Now, will they address the real issues?
In the days after the killing of George Floyd, Navy's Ken Niumatalolo urged the American Football Coaches Association's coaches to meet with their local politicians
In the early morning hours of June 1, Navy football head coach Ken Niumatalolo emailed members of the American Football Coaches Association (AFCA) Board of Trustees, which included Duke's David Cutcliffe, Florida's Dan Mullen, Northwestern's Pat Fitzgerald, Stanford's David Shaw, TCU's Gary Patterson and Virginia's Bronco Mendenhall, among others.
"Influence for Change," the subject line read.
George Floyd had been killed in Minneapolis seven days earlier.
"Gentlemen, I don't believe there could be a more CRITICAL or VITAL rule, legislation, or proposal that could be addressed in our Board than using our influence to help create change in cultural behaviors in our communities," Niumatalolo wrote. "In our State, most of us already know and have relationships with Governors, Senators, Congressmen, Police Commissioners, influential CEO's, Religious Leaders, etc. …"
New legislation isn't approved with an email at 1:12 a.m. ET, but that wasn't the point – at least not yet. This was simply the start of a conversation.
"I don't have all the answers or solutions to some of the issues that plague our society, but maybe open dialogue can create real change in our communities," Niumatalolo wrote. "Our amazing game of football has blessed the lives of many. The game of football has a very powerful affect and effect in our country. There are not many platforms or mediums that touch the lives of Americans as does College Football or the NFL."
After the Big Ten football season was postponed, politicians crawled out of the woodwork to try to save the season, implicitly acknowledging one of the points Niumatalolo made: "There are not many platforms or mediums that touch the lives of Americans as does College Football or the NFL."
Even President Donald Trump has tweeted about the Big Ten multiple times recently, including a tweet on Wednesday that said, "It is my great honor to have helped."
"Cheap politics" is how Rutgers University President Jonathan Holloway described it.
"This does not rise to that level – not for a half a second," he told NJ.com.
The phrase "Stick to sports" should be fired into the sun and never uttered again, because it has always been a myth and the last few months have only reinforced that notion.
This week, Out of Bounds asked Niumatalolo what he would tell people who say, "Stick to sports."
"I think we're all more involved and all of us are looking at things and how things affect us," he said. "I think this generation obviously is a lot more vocal than years past and so things are out in the forefront. But also, like I tell our guys, I think it's great to be informed, but just allow everybody to express themself. Just allow what makes our country great, you may disagree with people, you know what I mean. I mean it's OK, it's OK to disagree with each other, that's gonna happen. We're just giving freedom for guys to express themselves."
While disagreement is going to happen, what if those who believe sports and politics are mutually exclusive just cut the charade and – to the point that Niumatalolo made in his email – the two ideas embraced each other in order to create positive change?
Because, if in an election year, politicians can campaign for a fall football season in the Big Ten in key battleground states (but conspicuously, with no specific mention of cross country, field hockey or soccer seasons, or the return of sports in the MAC, Mountain West or Pac-12), then those same politicians should also be willing to collaborate with college football coaches to discuss potential legislation or improved police training that's designed to prevent systematic, racial injustice in this country.
Because that's a real issue that should be weighed by voters and addressed by political candidates this election cycle, alongside pressing issues and events like the U.S.' response to the pandemic, the police shootings of Breonna Taylor, George Floyd and Jacob Blake, the vigilante shooting of Ahmaud Arbery, and the raging forest fires out West.
If and when the Badgers and Terrapins play football shouldn't be among those campaign issues.
However, because of the value our society, collectively, places on sports, whether or not the Big Ten voted in August to hold a football season, and whether that season was set to start in September, October, November or January, has become a campaign issue.
As Niumatalolo put it, "The game of football has a very powerful affect and effect in our country," which brings us back to his larger point.
"I can envision the power of a unified voice of all the Head Football Coaches," he wrote. "If all Head Coaches in one state met together with their Governor…change could be initiated. Open dialogue is a start. I think many of us have had Police Commissioners speak to our teams and that is great. But discussions with policy influencers and creators could lead to better training…new legislations…new laws…etc."
We've seen an entire university throw its weight around in the aftermath of the death of George Floyd. The University of Minnesota reduced its ties with the Minneapolis Police Department, electing not to contract with MPD officers for home football games.
What if coaches football coaches used their platforms and political capital to promote social justice through structural or legislative changes in their state's laws or within local law enforcement agencies?
In light of the political involvement following the postponement and return of the Big Ten's football season, Out of Bounds asked Niumatalolo if there's an opportunity for college football coaches to discuss bigger issues with politicians, like he had suggested in his email to the AFCA Board of Trustees.
"Well, what we tried to do is – you know just with everything that's going on in the country – we created a council, a racial equality council," Niumatalolo said of Navy's own Players Council for Racial Equity. "They've been doing great things under our director 'RB' Green. We've had several forums with police commissioners, we just had one last week with the Baltimore Police Commissioner, which was an awesome meeting.
"It's just like everything else, not only are we encouraging our guys to vote but also be informed on candidates. We've talked to our players about writing to their local congressman and people in their own states and cities where they're from. That's kind of what we've tried to do, more so just giving our guys a platform to express themselves, whatever your political beliefs are, whatever they are and the freedom to express yourself.
"That's really what we've tried to do, just to create a platform and just kind of go from there. I think that's what we've tried to do, just try to give them a voice early on and let them run with it. Our players, they've been amazing with all of that."
To be clear and to state the obvious, it is not Niumatalolo's job to meet with governors or congressmen or congresswomen. Well, actually, that may not be entirely true, as he is the head coach at the United States Naval Academy, which only reinforces how much sports and politics are intertwined, and it arguably gives his after-hours email in June all the more symbolism.
Along with Air Force and Army, Navy competes annually for the Commander-in-Chief's Trophy, which is ultimately presented to the winning team by the President.
But contractually speaking, it is Niumatalolo's job to coach his football team through 12 regular-season games, and if his team is good enough, then a bowl game, too.
If Niumatalolo didn't have enough on his plate with trying to coach his team through the pandemic and balancing Week 1 prep with the safety of his players – or in his words, "I weighed all of it. Do you have a bad football team, or do you risk people's health?" – Niumatololo was up past 1 a.m. on June 1, typing an email to college football coaches in Arkansas, California, Delaware, Florida, Illinois, Iowa, Louisiana, Michigan, Montana, New York, North Carolina, Texas, Virginia and Wyoming, imagining a world where they would all meet with their local legislators to "create real change in our communities."
"Again, I recognize that I do not have all the answers and there are many sensitive topics to discuss, but I really believe this Board and our platform has the power to create real and positive change," Niumatalolo wrote. "I also recognize that my views may not be the consensus."
Niumatalolo didn't specifically mention George Floyd or Minneapolis or protests or police-involved shootings in his email, but it's hard not to try to connect the dots based on the timing of his email to the AFCA Board of Trustees – it was sent seven days after Floyd's death, and after 1 a.m. on a Sunday night. In the email, Niumatalolo only got as specific as suggesting "discussions with policy influencers and creators could lead to better training…new legislation…news laws…etc.," and if there's not a consensus among college football coaches for supporting that, well, then that would be worth examining, too.
The fall football seasons for schools in the AAC, ACC, Big 12, Conference USA and Sun Belt have started, and the Big Ten will join them relatively soon. If we're to believe the reporting surrounding the Big Ten's Return to Competition Task Force, then the advancements in low-priced, quick-turnaround COVID-19 testing is the biggest reason for the conference's return to play, not any political intervention, Twitter hashtags or parent protests. As Northwestern President Morton Schapiro, who is also the chair of the Big Ten Council of Presidents/Chancellors, said Wednesday, "For me, it wasn't about political pressure, money or lawsuits. It was about the unanimous opinion of our experts."
After some politicians have rushed to the front lines of an only-in-2020 campaign issue – Big Ten football – some of the sport's head coaches would probably like them to stay, pull up a chair, grab a water or a coffee and maybe a notepad, and get comfortable.
Because while they're parading their self-anointed political win, it's now time for them to also listen to, and address, some of the real issues in our country.
---
Here's a copy of Niumatalolo's full email from June 1.
(Click the image below to open in a new window)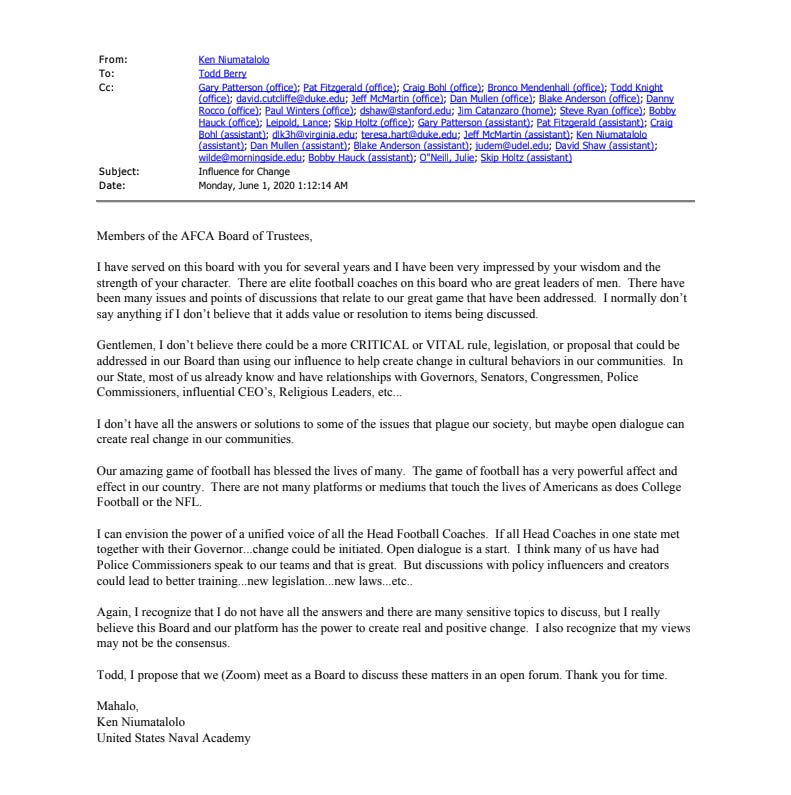 ---
Recap of the last newsletter
Click the image below to read the newsletter.

"It was suggested that the Big Ten create a plan, not just for a competitive fall sports season but also for the lead-up to the season, and take it to the NCAA and 'ask them to waive whatever needs to be waived to let us execute our plan.'"
Read the full newsletter here.
---
Connect on social media
---
Thank you for reading this edition of Out of Bounds with Andy Wittry. If you enjoyed it, please consider sharing it on social media or sending it to a friend or colleague. Questions, comments and feedback are welcome at andrew.wittry@gmail.com or on Twitter.