'Without you and Dr. Ackerman the Big 12 wouldn't be playing football'
A conversation with the doctor who one Big 12 AD credits with saving the fall sports season
There are two people responsible for the Big 12's decision to play football and other sports this fall, according to Oklahoma State Athletic Director Mike Holder.
They are West Virginia University President Dr. Gordon Gee and Dr. Michael Ackerman.
Gee is the 76-year-old, bow tie-wearing former president of Ohio State University, as well as Colorado, Brown and Vanderbilt, and Ackerman is a professor of medicine, pediatrics, and pharmacology at the Mayo Clinic College of Medicine and Science.
In an email obtained by Out of Bounds that was sent on the morning of Wednesday, Aug. 12 – the day after the Big Ten postponed fall sports and the Pac-12 postponed all sports through the end of the calendar year – Holder wrote to Gee, "Without you and Dr. Ackerman the Big 12 wouldn't be playing football, or any sports this year."
On the morning of Aug. 11, Ackerman wrote on Twitter that if medical experts for the Big Ten and Pac-12 used a JAMA Cardiology study as a "compelling" reason to not play football, "the data does NOT support this at all," along with the hashtags #WeWantToPlay and #RefuseToFear. The study analyzed 100 patients in Germany, with a median age of 49, who recovered from COVID-19 and MRIs revealed "cardiac involvement" in 78 of them and "ongoing myocardial inflammation" in 60 individuals.
At least one of Ackerman's tweets got the attention of the Big 12.
"The Big 12 commissioner's office reached out to me on August 11 and wanted to know whether I was available and willing to share my perspective," Ackerman told Out of Bounds in a phone interview, "because they had gathered from what I had put out in the Twitter world might have been a different perspective on the heart and COVID-19 in the heart, specifically."
On the night of Tuesday, Aug. 11, there was a Zoom call for the Big 12's university presidents, athletic directors, Commissioner Bob Bowlsby, team physicians and a few "outsiders," including Ackerman, who was contacted earlier in the day.
During the conversation with Out of Bounds, Ackerman was specifically asked if he thought the Big 12 sought out a doctor who supported their stance to play football:
"When the Big 12 reached out to you, do you think they were in holding pattern of not sure whether to go forward or not, do you think they were looking for someone who supported their stance to play, do you think they were leaning towards not playing and then you changed their minds? Do you know what their stance or what their perspective was when you joined the conversation?"
Here's what Ackerman had to say:
"Yeah, that's a great question. I don't know that I really know. I think they were weighing everything in the balance. I think it was, you know, a too-close-to-call judgment at the time. I think the presidents and athletic directors really, really wanted to hear all sides so that they could weigh everything in the balance.

I brought maybe a different lens about how big of a deal is the heart and what is the strength of evidence about the COVID-19 heart issue and how relevant is that data to be applied to their population of 18 to 24-year-old young men and young women for the other sports. And all that enabled them to then conclude to press on.

I know there was not a – I think it's safe to say their answer wasn't already 'Yes, we're pressing on' before that Zoom conference. No way was it already a predetermined 'yes,' and I don't think it was a predetermined 'no,' that I then, that somehow my voice, only, dramatically changed a predetermined 'no' to a unanimous 'yes.' I think that would be assigning an incorrect amount of weight as to what influence my voice and my perspective might have had."
Ackerman described the Big 12's Zoom call as a "rich, 60 to 90-minute conversation, debate, discussion, dialogue, where they wanted to hear the medical perspective." He wasn't the only medical professional from outside the conference as Ackerman said there were other physicians and experts with various specialties who offered their perspectives.
"I basically gave mine about how much weight should be assigned to this particular aspect of the discussion of COVID-19 and myocarditis in the heart," he said, "and if my perspective enabled them to sort of recalibrate their scale a bit and say to themselves, 'Well, we think we are pleased and satisfied as best as we can be with the other aspects of the logistics, the coordination, the quarantine testing, everything, and if the heart doesn't have to tip the scales to you know the tilt button, the tipping point, then maybe we can proceed.'"
Potential cardiac complications for athletes was one of the Pac-12's three primary concerns listed in its Aug. 11 "Update from the SAHWBI [Student-Athletes Health and Well-Being Initiative] and the COVID-19 Advisory Committee," which was obtained by Out of Bounds and it might have been the last document that Pac-12 decision-makers read before making their decision to postpone all sports through Dec. 31, 2020.
Two of the Pac-12's 13 slides, including the one below, were dedicated to these cardiac concerns, which were included among other COVID-19-related concerns such as the high prevalence of the virus in Pac-12 communities and the lack of availability of quick turnaround testing.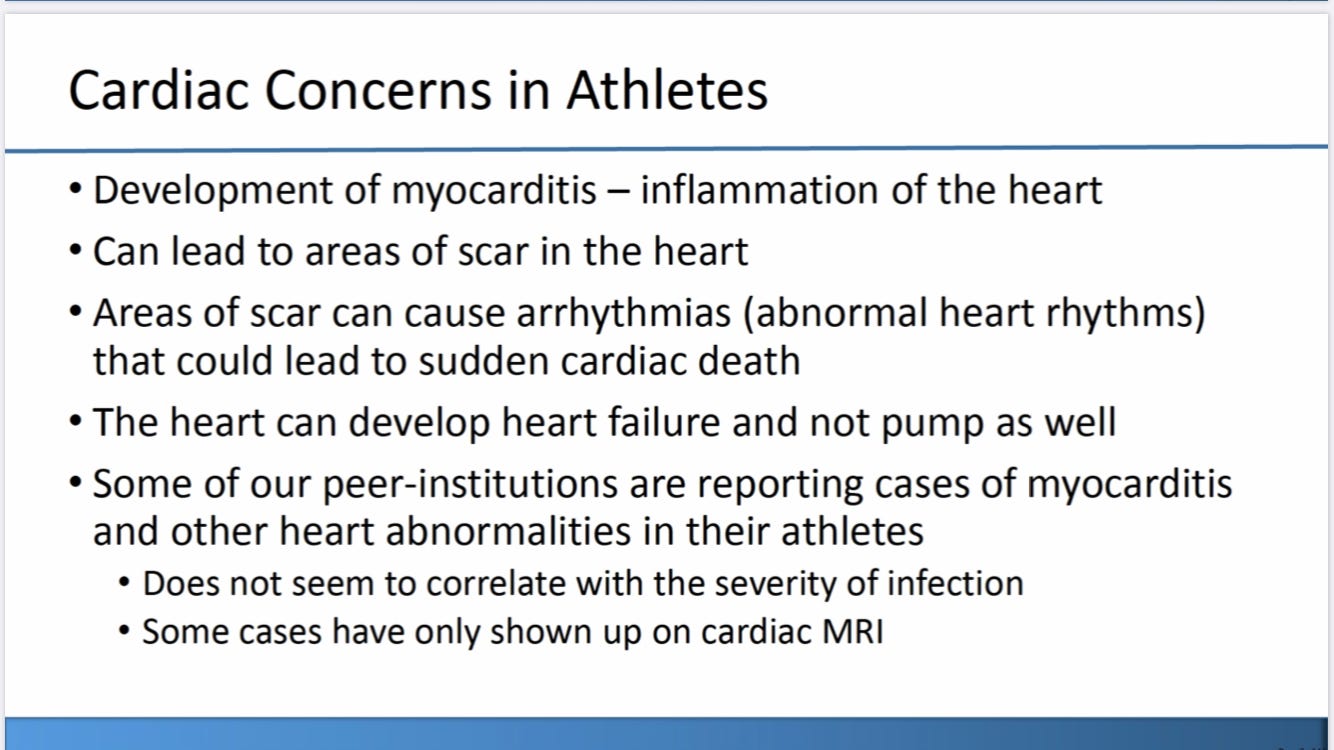 In an interview with TexAgs.com published on Aug. 14, Ackerman said, "The conferences may have other reasons like the virus is like wildfire in their conference, in their schools, in that population. We don't have any control. We're not satisfied with testing. We're not satisfied with our quarantine measures. We don't think the landscape is acceptable from all of the logistics. But do not use the heart as the reason to cancel the season."
However, Big 12 Commissioner Bob Bowlsby doesn't believe the conference owes as much of an explanation for its decision to play fall sports as it would if it postponed them, according to The New York Times.
Meanwhile, Bob Bowlsby, the Big 12 commissioner, said he did not feel compelled to release the medical underpinnings for his conference's decision to continue playing, even though new infection rates remained high in the counties of half its universities. "Well, if we got to the point where we were going to not play it probably requires more of an explanation," he told reporters on a conference call. "The decision to continue to move forward and stay the course, I think, is a different one."
After the phone interview, Out of Bounds provided Ackerman the opportunity to share any documents, studies or stats that were part of his conversations with the Big 12 that he thought were important to include.
"Not really," Ackerman said via email. "I detailed my concerns about the application of that JAMA Cardiology paper published last month from Germany to otherwise healthy 18-24 year old athletes."
On Aug. 12, the morning after the Big 12's Zoom call, West Virginia's President Gee emailed Oklahoma State's Athletic Director Holder:
"Just a quick note to tell you that I really appreciated your comments last night in our meeting. I think you nailed it perfectly and with absolute conviction. And, what you said was absolutely directly on point. Just wanted to extend to you my thanks, along with my admiration."
That prompted Holder's response, which in turn praised Gee and Ackerman.
Click the image below to open in a new window.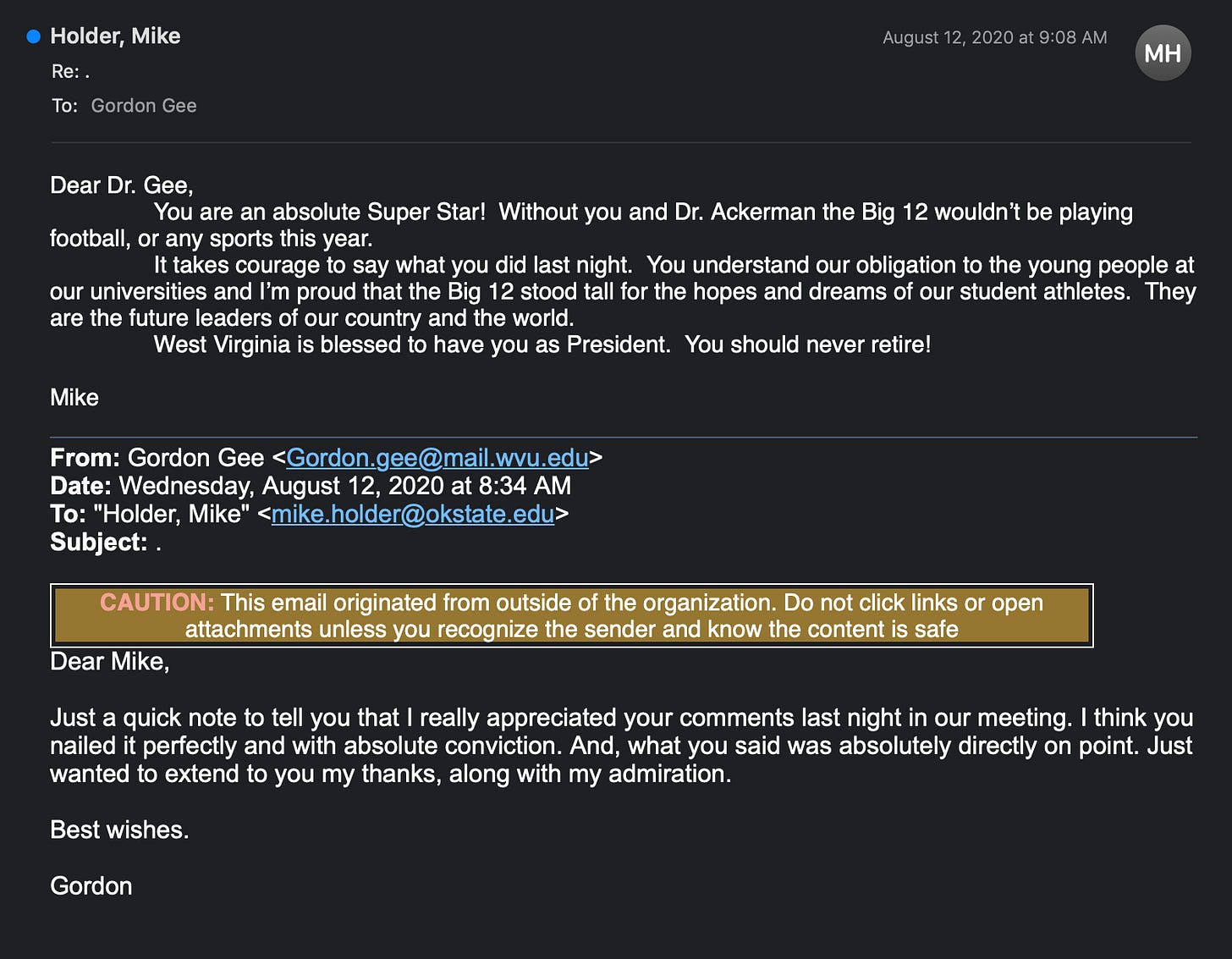 Out of Bounds told Ackerman what Holder had said about Gee and Ackerman's impact on the Big 12's ability to have a fall sports season. Then Out of Bounds asked Ackerman what Holder's comments made him feel. Ackerman paused for three seconds, gathered his thoughts, then paused for two more seconds before answering.
"Well, I think, I mean it's very kind of them," he said, "but I think physicians and physician scientists like myself, we stay pretty grounded in a healthy reality of my relative importance or unimportance, so I'm – I just say I'm pretty grounded in how, what my relative unimportance is in this world and so I'm not going to use a flattering quote like that, which is very nice to hear, to change where my anchor point is.
"I simply gave them a perhaps little bit different perspective, maybe a fresh perspective about the heart and maybe the weight of the heart lessened enough on their balancing scales and I think you can understand the 'why.' I mean, you invoke the heart in the equation and you invoke things like athletes dying suddenly, which, I've seen it, I know it, I feel it, I take care of families who are grieving because of it, so I know what that is like and the heart kind of consumes all of the oxygen in the room, you know what I mean?
"It's hard when you have 'heart' and 'sudden death' being mentioned in the equation. It's hard to talk about point-of-care antigen testing of the player, that seems so, 'Yeah, who cares?' when we just mentioned the heart, and so I think maybe it just helped."
In a previous newsletter, Out of Bounds reported on an email that an Omaha Business Hall of Fame inductee emailed University of Nebraska System President Ted Carter, in which a former construction and engineering CEO wrote about the Big Ten fall sports season: "if it's cancelled it feels a little 'political' to me."
Out of Bounds asked Ackerman if he believes unfiltered, objective science can truly exist in today's climate without being affected by politics. On March 14, Ackerman used the U.S.'s response to the H1N1 virus in 2009 as a reference point for the country's ability to process COVID-19 tests in March.
"Yes, absolutely," he said. "I like that expression 'unfiltered science.' I hadn't thought of it that way, but I mean, all of us express things, interpret data through a lens and I imagine our own thought processes on life, on risk, weighs into the equation but when I size up, I mean for my 20 years of my career, I've published over 600 papers and of those papers, I think that there's been the thought of politics influencing those papers or the objectivity of the scientific team that we've assembled to generate the data basically almost never.
"I think we're just in this climate where every decision that's being made somehow gets rolled into that there's a red, blue tint to that decision but no, I think most physicians and most scientists do our absolute best to tell what the science is telling us. Now, how people then interpret what the science is telling almost comes back to your and my own world views, so I have a perspective with my particular genetic heart rhythm clinic at the Mayo Clinic, where every one of my patients has a non-zero risk of sudden death daily from their genetic heart conditions for which I've tried to diagnose as accurately as I can, treat as best as I can, mitigate that risk to get it as close to zero as I can, but I can't make it zero, zero."
That might be the approach taken by the Big 12, after receiving input from Ackerman.
"And so I'm used to having patients and families figure out how to press forward in a non-zero risk environment," Ackerman said, "and it's just fascinating to see how all of us are living in a non-zero risk life, like it's a non-zero risk when I go on the interstate and wonder if somebody's going to text and drive into me and on and on and on we can go of non-zero risk scenarios.
"And yet somehow we've kind of then inject[ed] that we have to have a zero-risk solution before we will press on or before we will re-open or before we will activate sports and we are just going to be coexisting with this virus for quite some time and going to have a non-zero risk lay of the land, and how people deal with that uncertainty then drives certain decisions and that's why the other side would look at the cardiac data and say 'uncertain, uncertain-possible seems too risky to take,' while another group could look at the – goes back to is the glass half-full or half-empty, what vantage point you have as to what conclusions you make.
"So then when different conclusions get made, people think that the science itself is getting filtered but I guess I'm more optimistic in thinking that most of what we do in most of our science, we try to do in an unfiltered way.
"But you're exactly right that there's been a lot of filtering of a lot of things since this thing called SARS-CoV-2 and COVID-19 came onto the scene."
Correction: This story originally referenced a JAMA Cardiology paper of 39 autopsy cases in Germany that had a median age of 85. The JAMA Cardiology paper referenced by Dr. Ackerman has since been updated to correctly reference a study of 100 patients who recovered from COVID-19.
---
Recap of the last newsletter
Click the image below to read.

"You did tell me and Ronnie that you work for us. From all of us here at the University of Nebraska System, we are still supportive of a Fall Sports schedule to include football."
Read the full newsletter here.
---
Connect on social media
---
Thank you for reading this edition of Out of Bounds with Andy Wittry. If you enjoyed it, please consider sharing it on social media or sending it to a friend or colleague. Questions, comments and feedback are welcome at andrew.wittry@gmail.com or on Twitter.