'Greetings from Nebraska': A look at Nebraska's final push to the Big Ten for fall sports
'You did tell me and [Chancellor] Ronnie [Green] that you work for us.'
Greetings from Nebraska.
That was the subject line of an email obtained by Out of Bounds that University of Nebraska System President Ted Carter sent to Big Ten Commissioner Kevin Warren from his Samsung smartphone just before 8 a.m. local time on Monday, Aug. 10, the day before the Big Ten postponed all fall sports.
Carter wrote to Warren:
Know you are dealing with a lot as [University of Nebraska Chancellor] Ronnie Green has kept me up to speed hourly. As many student athletes are now making statements about their desire to play, I wanted you to hear from me personally that I support a Fall sports season with all the safety protocols that had been planned. I understand that there are other risks and some potential medical issues being discussed with nothing conclusive. Risk and risk mitigation are going to be a balance that all of us weigh. I personally believe we have to move forward and try, otherwise we are likely to have such a negative impact on sports and college campuses as well as a way of life impacting millions. Many programs involving college athletics at every level would probably be affected permanently based on what we do as a conference.

I am happy to engage personally but know you are maintaining a very busy calendar.

You did tell me and Ronnie that you work for us. From all of us here at the University of Nebraska System, we are still supportive of a Fall Sports schedule to include football.
About an hour and a half after Carter's email to the conference commissioner that stated "there are other risks and some potential medical issues being discussed with nothing conclusive," Nebraska Associate AD Lonnie Albers emailed the university's athletic medicine email list, Nebraska Athletic Director Bill Moos and other university administrators a PDF copy of a Sports Illustrated story that had the tag line: "Of all the hurdles impeding a 2020 college football season, there is one roadblock that has gone mostly overshadowed – the heart."
The subject line of Albers' email was "Article on Covid19 threat to heart."
Carter's push for fall sports had support from a major politician in the state, as well as a major businessman.
Before noon Central, Assistant Vice President for External Relations and Director of Federal Relations Matt Hammons forwarded to Carter a copy of U.S. Senator for Nebraska Ben Sasse's letter to the Big Ten's Presidents and Chancellors that ended with the paragraph, "This is a moment for leadership. These young men need a season. Please don't cancel college football."
That Monday evening, Bruce Grewcock, an Omaha Business Hall of Fame inductee who's the Executive Chairman of the Board and former CEO of the construction and engineering firm Kiewit, emailed Carter:
President Carter, I really hope that Fall sports happens. The Athletic Department will take better care of the students than if they are left without the structure and discipline that athletics provides. For football, Scott [Frost] and his staff have the best interests of the players in mind and the rest of the Fall sports coaches do as well. It's about the student athletes not the fans. I hope the decision makers take that into account, if it's cancelled it feels a little 'political' to me. Regards.
Carter responded to Grewcock just after 6:30 p.m. CT on Aug. 10, "As you may have seen reported, we are doing all we can to retain Fall sports. B10 is wresting with the decision. We have been clear on our position to play. Will see how this goes in the next 24 to 48 hrs."
"I'm sure you and others will do the right thing," Grewcock wrote in response to Carter.
The Big Ten's decision to postpone wouldn't even take a full 24 hours from when Carter's email was sent.
Warren finally responded to Carter after 8 p.m. CT, more than 12 hours after Carter's initial email.
"Thank you for your email," Warren wrote. "I understand where you and Ronnie stand regarding Fall sports. I look forward to talking with you live this week."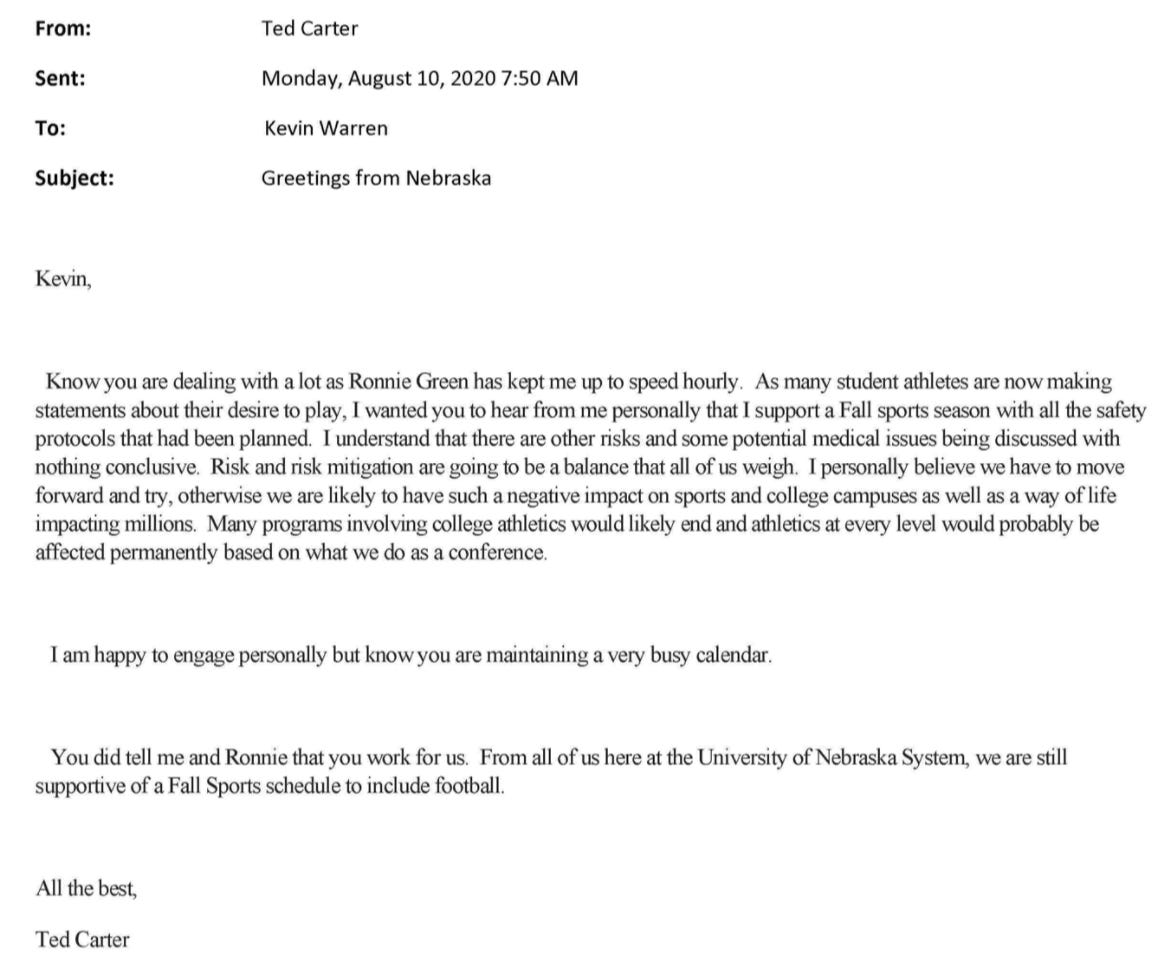 Warren's email signature is a Nelson Mandela quote.
"It always seems impossible until it is done."
Just before 9 p.m. CT on Aug. 10, Nebraska AD Bill Moos received an email from a Nebraska fan who said he "personally contacted the White House" and the Big Ten to let them know it is wrong to cancel fall sports.
On the morning of Tuesday, Aug. 11, Carter forwarded his email exchange with Warren to University of Nebraska Board of Regents members Tim Clare and Jim Pillen, a 2004 Nebraska Football Hall of Fame inductee, with the comment, "more discussion this morning. Our stance on athletics and our intent to compete in football this Fall has and will continue to be clear and strong."
Roughly three hours later, after the Big Ten announced the postponement of fall sports, University of Nebraska Director of Communications Melissa Lee sent an email that appeared to be to the members of the university's Board of Regents.
Among the bullet points that "may be useful to you," was "Nebraska's leadership is completely united in our belief that we can safely play football this fall."
Click the image below to open in a new window.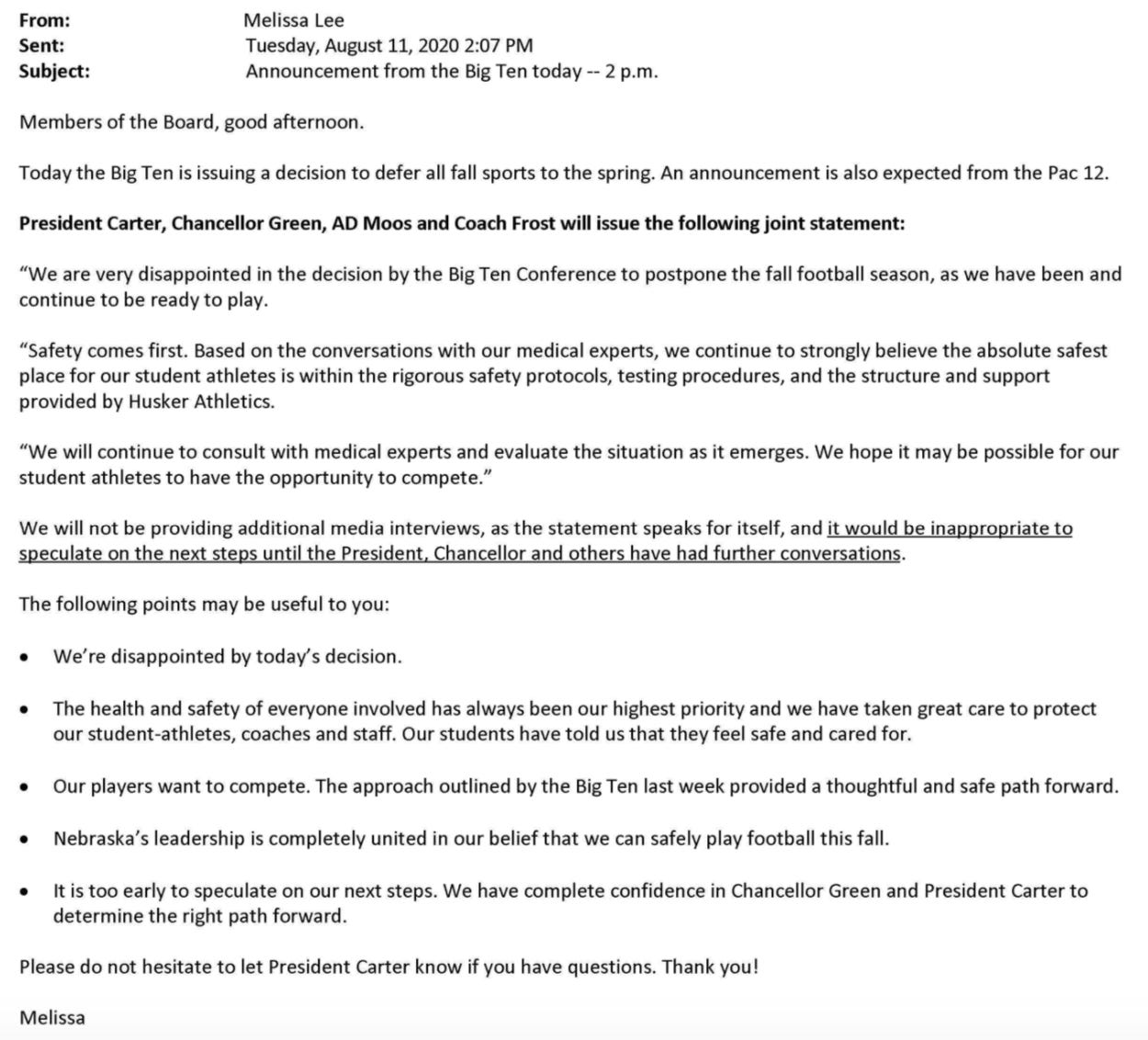 After the Big Ten's announcement, a 1994 University of Nebraska alumnus emailed Carter, the university system president, and Green, the chancellor, asking them to cancel in-person classes in addition to football, or to hold both classes and football.
"I would be proud of my alma-mater [sic] for using common sense, and having in-person school AND fall football," he wrote. "America needs sports. Nebraskans need football. There are fates worse than death."
---
Recap of the last newsletter
Click the image below to read.

"Five of the 12 schools – Arizona, Arizona State, UCLA, USC and Utah – were recommended to test their athletes every day and every school in the conference was recommended to test at least every three days."
Read the full newsletter here.
---
Connect on social media
---
Thank you for reading this edition of Out of Bounds with Andy Wittry. If you enjoyed it, please consider sharing it on social media or sending it to a friend or colleague. Questions, comments and feedback are welcome at andrew.wittry@gmail.com or on Twitter.