The best and the worst: Nevada athletes voice concerns about mental health, nutrition, softball
'These are all big issues that should have already been addressed years ago'
Note: This newsletter is part of a series called "The best and the worst," which examines the best and worst parts of being an athlete at various Division I schools, according to the athletes themselves, based on their end-of-season surveys.
Previously: Iowa
---
Update: This story was updated at 9:45 p.m. ET Aug. 28 with the university's responses to questions from Out of Bounds.
One-hundred and twelve athletes across 16 different sports at the University of Nevada responded to the university's 2019-20 end-of-season survey, which yielded 43 responses about mental health concerns, according to an analysis by Out of Bounds.
Out of Bounds obtained the end-of-season survey results via a public records request. Any potentially identifiable student information was redacted by the university. Those redactions are noted in this newsletter when relevant.
The first survey response regarding mental health concerns was a direct accusation that one head coach, whose name was redacted, "does not really care about anyone's mental health and treats people as [redacted] business instead of [redacted] players," and the last of those 43 responses was a suggestion by one athlete that the Wolf Pack's athletics staff hold monthly or annual meetings to remind them of the importance of athletes' health and well-being.
"Being a student is draining as it is, but being a student-athlete can push people over the edge both mentally and physically," the anonymous athlete wrote. "I'm not suggesting that more counseling should be available but that the staff should be more conscientious of the struggles athletes can be going through internally and externally. The staff should genuinely care about their student-athletes and can demonstrate this concern merely from the interactions and conversations with student-athletes."
In the 41 responses about mental health in between, multiple athletes detailed that the university's sports psychiatrist was out of town for all or most of their team's athletic season, an athlete claimed that 50 percent of his or her team's roster was struggling with their mental health, and another athlete wrote that his or her environment only felt safe and civil depending on which coaches were around. "If [redacted] is around," the athlete wrote, "then I feel extremely unsafe and personally feel mentally/emotionally mistreated by [redacted]."
In addition to concerns about the mental health resources available, many athletes criticized the university's nutrition program as well as the relationships between athletes and sports administrators, which athletes said are either nonexistent or not built on trust.
Additionally, Nevada's softball players voiced major concerns about their facilities and resources.
Out of Bounds contacted a Nevada athletic department spokesman to ask specifically if the university has plans to expand its mental health resources for athletes, to offer more food and meals for athletes who compete in an Olympic sport, to build a permanent locker room and additional bathrooms for its softball team, and to expand its groundskeeping and maintenance services such that the softball team doesn't have to be responsible for taking care of its field. The university's responses are included throughout the newsletter as they relate to each topic.
The demographics
Here are some of the available demographics from the survey. Some athlete responses included in this newsletter have been edited to fix spelling and grammatical errors.
Scholarship level
44 percent were on a full athletic scholarship

38 percent were on a partial scholarship

17 percent were walk-ons
Year in school
61 percent were a freshman, redshirt freshman or sophomore

39 percent were a junior or senior
The best of the Nevada athlete experience
Assistant coaches received higher marks than the university's head coaches, according to athletes at the university.
Two-thirds of the Nevada athletes who responded to the survey said they "almost always" have a positive relationship with their assistant coaches and that the assistants demonstrate genuine care and respect, compared to 56 percent of the respondents who answered almost always when asked the same question about their head coach.
Roughly nine percent of athletes said their head coach "almost never" demonstrates genuine care and respect, compared to less than two percent for assistant coaches.
Click on the image below to open in a new window.

Some of the positive responses about Nevada's assistant coaches include:
"so much easier to have a personal conversation with and can easily get along with"

"our [redacted] are amazing. they help balance positive and negative vibes because they are so fun to be around."

"They made the experience a millions times [sic] more enjoyable"

"They're cool and relatable"
Roughly 85 percent of Nevada athletes said their head coach is a positive representative of the university and behaves as a professional (65% almost always, 20% most of the time), and a similar percentage of respondents said their head coach is knowledgeable and helped them improve (65% almost always, 17% most of the time).
Several athletes said their head coach was a good or great coach, or a "good guy," but that their communication, organization or handle on their emotions was lacking:
"He's a good guy.. arrives late lack of communication with the team has trouble organizing practices and preparing us for the season"

"My coach is professional but could be better organized. Most of the time, things aren't followed through as they should"

"He is a great coach that knows the game of [redacted] but could work on player communication"

"He's a good coach and he knows what he is doing. Not a great communicator and doesn't seem like he cares about me at all."

"I have had very little person contact [sic] with him however feel he is a great coach and feel he has the players best interest and most importantly the teams interest and success in mind"

"During the middle of the season coach did not appropriately handle his anger and took it out on the team. I do value his coaching and respect what he tells me. I do not always feel like he holds the same respect for us. He is a nice guy who I do respect but needs to learn to separate his feelings from his work."
Other athletes highlighted negative experiences with their head coach.
"[redacted] has a very short temper and he gets mad quite easily," wrote one athlete. "This is stressful because I have been screamed at on multiple occasions. He doesn't give the most constructive feedback and I'm concerned he is going to lash out at times."
Two athletes, who are presumably teammates, wrote about a time when their head coach said their team was the worst he had ever had:
"He said and I quote 'we suck' and that we as a team are 'the worst team he's had since the first team he ever coached'"

"My [redacted] has created a negative environment where the vast majority of the athletes feel constantly belittled. Frequently, we would be called 'the worst team [redacted] had in 45 years.'"
One comment/concern about a Nevada head coach, which was almost a full page long, was completely redacted.
An overwhelming majority of Nevada athletes said their coaches support them academically, when asked in the survey, "Are you coaches supportive of you academic pursuits as well as your time demands as a student and an athlete? Do they communicate well with your team?"
Ninety-seven of the 112 respondents responded favorably and just four answered with an outright "No" or "none."
The responses regarding the athletic support staff varied greatly.
Ninety-six percent of athletes were somewhat or very satisfied with the university's NCAA compliance staff, 89 percent were satisfied with the athletic trainers, team doctors and training room, and 86 percent were satisfied with the athletics academic adviser and Academic Center facilities.
Click on the image below to open in a new window.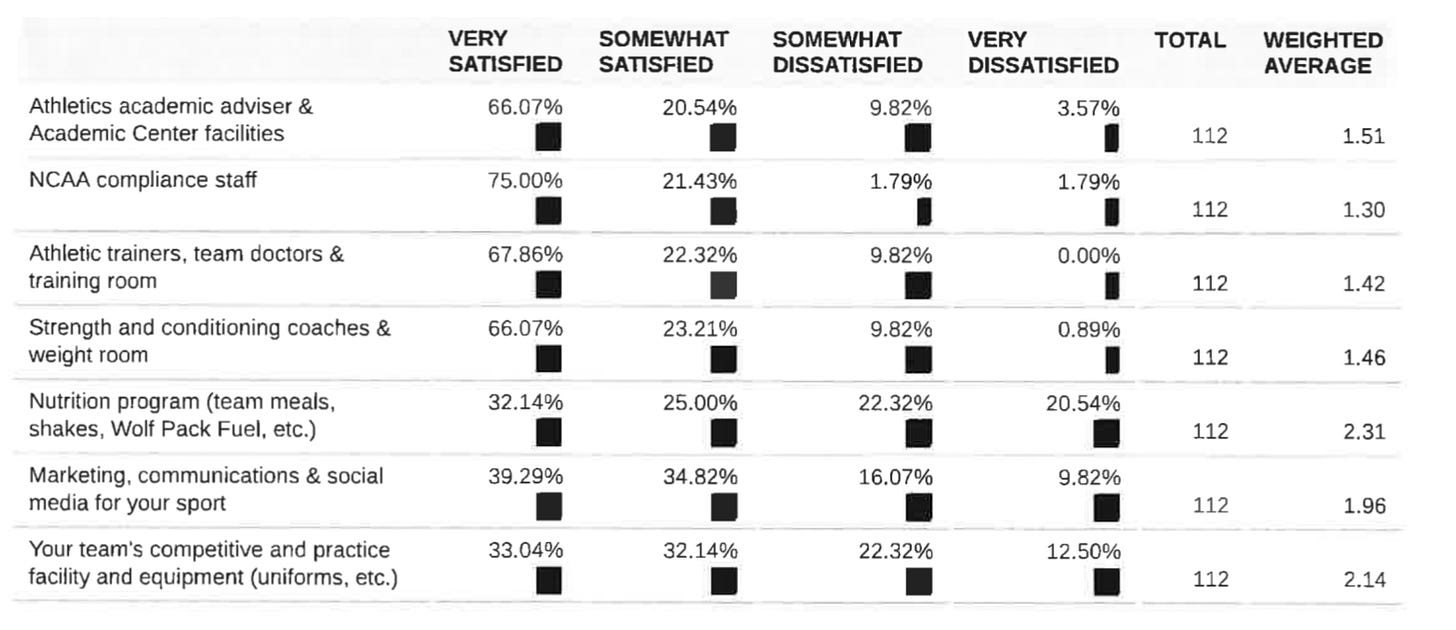 But the university's nutrition program, facilities and equipment, and marketing efforts received much lower marks.
'I'd rather flip tires in a parking lot, and have a worn down weight room than not have the nutrition like the University of Nevada'
Roughly one in five respondents answered that they are "very dissatisfied" with the nutrition program and 22.3% were "somewhat dissatisfied."
"In the fall of 2019, [redacted] gave the UNR softball team EXPIRED protein powder that was in the protein shakes for that WEEK," wrote one athlete. "There are barely any fruits and vegetables for any of the athletes that have their workouts in [Lombardi Recreation Center]. I'd rather flip tires in a parking lot, and have a worn down weight room than not have the nutrition like the University of Nevada, Reno has right now."
When asked by Out of Bounds if it has plans to make more food and meals available to Olympic sport athletes after the feedback it received from athletes, the university responded:
To our knowledge, we have never served a product that was expired. Our nutritional shakes are a proprietary special order blend and there was an instance in 2019-20 in which the supplier mistakenly included a different ingredient, leading to an off flavor. That was rectified.

We have identified grab-and-go nutritional offerings that will be available to all student-athletes when we resume normal practice and competitions in 2020-21.
One athlete summed up Nevada's nutrition program by writing, "Football gets multiple meals everyday and they still complain about the food that they get when we do not get any meals provided for us throughout the day."
A track and field athlete said his or her academic schedule makes it tough to maintain proper nutrition.
"The distance team goes into weights every single day and only gets a shake maybe once or twice a week if we are lucky," the athlete wrote. "I have a lot of class conflicts and many times I am not supplied that adequate nutrition nor paid attention to when I come in on my own time after I arrange a specific time to come in."
Many athletes from non-revenue sports complained that they're only provided protein shakes, and not necessarily every day, which is a vastly different experience from the meals that football and men's basketball players receive. In many cases, the athletes simply asked for fruit or snacks to eat during or after their weightlifting sessions or workouts.
"There is an immense amount of improvement that needs to be made when it comes to our nutrition program," wrote on athlete. "Considering the fact that we do not have one. We receive one shake four days a week during preseason and two shakes during season. There are no meals provided for us after practice or after weight. There is also no snack in the weight room during our lift time. However to my understanding a handful of other sports receive these luxuries."
'Mentally: a lot of work needs to be done'
Last month, Out of Bounds published a deep dive on the need for adequate mental health resources for athletes amid budget cuts, the pandemic and racial injustice, which also included an examination of the number of athletics-specific mental health professionals available for Power Five athletes.
Almost every school's end-of-season survey, or at least any school whose survey is conducted in a format that allows athletes to write their own responses, will include comments about the need for more mental health resources. But the sheer volume of comments about mental health in Nevada's latest survey was notable.
On a question that asked, "What kind of services or programming would be helpful to you and other student-athletes?", 19 Nevada athletes (17 percent of respondents) asked for more mental health services. Some of their responses are show below.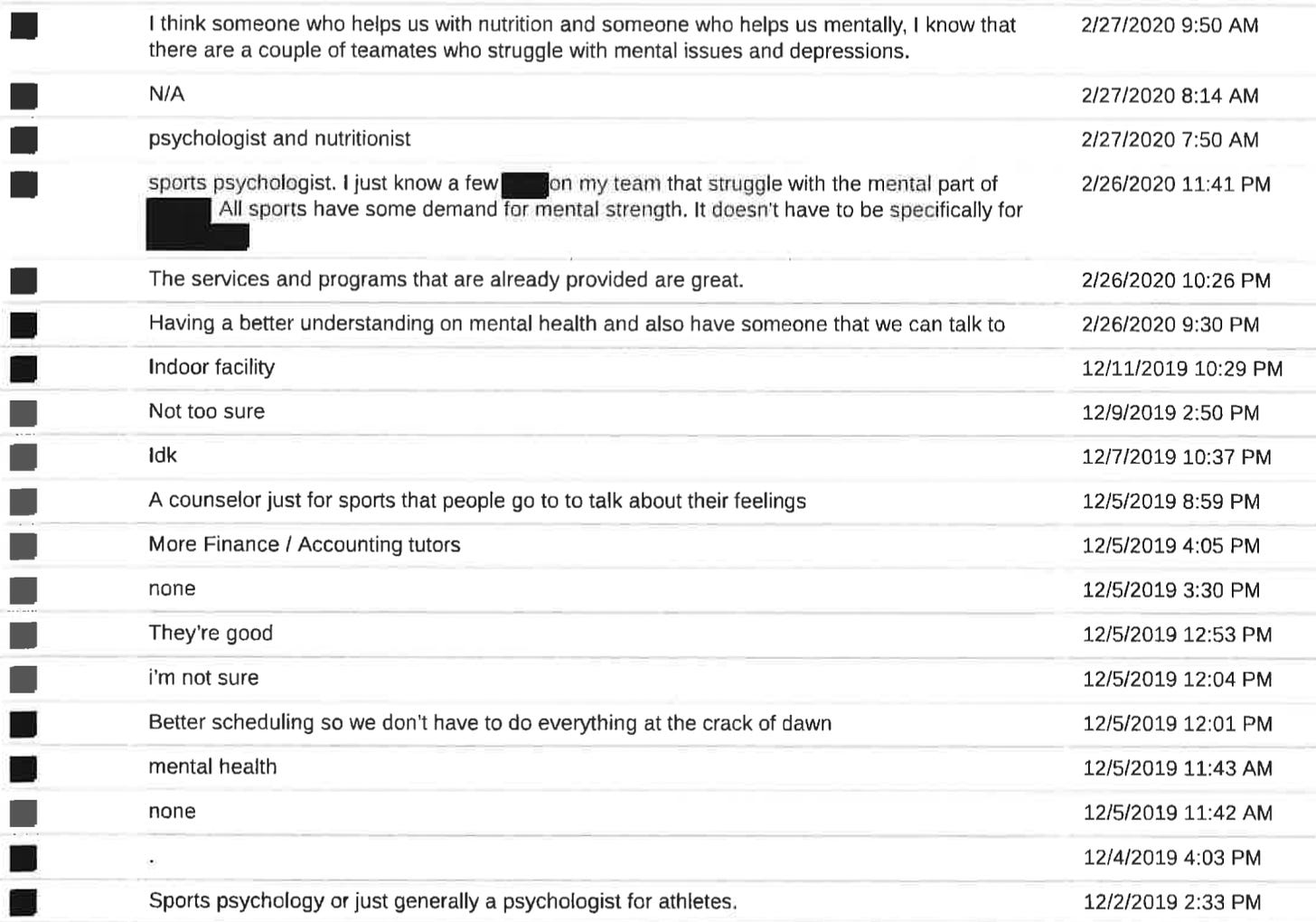 The University of Nevada's athletic department staff directory doesn't list any mental health professionals, while the university's counseling services website includes sports psychology consultations under its specialized services. "At Counseling Services, we have an Association for Applied Sport Psychology (AASP-certified), Nevada-licensed sport psychologist, several well-trained staff and graduate level supervisees providing sports consultations," the website says.
The athletic department staff directory's lack of a mental health professional provides a stark contrast with the 2019-20 end-of-season survey in which nearly one in five Nevada athletes who responded asked for more counseling or psychology services.
Here's the University of Nevada's response, when asked if it has plans to expand its mental health resources specifically for athletes:
The health, safety and well-being of our student-athletes, is at the heart of the mission and guiding principles of our athletics department. Expanding mental health resources has been a recent focus for our department and continues to be as we open up the 2020-21 year with a newly established partnership with Talkspace, which provides on-demand counseling services to all of our 400+ student-athletes at no cost to them. All Wolf Pack student-athletes also have available to them the full range of counseling services at the University that are available to all students.
A few athletes said there was an athletics-specific counselor or psychologist available last season, but the availability was extremely limited.
"The sports psychiatrist was out of town for most of our season and they were unable to get help for their mental struggles," wrote one athlete. "So maybe hire another sports psychiatrist?"
Another wrote, "have more therapist [sic] available because it can be hard to get an appointment [if] they are away all the time and generally not available."
"The psychiatrist was gone all season," wrote a third athlete.
Previously: Athletes, staffers ask for more mental health resources amid budget cuts
Even if they acknowledged their own mental health was in good condition, several Nevada athletes observed their teammates struggling:
"I know some people who weren't offered mental health help when it was obvious they needed it."

"I am in good mental health, but I know that 50% of my team is struggling."

"I was lucky to have regular sessions with [redacted] but others didn't get the chance to schedule appointments with a Sport-Psychologist because [redacted] was booked out."
Some athletes at the university attributed the mental health struggles of themselves or their teammates to employees within the athletic department, although the individuals' names and positions were redacted:
"[redacted] also does not really care about anyone's mental health and treats people as [redacted] business instead of [redacted] players."

"People should check how the coaching staff is affecting athletes's mental health because I feel that there have been issues with this for multiple people on my team this year due to coaching staff."

"Sometimes I feel the coaching staff does not care. Play too many mind games to where I feel emotionally abused."

"My environment feeling safe and civil depends on which coach I'm interacting with. [redacted] and the [redacted] coaches are inclusive and generally treat their athletes well. If [redacted] is around then I feel extremely unsafe and personally feel mentally/emotionally mistreated by [redacted]."

"The administration needs to listen to feedback regarding the [redacted] staff. Many individuals have serious mental health or body image issues due to their creation or a negative and aversive environment."
'How are we supposed to go to you and talk if it's not confidential'
One of the biggest potential concerns is that Nevada's athletic department administrators will presumably be the ones who received the athletes' survey responses and who are tasked with making improvements based upon the feedback they received.
While roughly 80 percent of the respondents answered that they feel comfortable "having open dialogue with your sport administrator regarding your concerns or any student-athlete issues," the next question, which asked, "If no, why not?" highlighted that many relationships between Nevada athletes and administrators were characterized as either nonexistent or not built on trust.
"I don't know anyone in administration and I don't think they would know me either," wrote one athlete.
"I don't know them" and "Idk who my sport administrator is," were responses from two other athletes.
One athlete seemed to be confused by either the position of a sports administrator or who in the department would have such a title.
"Not sure who you mean by sports administrator," the athlete wrote.
Some athletes who answered that they didn't feel comfortable having a dialogue with their sport's administrator because they don't think the administrator will respect their privacy or trust.
"Whenever people have gone to sports administrators in the past, they have told our coaches who said their concerns," wrote one athlete. "How are we supposed to go to you and talk if it's not confidential and we can't even get advice?"
Others expressed the same sentiment:
"I feel like anything I said would be taken to my coach and not kept private."

"I do not feel comfortable about expressing issues with other staff because I do not want my feedback or questions to come back and have a negative impact on me."

"I feel like the athletic administration has done nothing to prior complaints about my sport's head coach, and to approach them about serious issues regarding the head coach would remain unchanged and get myself into a worse position."

"I don't feel comfortable talking about the issues over the past two years because I feel [redacted] would find out, hold a grudge and treat me unfairly as a result."

"If we have an open dialogue about issues that don't concern [redacted] or school, to just keep it between the administrator and student-athlete. Don't go off and tell our coaches when we especially came to them whom we know and trust they would keep it to themselves."
One female athlete responded that she feels that if she approached an administrator, "no one would care" because of her gender and sport.
"I feel like if I were to say something to anyone no one would care and everyone would over look [sic] me," she wrote, "because 1. I'm a women [sic] and 2. No one cares about our sport…"
'Us (women) don't even get recognized to get treated well or poorly'
Several female athletes at Nevada addressed Title IX concerns in their end-of-season survey. The most concerning response appeared to be directed towards athletes or staff members of one specific sport, which was redacted.
"[redacted] should go through another meeting with their head coach and a women admin staff member to address the way they should be talking to female athletes where certain vocabulary and attitudes are borderline unacceptable and sexually uncomfortable," one athlete wrote.
Another athletes wrote of a Nevada head coach, "Extremely difficult to work with. Does not have appropriate professionalism and makes women feel less than."
Previously: A timeline of the University of Minnesota's response to the murder of George Floyd
A couple athletes addressed inequities they experienced between men's and women's sports at Nevada, whether it's the resources provided or publicity.
"If Title IX is apart [sic] of the rules for the NCAA or Mountain West Conference, then the University of Nevada, Reno needs to be held accountable for the extra benefits, money, supplies, and even where to instill the grounds keeping workers, are not equal between the female and male sports," one athlete wrote.
Another wrote that female athletes didn't even have the chance to be recognized poorly, because they weren't recognized at all.
"We get the short end of the stick," another female athlete wrote. "Football and basketball get treated like royalty while us (women) don't even get recognized to get treated well or poorly."
Another concern, which was echoed by many softball players, is that some female athletes had to double as their own groundskeeping and maintenance crew.
"It is disgustingly unfair that a basketball or football player or coach would NEVER EVER be asked to take out the trash from their games or clean the facilities, however we do it on a daily basis," a fourth athlete wrote. "As far as I am concerned, Title IX does absolutely nothing to balance the experience between male and female athletics at the school."
'I truly do not believe anyone on campus is even the slightest bit aware of what we do as a team down at our field'
While the university made many redactions in its 71-page end-of-season survey response packet that made it difficult to identify the sports, coaches or administrators who received feedback from athletes, members of the university's softball team repeatedly voiced concerns about the disparity in resources and services made available to them compared to their peers who play for other athletic programs at Nevada or at other Mountain West softball programs.
Softball players detailed how their field, which one player said is hidden and prevents some students from even knowing the school has a softball team, has yellow grass, gravel that leaves outfielders with cuts on their knees and elbows, a locker room that is described as a Matson shipping container, a sprinkler system that floods the field, and a backstop net that is held together by zip ties. According to the end-of-season survey, the softball park's broken speakers are still hanging and one player said there were only three working hitting tees for a team whose 2020 roster lists 20 players.
Players say their fans don't have a permanent bathroom they can use, which forces them to use one of two port-a-potties, which were also relied upon by players when the bathroom in their dugout was out of order.
"For a closely related sport such as the baseball team, there is a staggering gap between what they have and what we have and what we do on a daily basis," wrote one member of Nevada's softball program last season. "Nonetheless, our program is asked to compete in recruiting against schools such as Fresno and Utah State who have indoor facilities, clean cut fields, training tables and maintenance crews that prep and clean the field for them. It is simply unfair for us to be asked to compete against this, which results in mediocre recruiting. To break it down, since I truly do not believe anyone on campus is even the slightest bit aware of what we do as a team down at our field, I will lay out what I can think of at this moment."
There were multiple responses from softball players that took up more than a full page, like the one shown below.
Click on the image below to open in a new window.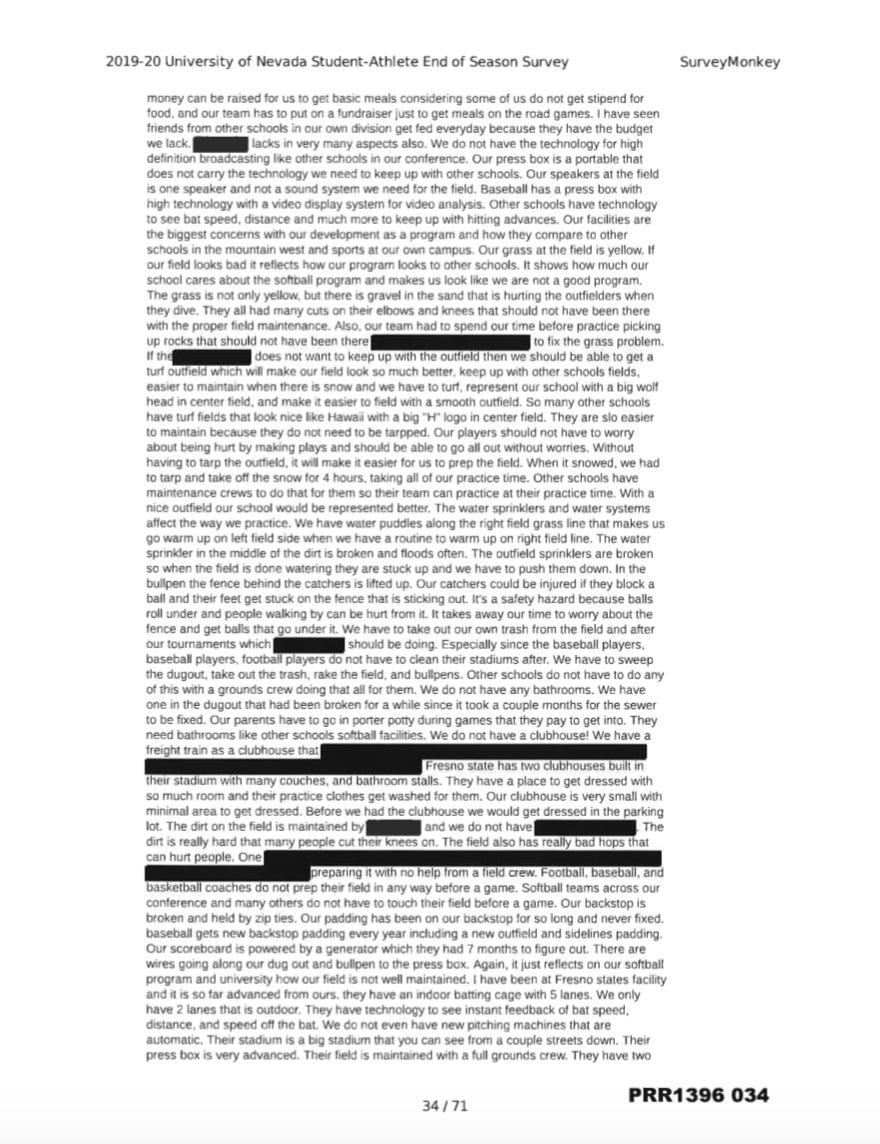 Nevada's softball locker room was described by players as "a Matson shipping container," "a temporary box," "a Klondex box" (likely an unintentional mix-up of Kleenex and Klondike), "a freight train," and "a tiny shed."
Before getting their makeshift locker room, multiple players said they were forced to change in their cars. "We were changing in the parking lot which is very inappropriate and quite embarrassing," wrote one player.
"Our 'locker room' is a tiny shed that [redacted] so we can change in there and not in our cars where other people can watch us," wrote another.
A third player wrote, "Name another team in the Mountain West that has a locker room in a matson shipping container. As a matter of fact, name another sport at the University of Nevada, Reno whose locker room is located in a matson shipping container. Because our park is not even located on the main university grounds, it's necessary for our team to have a lockeroom/club house [sic]. We are a sport that gets pretty dirty daily, so a general locker-room is necessary. Before the matson shipping container, the UNR softball team would be changing in their cars in the parking lot. Let's at least be fair when it comes to this aspect. I'm tired of seeing other sports have basic necessities and we don't."
A different player contrasted Nevada softball's lack of a clubhouse to Fresno State, which she said has two clubhouses "with many couches, and bathroom stalls. They have a place to get dressed with so much room and their practices clothes get washed for them."
Nevada's locker room isn't warm or even exclusive to the softball team, players said.
"No where warm to go, it is a temporary box where baseball gets their own indoor facilities to keep warm," one wrote. Another added, "Softball shares a locker room with referees, equipment workers and other teams. This takes away all of our privacy as well as the security of our belongings."
When asked if the university has plans to add a more permanent locker room and bathrooms to Hixson Park, the university responded:
Improvements and additions to Hixson Park remain a concern for Nevada athletics. A renovated conex box was installed in 2019-20 as a temporary addition for the softball program to provide a changing and warming structure Facilities has performed a pre-design study, assessing the needs to be addressed. Additional portable restrooms will be installed as a temporary measure when the team returns to competition in the spring.
Complaints about the university's athletic facilities weren't limited to softball players.
Just 33 percent of respondents answered that they were "very satisfied" with "your team's competitive and practice facility and equipment (uniforms, etc.)." For reference, 75 percent of respondents were very satisfied with the school's NCAA compliance staff, 67 percent were very satisfied with the athletic trainers, team doctors and training room, and 66 percent were very satisfied with the athletics academic adviser and Academic Center facilities.
Thirty-nine Nevada athletes, or roughly 45 percent of respondents, were dissatisfied with their team's facilities and equipment, with 22.3 percent being somewhat dissatisfied and 12.5 percent being very dissatisfied.
One softball player wrote that the off-the-field issues with Christina M. Hixson Softball Park start with the bathrooms. Multiple players cited COVID-19 when discussing the potential health and safety risks of the team's current bathroom setup.
"There are no bathrooms for the fans, families, and marketing workers who work in the press box and ticket booth," one player wrote. "What there is are 2 single port-a-potties and an outside plastic hand washing station that is constantly out of soap. Not only that, all 26 (as of 2020 softball roster and staff) have to share two bathroom stalls? One located in each dugout? Let's not forget that because of this COVID19 pandemic, the 2020 softball roster and staff will increase to 31, and during games, all 31 of us in the dugout will be sharing 1 bathroom for 3-4 hours … The bathrooms are constantly out of order in the dugout which leads to everyone using port-a-potties. Do I need to say more?"
Previously: You're a COVID-19-negative athlete stuck in quarantine due to contact tracing. Now what?
A different player wrote that the bathroom in the dugout "had been broken for a while since it took a couple months for the sewer to be fixed." Another player estimated that half the time the team's bathroom in the dugout doesn't work.
"With the consequences of COVID-19 we are experiencing the importance for proper sanitation and cleanliness yet we don't even have BATHROOMS," wrote another player. "You would think the university would make sure all facilities had adequate restrooms aka necessities before seat renovations were being done to the football stadium."
When it's time to actually practice or prepare for a game, Nevada softball players find themselves being their own groundskeeping crew, according to six different players who responded to the end-of-season survey.
"Our softball team could be considered field crew," wrote one player. "We are the ones that are picking rocks out of our grass due to fertilizer trying to grow our grass [redacted] on rocks."
Other responsibilities players say they have include weeding the warning track, sweeping the dugouts and walkways around the field, picking up trash at the facility, shoveling snow, and tarping and untarping the field, including during games.
"NO ONE from our university is there," a player wrote.
One player wrote about a time when the team spent eight hours shoveling snow from the field in a single day.
"Every Year, the UNR softball team shovels their own snow, tarps their own field, Tamps their own field, even picks up rocks at their own field," wrote a different player. "It confuses me how Peccole and Mackay stadium have groundskeeping and the tools to take care of 2-3 feet of snow, but for the softball field, we have to borrow bigger brooms from baseball, bring home shovels to take care of the field. During a fertilizer treatment, my team and I spent the first 30 min of practice walking around the outfield searching for rocks to pick up before we can practice for safety reasons."
When asked if it has plans to expand the groundskeeping and facilities crew to make those services regularly available for the softball team, the university responded:
Conversations with University facilities departments are ongoing as it relates to additional services at our fields. Some sports, like baseball and softball, inherently have more or unique needs than others.
The grass, once the rocks have been removed, is yellow. "If our field looks bad it reflects how our program looks to other schools," a player wrote. "It shows how much our school cares about the softball program and makes us look like we are not a good program. The grass is not only yellow, but there is gravel in the sand that is hurting the outfielders when they dive. They all had many cuts on their elbows and knees that should not have been there with the proper field maintenance."
When the yellow grass is watered, a sprinkler located in the middle of the infield, which one player said is a safety hazard.
"When the sprinklers run to even water the field, it overflows the infield making the infield not playable," the player wrote. Another player wrote that the sprinkler system affects the way the team practices. The team's routine is to warm up along the right field line, but that's where water puddles develop.
"The outfield sprinklers are broken so when the field is done watering they are stuck up and we have to push them down," wrote another player.
Sprinklers that stick up aren't the only safety hazard at the stadium, according to players. One player recounted an incident from the 2019 season, when someone was sitting in a handicapped seat the park when a foul ball hit the press box window and shattered over the person's head.
"[redacted] wasn't injured in any way, but what if [redacted] was? It makes no sense to constantly waste money on replacing glass when the windows should have been break/shatter proof in the first place," the player wrote.
Five players said the netting behind home plate is held together by zip ties. Multiple players mentioned shoe strings were used to keep the backstop together, too. Some of the ties are visible in a picture that the Nevada softball account tweeted in July.
"As of right now, these are all big issues that should have already been addressed years ago," one player wrote. "It shouldn't take players to beg for equality [redacted] and facilities but when the gap between the male teams and the female teams benefits become too large, it needs to be heard and changes need to be made. The UNR softball [team] is not reaching out and complaining as an act of ungratefulness because this is clearly not the case. We are grateful and humbled by what the university has done, but we also see what more the university can do, because we see it in our fellow women's sports, men's sports, and even at other Mountain West school facilities."
---
Recap of the last newsletter
Click the image below to read.

"There are two people responsible for the Big 12's decision to play football and other sports this fall, according to Oklahoma State Athletic Director Mike Holder.
"They are West Virginia University President Dr. Gordon Gee and Dr. Michael Ackerman."
Read the full newsletter here.
---
Connect on social media
---
Thank you for reading this edition of Out of Bounds with Andy Wittry. If you enjoyed it, please consider sharing it on social media or sending it to a friend or colleague. Questions, comments and feedback are welcome at andrew.wittry@gmail.com or on Twitter.