Here's what the college football fan experience could look like this fall
Some potential seating plans are capped at groups of three, so you're going to find out quickly who your best friends are
While FCS conferences such as the CAA, Ivy League, MEAC, Patriot League and SWAC, and Division III conferences such as the Centennial Conference, Middle Atlantic Conference and NCAC have already canceled or suspended the 2020 fall football season (although, CAA schools can still play independent schedules), every FBS conference is still planning on playing football this fall.
If football is played, then there will be fans willing to pay for a ticket and suddenly cost-aware athletic departments will be ready to take their money.
Ohio State reported $50.5 million in revenue from football ticket sales during the 2019 fiscal year, just ahead of Michigan at $46.3 million, Texas A&M ($43.5 million), Oklahoma ($39.5 million), and Alabama, LSU and Penn State ($36+ million). It's critical for a school to have the turnstiles at its football stadium operate like the belt on a treadmill six or seven Saturdays every fall when its athletic department has annual operating expenses between $140 million and $220 million.
State and local health guidelines will determine if, and how many, fans are allowed inside college football stadiums this fall – if there's even a season – but even at reduced stadium capacities, athletic departments will gladly sign up to receive 15 or 30 percent of the usual $35 million in annual ticket revenue.
If you're a fan of a school that plays football this fall and you attend a game, what will your experience be like after you pass through the front gate?
Out of Bounds obtained the University of North Carolina's 23-page Athletics Return to Action Road Map, which includes a number of pages dedicated to "reduced capacity solutions in football stadiums." The global design firm Populous, whose website says the company has designed spaces valued at more than $40 billion in total, helped North Carolina with its temporary and operational planning in the report.
The Road Map lists six considerations for maximizing seating capacity with limitations:
6' seated distancing

Aisle distancing and no aisle distancing

Added aisles and no added aisles

Configurations of using every aisle, 1 of 3 aisles, and 2 of 3 aisles

Different size seating groups

Bowl modifications
Previously: Athletes, staffers ask for more mental health resources amid budget cuts
On a page of the Road Map titled "The Plan for GameDay in Kenan Stadium, Dorrance Field, Carmichael Arena and Shelton Stadium," the list of considerations includes premium area and non-premium seating constraints that would limit seating to between 10 and 50 percent of normal capacity. Even the most ambitious seating plans for this fall could still result in half the seats being empty. Kenan Stadium's normal capacity is 50,500 fans.
In this newsletter, Out of Bounds will break down the six different seating arrangements that were included in the Athletics Return to Action Road Map.
The first seating graphic in the Road Map looks like it was included to show the ideal principles of socially distanced seating (rather than a specific seating plan): small groups, preventing fans from sitting near the aisles and not utilizing every row.
Below, the graphic on the right shows a hypothetical section that holds 52 fans, who are in groups of six or fewer, and the Americans with Disabilities Act seating is still available at the top of the section.
This model shows each section is divided into two sides, left and right, with an imaginary line drawn vertically to show the desired directional flow of fans in order to prevent different groups of fans from crossing paths with other fans who aren't in their group. You'll also notice that from one section to the next, fans aren't sitting in the same row in both sections (e.g. in Section 104, fans might sit in rows 3, 6, 9, 12, etc., while in Section 105, fans might sit in rows 1, 4, 7, 10, 13, etc.).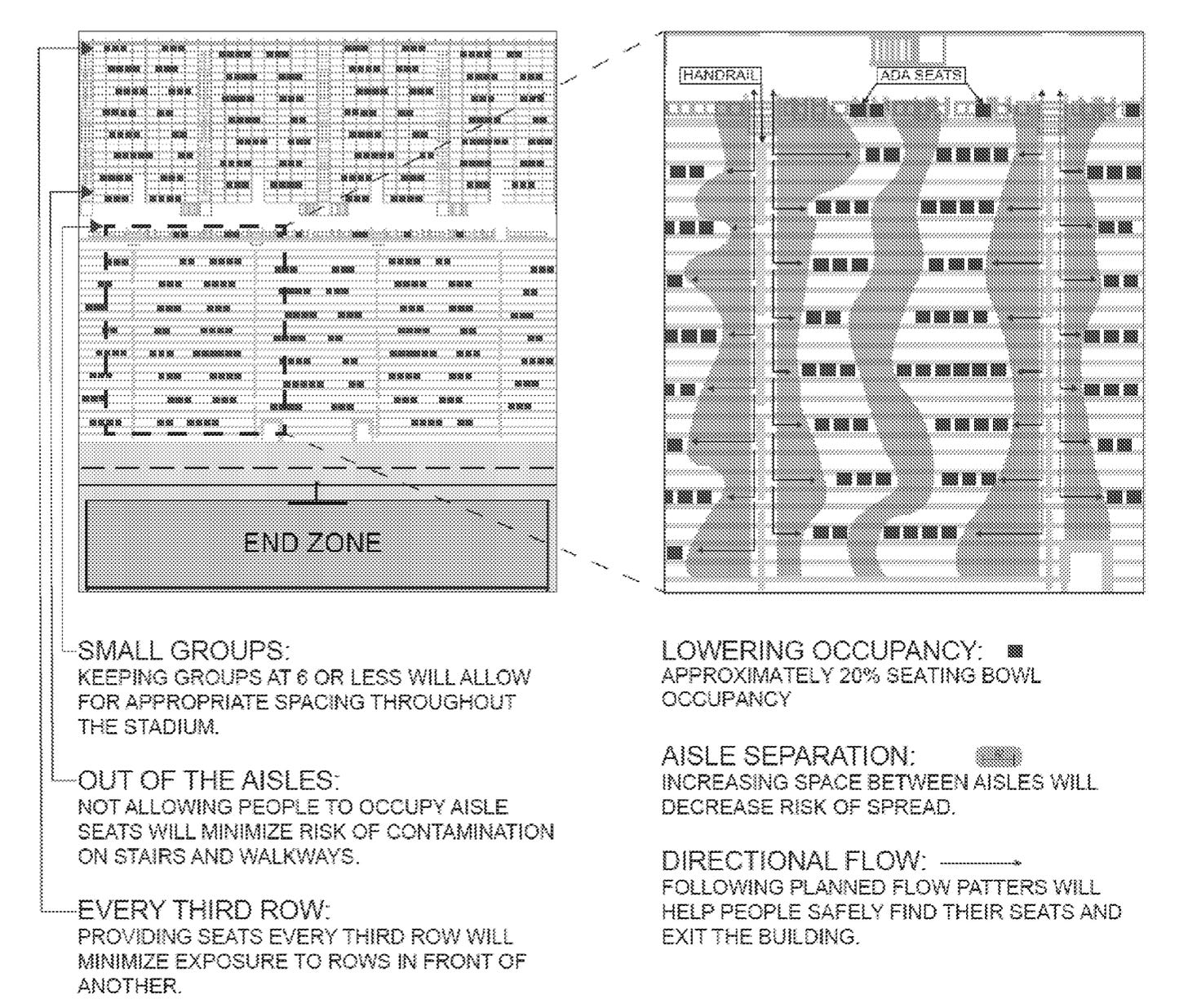 Apologies in advance for the black-and-white versions of what were likely originally color-coded models to show which seats are used, which are not used, which seats are removed and where there is new construction. Sometimes you just have to take what you can get when reporting.
This next seating plan shows "Small Group Seated Distancing," meaning groups of two to four people. Every single row is used but that's only because the groups are so small that they can still have at least six feet between them.
The total seating capacity for this plan is 17 percent, or 8,585 fans.
The difference between the "Large Group Seated Distancing" and "Small Group Seated Distancing" plans is that large groups can fit up to five people and small groups are capped at four.
Those are the kinds of margins that universities and athletic departments are facing.
This seating plan uses two out of every three rows and groups of fans are staggered, such that the closest fans who are sitting in the same seat number as you are three rows in front of you and three rows behind you. This model has a five-percent higher seating capacity than the Small Group Seated Distancing plan shown previously.
A 22-percent utilization rate means a capacity of 11,110 fans.
Previously: A John Wooden-era college basketball scheduling model to consider for 2020-21
The following plan, "Seated Distancing in Clusters," is the type of seating plan that would allow schools to maximize their ticket revenue in the face of dramatically reduced seating capacities. This plan has a 31-percent utilization rate – 15,655 fans, and five percent higher than the Large Group Seated Distancing plan shown perviously – because it allows groups of six to eight fans. The graphic below indicates this plan has the highest seat utilization rate possible without requiring construction.
This plan also doesn't prevent fans from sitting along the aisle, an idea that three pages prior in the Athletics Return to Action Road Map was said to "minimize risk of contamination on stairs and walkways." This plan also utilizes every row, but groups are staggered.
On the other end of the spectrum, the "Seated Distancing with Added Aisle" plan has the lowest seat utilization rate of any of the plans listed in the Road Map at 10 percent, or 5,050 fans.
Groups of fans are capped at three people and there's aisle distancing. There's also an additional aisle created to allow for safer directional flow in and out of the aisles.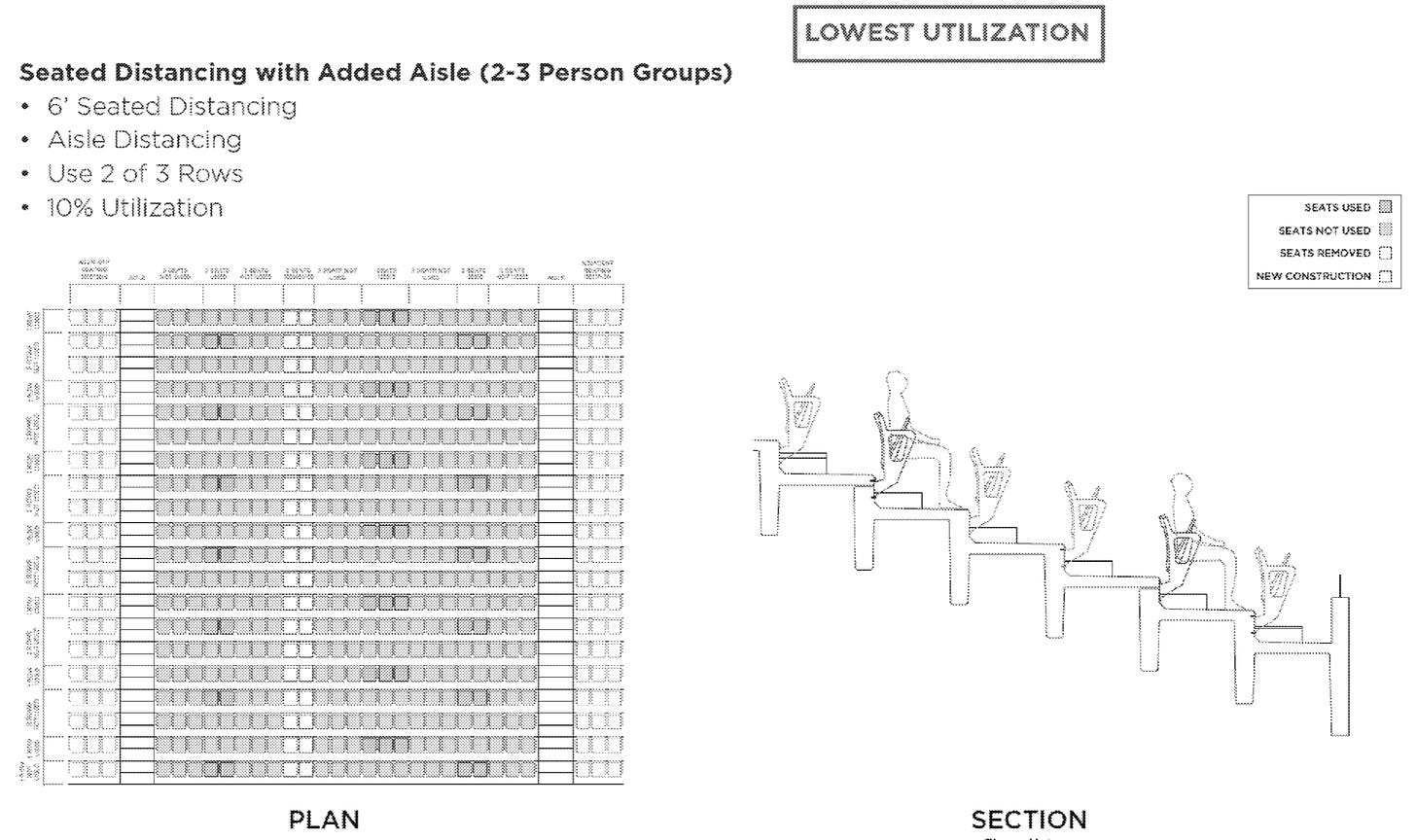 North Carolina could employ seated distancing with an added aisle and increase its seat utilization rate from 10 percent (shown above) to 25 percent (shown below) by doubling the group size. A 25-percent seat utilization rate would lead to a capacity of 12,625 fans.
The previous graphic shows groups of two to three people, but with groups of four to six people, and the utilization of every row, a quarter of the stadium could be filled.
There is no aisle distancing in this plan.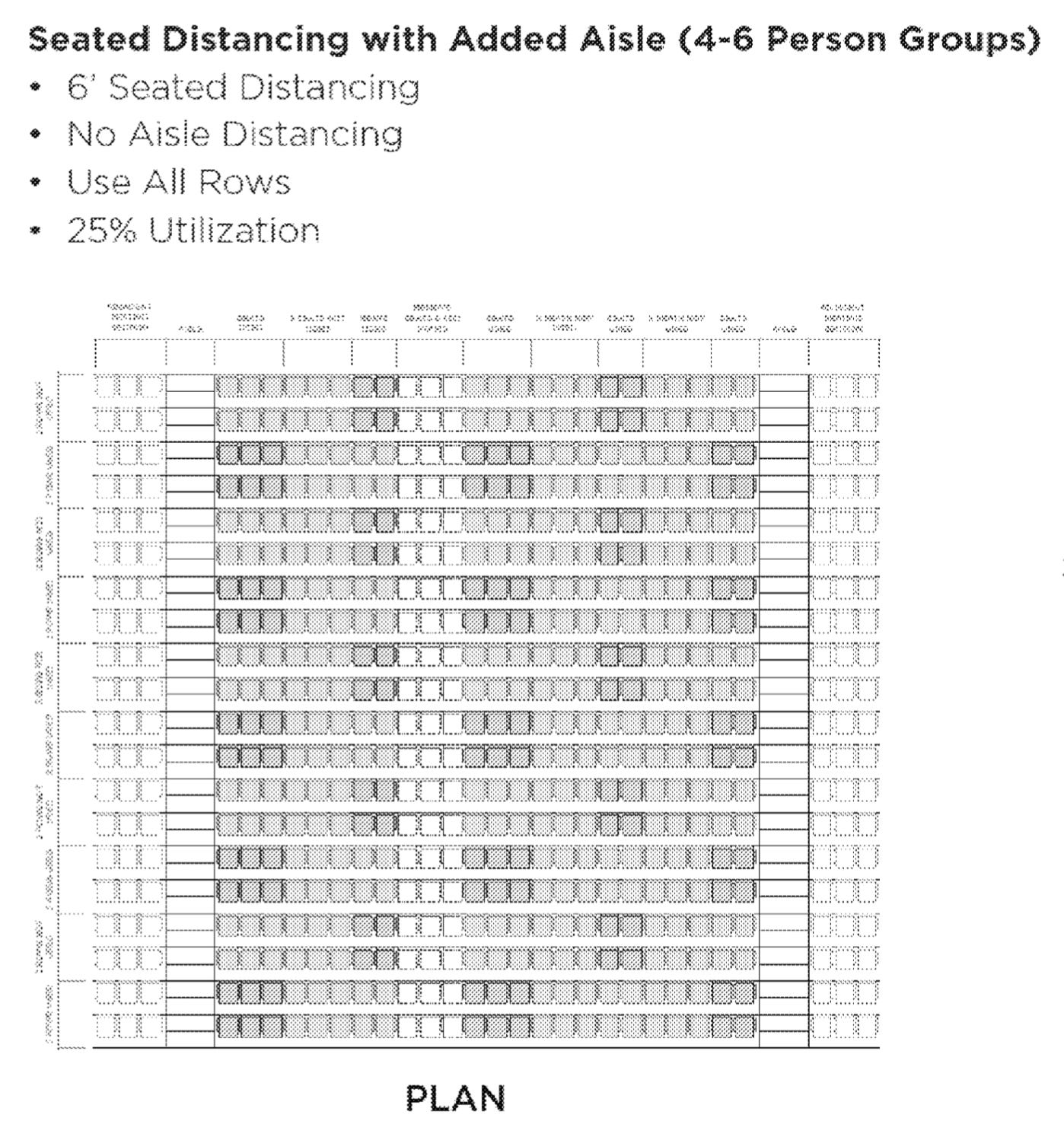 Finally, the last plan shown in the Athletics Return to Action Road Map shows what's called a "Box with Overbuild," where four-person groups could sit in every other row with two seats between different groups that are sharing the same row.
Below, the graphic on the right shows what the Box with Overbuild model might look like, perhaps something similar to the benches in the English Premier League and other professional soccer leagues. This model has the highest seat utilization rate, 33 percent, but it requires the building of the boxes and the utilization rate is only two percent higher than the six-to-eight-person Seated Distancing in Clusters plan.
A 33-percent utilization rate would give Kenan Stadium a capacity of 16,665 fans.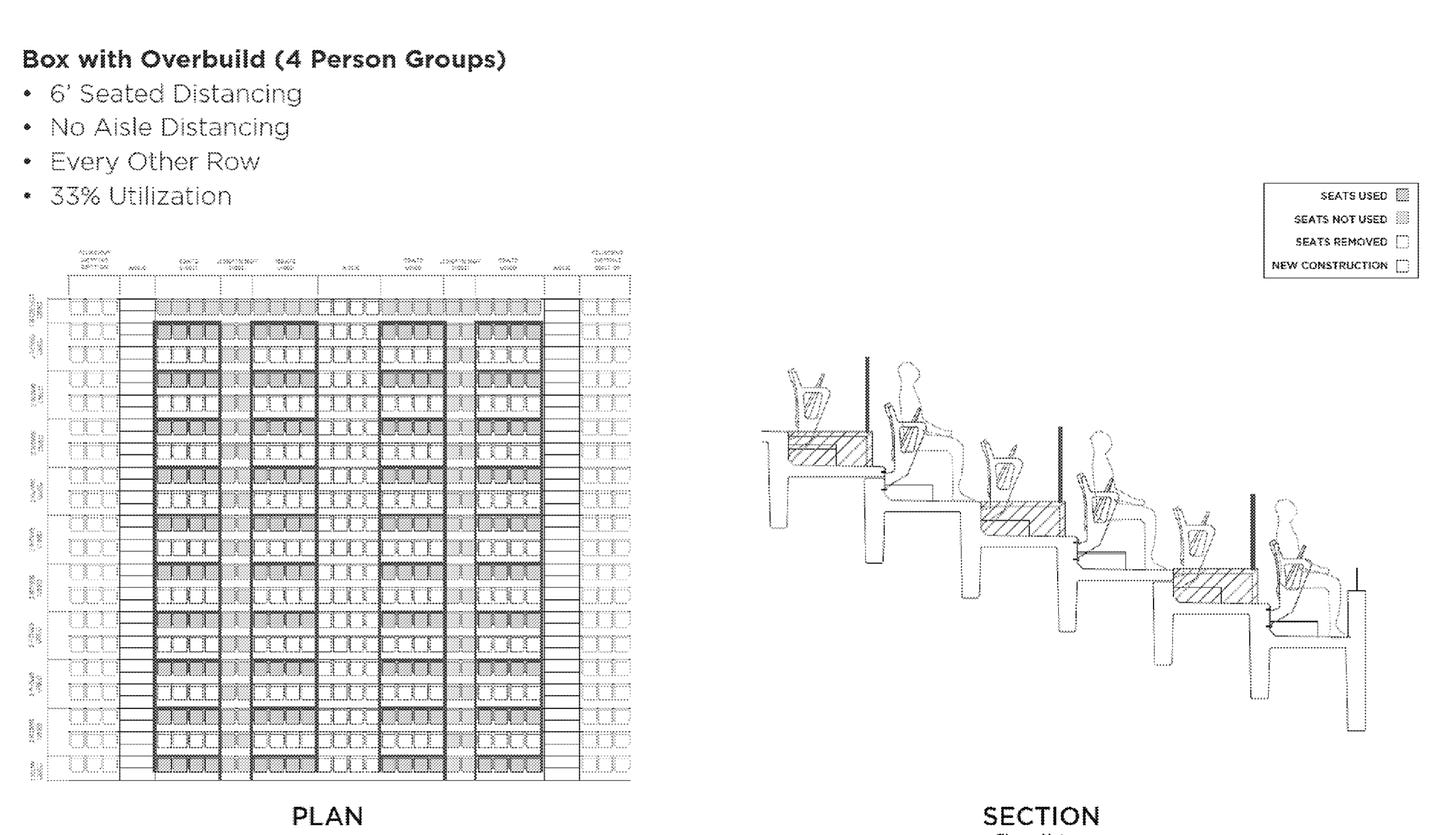 Previously: 'You are looking live … at Introductory Accounting here at Kyle Field'
Whatever number of fans attend home games this fall at North Carolina's Kenan Stadium will mark a dramatic increase in the number of "new people" on campus for athletics-related purposes.
The Football Return to Action Road Map shown below outlines North Carolina football staff members returning to campus in Phase 1, then athletes in Phase 2. Fans return to campus in Phase 3. Prior to the return of fans, the largest single-day total of "new people," according to this plan, was 85 people on June 15, when 65 football staff members and 20 football athletes were scheduled to return to campus.
Even if North Carolina pursues the seating plan with the smallest seat utilization rate (10 percent), that's roughly 5,050 "new people" who will return to campus, hence the importance of socially distanced seating measures. The Box with Overbuild seating plan, which allows for 33-percent seating capacity, would mean roughly 16,665 "new people" on campus.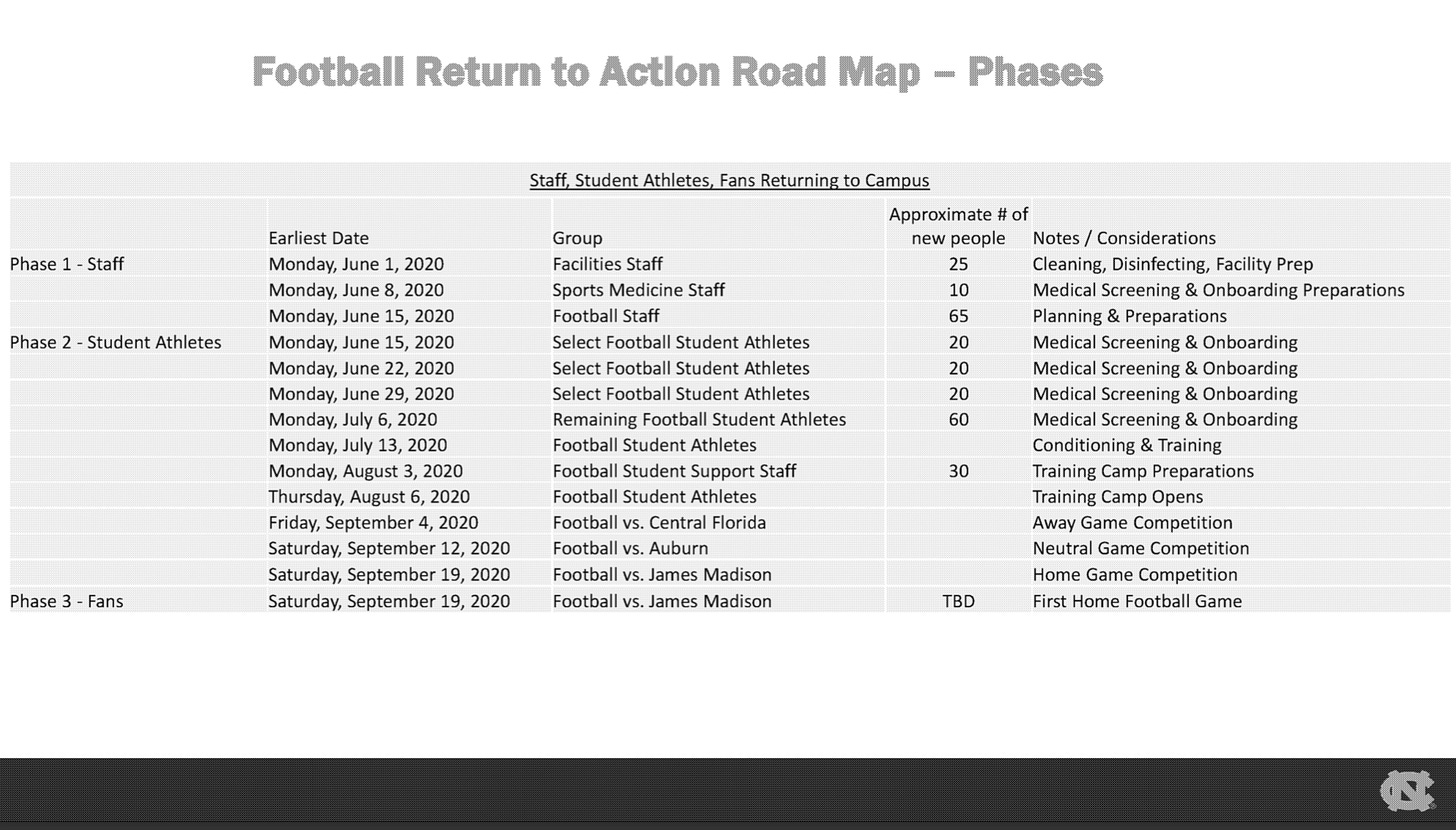 North Carolina's Athletics Return to Action Road Map includes considerations such as team and position meetings continuing to be held via Zoom even after the return of athletes and staff members to campus, the players' lounge potentially remaining closed, and limited on-campus work schedules for staff members, such as Monday/Wednesday/Friday only, 12 p.m. to 5 p.m. only, or no re-entry after 3 p.m.
If athletes and staffers are making concessions in the name of safety, it only makes sense that the fan experience would also be limited on gamedays.
North Carolina, like countless other schools, has explored mobile ticketing in order to limit person-to-person contact. Once inside a stadium, due to ingress and egress concerns, there could be labeled stadium zones that turn hallways, aisles and stairwells into one-way streets. Come in going one way, leave going a different way.
Food service, merchandising and other vendors will likely expand their touchless ordering. Get used to lots and lots of signage, too. Here's some of the possible messaging North Carolina fans might see inside Kenan Stadium in the fall.
Fans will constantly be reminded to wash their hands frequently, wear a face mask, avoid touching their face, and maintain social distancing – all the stuff that public health officials have urged for the last four-plus months.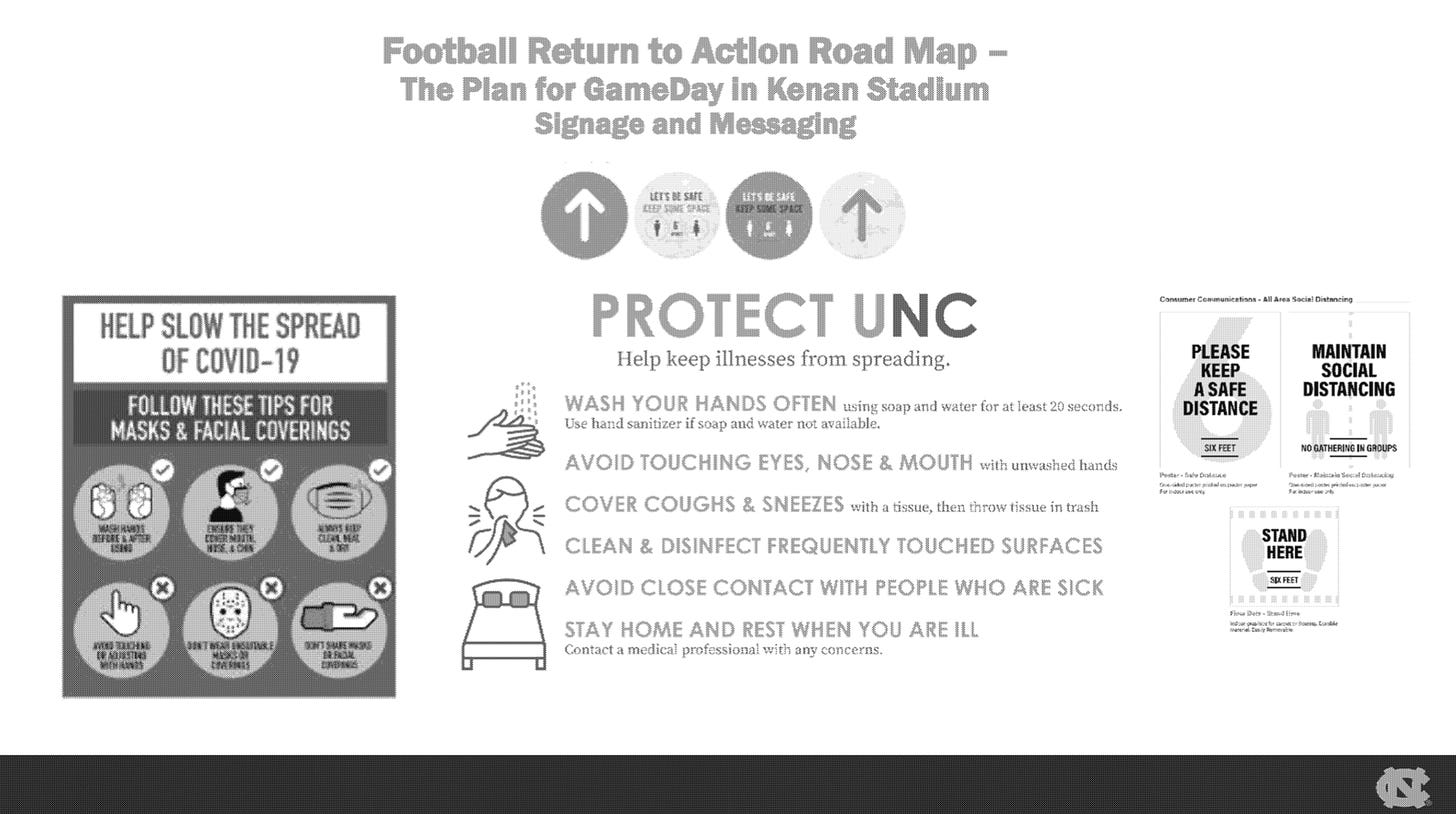 At a Board of Trustees meeting last Friday, Clemson Athletic Director Dan Radakovich said the school contacted 8,500 season ticket holders and 83 percent said they were "comfortable" attending games with social distancing, although 54 percent said they preferred a fall football schedule without fans to a spring schedule with fans.
So, anecdotally in the case of one of the best programs in the country, most of the season ticket holders surveyed are in favor of a fall season, even if it means they can't attend home games, but the overwhelming majority have indicated they'd go to games if they're allowed to and if they can be seated safely.
That's where seating plans like the ones outlined above come in to play, so if you want to watch college football in person this fall, make sure you text a group of two to six friends, keep a face mask in your back pocket and make sure your phone is fully charged when you arrive at a stadium this fall so that you can order a couple of beers and hot dogs from your seat, because those will all be part of the college football fan experience in 2020, assuming there's even an in-person fan experience to be had.
Thank you for reading this edition of Out of Bounds with Andy Wittry. If you enjoyed it, please consider sharing it on social media or sending it to a friend or colleague. Questions, comments and feedback are welcome at andrew.wittry@gmail.com or on Twitter.