Here's the impact online classes have on students, according to DI athletes
'All student-athletes felt that online and hybrid was slightly more difficult than face-to-face'
Welcome (back) to Out of Bounds with Andy Wittry. Tuesday marked the one-month mark since I launched this newsletter and in that time, I've written about the need for adequate mental health resources for athletes amid budget cuts, a pandemic and racial injustice; what the in-person fan experience could look like with limited college football stadium capacities this fall; a college basketball scheduling proposal that could eliminate up to half of the road trips in conference play; and how athletic facilities could be used for socially distanced classrooms.
Hopefully these newsletters have provided original reporting that you haven't read anywhere else, or made you think about an idea or topic that you hadn't previously considered.
The support from family, friends, colleagues and complete strangers means a lot, so thank you all.
This newsletter is a work in progress, as I'm testing different ways of formatting the written portion of the newsletter and exploring a video component using YouTube (who doesn't love talking into a webcam for 15 minutes and trying to make stadium seating plans sound exciting?).
Thank you for reading and as always, any suggestions or feedback is welcome.
---
On Wednesday, USC announced all fall classes will begin online, one day after University of Texas Interim President Jay Hartzell estimated that 45 to 50 percent of the school's student body has "opted for an online-only fall semester," as two of the most prominent schools in the Pac-12 and Big 12, respectively, became the latest to announce the 2020-21 school year will be heavily, if not entirely, online.
In July, there was a wave of academic and research-focused schools on the East Coast that announced their plans for an online-based curriculum this fall.
Harvard announced, "The interim planning report established that all course instruction (undergraduate and graduate) for the 2020-21 academic year will be delivered online." The same day, Rutgers announced its fall semester will feature a "majority of remotely delivered courses with a limited number of in-person classes." Most of Princeton's instruction will be offered online and Georgetown has stated that courses for all students will start virtually and the university plans to "introduce in-person course elements as soon as health conditions permit."
By the way, if, when and where in-person teaching is allowed this fall, athletic facilities could be a solution to providing safer, socially distanced seating arrangements in non-traditional classroom spaces.
While remote learning is the safest way to continue education while limiting the potential spread of COVID-19, there are obviously concerns about how students – of all ages and grade levels – will be challenged, motivated and have their individual academic needs catered to as they take online or hybrid courses.
College athletes have already expressed concerns about online courses that they've taken prior to the pandemic. Out of Bounds obtained the summaries of University of Houston's 2019-20 athlete oral exit interviews via a public records request. Online courses were mentioned in the interview summaries of 18 of the 31 athletes.
While a few athletes noted that taking online classes helped with their athletic schedules, including their ability to stay on top of their studies while they were traveling, almost every one of the 18 Houston athletes indicated that online courses are either more difficult or less difficult than in-person classes, or that they weren't pushed as much or that less was expected of them in online classes.
Just three of the 18 Houston athletes whose interview summaries mentioned online classes rated those classes as the same difficulty as in-person classes. This newsletter also features anecdotes from athletes at Missouri and Texas who expressed concerns about online courses.
She 'needs to be pushed, and online courses seem not be doing that for her'
Eleven of the 18 Houston athletes whose exit interview summary mentioned online classes commented on how online courses were easier than in-person and/or hybrid courses.
Some of those remarks were made by athletes in a positive sense.
One former Houston women's golf athlete said online courses helped with traveling, allowing her to miss less material and to work on assignments during tournaments. The interview summary for a men's track and field athlete noted that he "found them to be easier with an athlete's schedule in that you don't need to be running around going to class."
A women's volleyball athlete said online and hybrid courses had fewer assignments, while a men's track and field athlete said those courses "were easier because you have a better idea of what is due." Online courses are less difficult because they give students what they "need up front," according to one former Houston women's track and field athlete.
But even comments that were complimentary of the less difficult nature of online courses should still raise questions about the quality of an online education.
Is it worth it to students and their parents to pay the same amount in tuition for a semester of classes that are taken online or in a hybrid format? What about the other elements of the in-person college experience that will be lost or reduced this fall due to health and safety measures on college campuses? And for athletes, is the value of a scholarship reduced if there's limited or no in-person education?
Previously: 'You are looking live … at Introductory Accounting here at Kyle Field'
During an interview with a former Houston women's swimming and diving athlete, who said online classes were more common for freshmen and sophomores, a member of the school's Athletics Advisory Committee wrote that she said she "needs to be pushed, and online courses seem not be doing that for her."
There's anecdotal evidence that online and hybrid courses were easier because of the expectations set by either the course format or the instructor, and Houston athletes across multiple sports commented on the difficulty of contacting or connecting with a professor who teaches in a virtual format.
The interview summary for a Houston women's track and field athlete stated that she "felt that online and hybrid courses were less difficult perhaps because what was expected was less … [she] said that her academic program could have been better if it had not been so focused on online/hybrid courses."
This fall, degree programs across the spectrum of academia will have no choice but to be delivered in online and hybrid course formats.
Then there's the very 21st-century issue of how professors conduct important assignments, like midterms and finals, in an online format, when students have the entire Internet at their fingertips. An anonymous athlete who competed in a spring sport at Missouri last school year raised complaints in an end-of-year survey that online exams provide additional opportunities for students to cheat.
Previously: Athletes, staffers ask for more mental health resources amid budget cuts
One former Houston softball athlete noted that online and hybrid courses were less difficult because "a lot of information was online and they could use their notes."
The interview summary for a different Houston softball athlete read, "Did not really struggle as most of her classes were online. Said that online classes were less motivating and challenging. Could use textbook on tests. CASA [Center for Academic Support and Assessments] tests made it challenging because there was no guidance on what was on the exam…
"…[she] says that online courses are easier with sports but you do not get the college experience."
Previously: A John Wooden-era college basketball scheduling model to consider for 2020-21
Sometimes for better and sometimes for worse, athletes don't always get "the college experience," and online classes can add to that. Athletes are already in a special class of student and online classes can limit their interactions with their peers and the rest of campus.
"Will athletics be able to resume if classes are online during the fall?" wrote one anonymous Bowling Green athlete to the school's administration in the school's latest end-of-year survey. If there's a school year with athletes on campus but a limited number of non-athlete students there too, that could widen the gap of an already disparate experience for some athletes compared to students who aren't athletes.
Ohio State quarterback and Heisman Trophy contender Justin Fields said he signed up for online classes last year, according to The Columbus Dispatch, which reported Fields said he spent most of his time at home or in the school's athletic facilities.
"But from what I have seen," he said, "the campus is beautiful and the people around are great."
There are serious questions to be asked about what's the lasting impact of having the majority, if not the entirety, of a student body taking a significant percentage of its courses online – courses that athletes have already said are too easy or too hard, and limit contact with professors and take away from the traditional college experience.
'All student-athletes felt that online and hybrid was slightly more difficult than face-to-face'
Several Houston athletes noted in their exit interviews that online classes were more difficult, which is concerning, especially in light of the number of athletes who said online courses were easier. Not every student learns the same way, so some students could be at a disadvantage relative to their peers if they struggle in a virtual environment, even if those struggles are considerations that are out of their control that are often taken for granted, like reliable internet or access to technology.
A study published in June 2019 by the Pew Research Center concluded, "As is true of internet adoption more broadly, home broadband adoption varies across demographic groups. Racial minorities, older adults, rural residents, and those with lower levels of education and income are less likely to have broadband service at home."
The study found that in 2019, 92 percent of white adults in the U.S. used the Internet, compared to 88 percent of Hispanic adults in the country and 85 percent of black adults. Ninety-eight percent of American adults who earned at least $75,000 last year used the Internet, according to the study, whereas just 93 percent of adults who earned between $30,000 and $49,999, and only 81 percent of adults who earned less than $30,000.
Among U.S. adults who lived in rural communities, 85 percent used the internet, compared to 94 percent of adults who lived in suburban communities and 91 percent of adults in urban communities.
Previously: Here's what the college football fan experience could look like this fall
The study found that adults in the U.S. who are black or Hispanic are much less likely to have home broadband services than their white counterparts – 66 percent and 61 percent, respectively, versus 79 percent. Last year, there was a gap of 36 percentage points in terms of the percent of U.S. adults who had home broadband services between those who earned at least $75,000 (92%) and those who earned less than $30,000 (56%).
The following data comes from a different study by the Pew Research Center that was published in April and measured how essential the Internet has been to Americans during the COVID-19 pandemic. Similarly to the previous study, low-income individuals and those who live in rural or urban communities have had a stronger reliance on using their cellphones to complete to homework or relying on public Wi-Fi for schoolwork.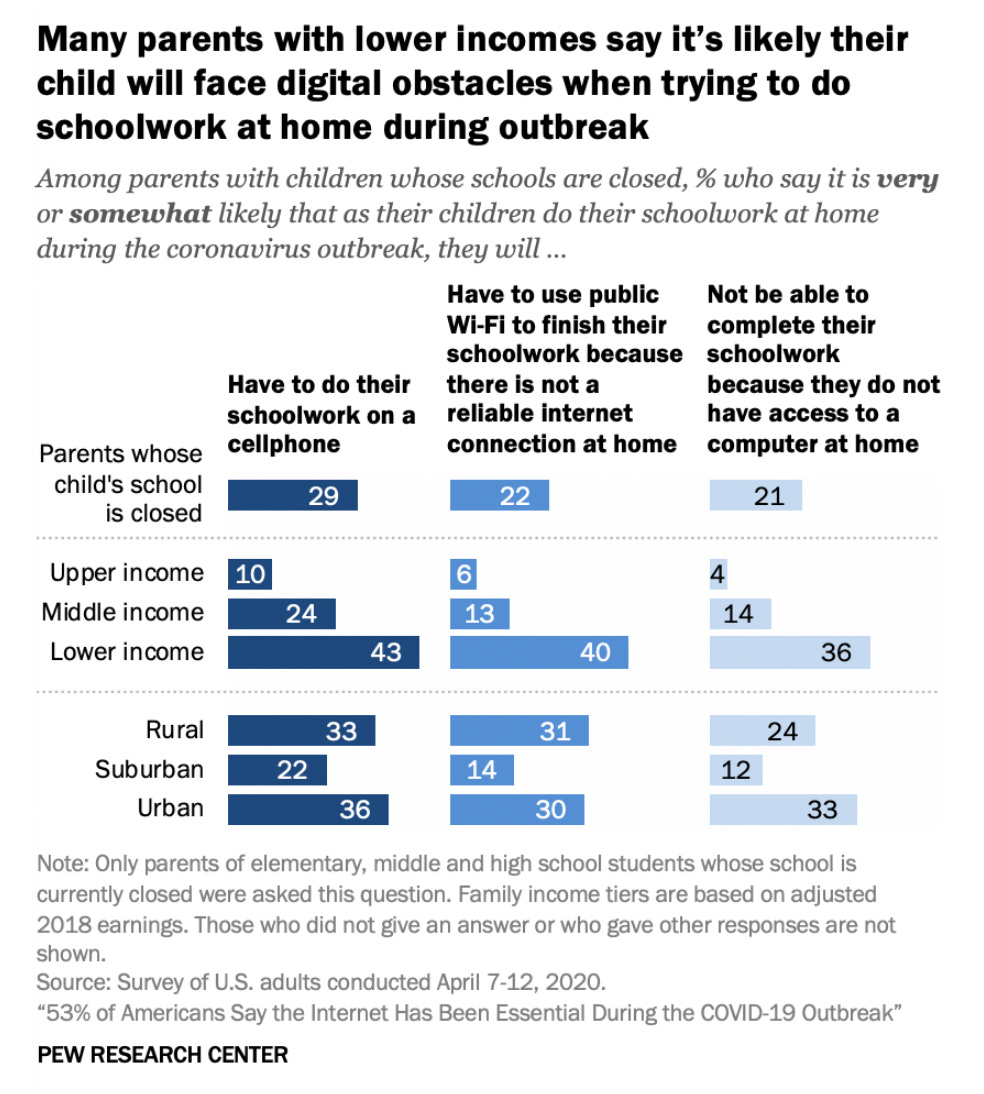 Pew Research Center also found that black and Hispanic Americans are more likely to worry about paying their broadband or cellphone bills than white Americans, as are lower- and middle-income individuals compared to their upper-income counterparts.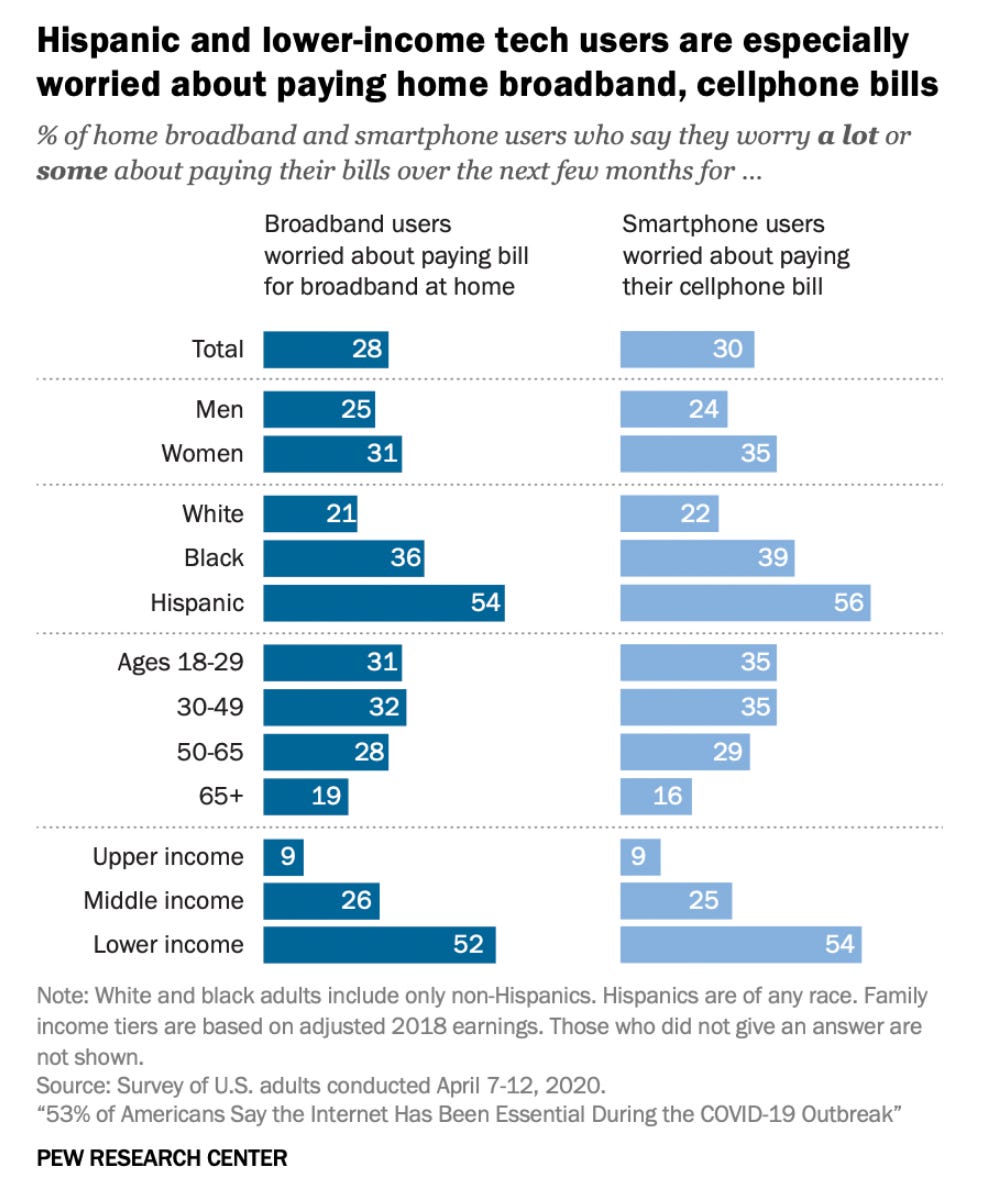 Another Pew Research Center study found that 22 percent of 18 to 29-year-olds in the U.S. only have a smartphone and they do not have high-speed Internet connection at home.
The authors of a K-12-focused story published by the Los Angeles Times in March wrote the following:
There is uneven access to technology, difficulties communicating with students and parents, and uncertainty about expectations at a time when many families are suffering.

And even for educators who have long used online learning tools and whose students have easy access to them, it is challenging to rely solely on technology.

Many teachers are grappling with this while also adapting to the tough realities of working from home.
As that last line noted, this isn't all about the students. The online learning experience also depends on the instructor's Internet connection, comfort teaching in a virtual format, and availability outside of class hours.
One member of the University of Houston's Athletics Advisory Committee, who conducted four exit interviews with athletes who played three different sports, wrote in his summary, "All student-athletes felt that online and hybrid [learning] was slightly more difficult than face-to-face due to limited/delayed access to the instructor."
A former Houston men's track and field athlete told his interviewer that online classes were more difficult due to less contact with professors, which was echoed by a Houston men's basketball athlete who "said that online courses were a little more difficult sometimes because of limited interaction with the teacher," according to his interview summary.
One of his teammates said he felt that online courses were more difficult because it was easy to overlook something. A Houston women's swimming and diving athlete "preferred in-class instruction and found it easier to stay on top of her assignments," according to her interview summary, while a women's volleyball athlete's summary said, "Face-to-face courses provided a better learning experience."
An athlete who competed in a spring sport at the University of Texas and exhausted his or her eligibility during the 2019-20 school year wrote in his/her exit interview:
I've had to take some classes online that would have been better to take in person.  I wasn't able to attend office hours regularly. I struggled with meetings times on group projects. I wasn't able to attend many networking meetings that my college put on because of practice times and competitions. I wasn't able to study abroad or do summer internships. Those are all things I had to sacrifice when I made the choice to be a student athlete.
It's not just classes that will be moved online this fall, but also other aspects of the college experience, which the Texas athlete noted, such as office hours, group project meetings, networking and internships. Some of those might just be canceled, too.
Athletes were already making sacrifices in their college experiences prior to the COVID-19 pandemic and now entire undergraduate and graduate student populations will be asked to have similar experiences in the fall semester, if not longer, due to the pandemic.
But what is the cost – literally and figuratively – of an online-heavy education, especially in terms of the components that can't be measured as easily, such as the value of the education or quality of an individual's overall college experience?
---
Recap of last week's newsletters
Click the images to read.

"If nearly a quarter of Iowa athletes don't feel comfortable approaching their coach with a personal concern, which is backed up by anecdotal evidence in the Husch Blackwell report, perhaps the annual university-issued athlete survey was seen in recent years as a way for athletes to give feedback to the school's administrators that they couldn't give directly to their coaches.
"Just two years ago, after the 2017-18 school year, you could count on one hand the number of black athletes who responded to Iowa's athlete survey."
Read the full newsletter here.

"Even if North Carolina pursues the seating plan with the smallest seat utilization rate (10 percent), that's roughly 5,050 'new people' who will return to campus, hence the importance of socially distanced seating measures. The Box with Overbuild seating plan, which allows for 33-percent seating capacity, would mean roughly 16,665 'new people' on campus."
Read the full newsletter here.
---
Connect on social media
As I mentioned at the top, I've expanded to add a video element to the newsletter.
You can subscribe here and watch as I try to create the perfect webcam background.

Thanks to my sister, who majored in strat comm and knows everything there is to know about social media marketing, I've started an Instagram account for the newsletter. If you're interested in seeing any of the behind-the-scenes aspects of my reporting, you can follow along at @out___of___bounds (three underscores between each word because I'm probably eight years late from getting @outofbounds).

---
Thank you for reading this edition of Out of Bounds with Andy Wittry. If you enjoyed it, please consider sharing it on social media or sending it to a friend or colleague. Questions, comments and feedback are welcome at andrew.wittry@gmail.com or on Twitter.