Column: It's been a year since Purdue adopted a sports wagering policy. No one's been caught
It's pretty crazy there's no gambling on Purdue's campus anymore, right?
Back in college, when I was an Indiana men's basketball beat writer, I remember walking to class in the fall and seeing Indiana's 6-11 freshman Jeremiah April in a walking boot. April had committed to Indiana in April of that year, late in the recruiting cycle.
To be clear, April – the player – didn't commit in April – the month – because he was a five-star recruit who was waiting for more clarity about players' NBA draft decisions or because he was waiting for the transfer market to settle. No, he was committing to a Big Ten school late in the spring semester of his last year of prep school because he was really tall and Indiana needed another big man.
Each party was the best the other could find at the time.
April's 247Sports recruiting profile, even to this day, is one without a profile picture. Instead, it has one of those default pictures of a cartoon shadow of a player. 247Sports says he was a three-star recruit and the No. 410 prospect nationally in the 2014 recruiting class, and to be honest, April was probably only ranked that high because Indiana had offered him a scholarship and because he had accepted. One recruiting site listed him at 6-9, 190 pounds and another had him at 7-feet tall and 235 pounds.
I found a tweet I sent after April committed, with two observations from his high school mixtape:
Why am I devoting eight paragraphs to a player whose Indiana career saw him play in just four games for a total of 17 minutes, while scoring six points?
Because on one of my weekly routes to class, I'd frequently pass April, and more times than not that fall, he was wearing a walking boot. It wasn't until Nov. 5 of that year that I noted on Twitter that I had seen him without a walking boot for the first time – and there was a market for that news on Twitter. A couple of retweets, a couple of likes and a couple of replies.
Given April's brief and unproductive stay in Bloomington, that was probably a bigger social media reaction than a relatively innocuous injury update about the deepest of Indiana's bench players deserved.
But even though he was Indiana's 13th man, it was still news, and while even a healthy version of April probably wouldn't have made a difference for the Hoosiers, it was an observation that only would've been made by someone who was regularly on campus, like a student, professor or university staff member.
Five years after I took weekly stock reports of whether April was crossing campus in a walking boot, Purdue University issued a sports wagering policy, believed to be just the second of its kind, joining Saint Joseph's University in Philadelphia, and the policy was designed to prevent those kinds of on-campus observations and interactions – or put more simply, access to athletes – from materializing in the form of sports betting.
Part of the policy reads:
Consistent with these values, and to uphold them within a legalized gaming environment, Purdue University prohibits its faculty, staff, students and independent contractors from placing, accepting or soliciting a Sports Wager (on one's own behalf or on behalf of others) on any Purdue team, student-athlete, coach, statistical occurrence, contest or event.
The university policy was issued on Oct. 18, 2019, roughly a month and a half after sports wagering became legal in Indiana on Sept. 1, 2019.
Almost a year after the policy was adopted, on Oct. 1, 2020, a Purdue spokesman told Out of Bounds in an email that the university hasn't found any staff members, faculty, students or contractors in violation of the policy.
Wow, that's pretty incredible that Purdue managed to get rid of all forms of sports gambling on its campus in the last 12 months with its new policy.
Surely, there are still Purdue students who wager for or against the Boilermakers. They had beaten No. 2 Ohio State 49-20 in football the fall prior to the university's adoption of the policy and their men's basketball team was seconds away from reaching the Final Four in the spring of 2019.
I know there's betting going on in West Lafayette because not too long ago I was a college student on a Big Ten campus in the state of Indiana.
Also because I'm a living, breathing human with a pulse.
What happens if a student – somehow, some way – gets caught betting on Purdue?
Well, they'd be subject to "appropriate disciple under the Regulations Governing Student Conduct."
Does that mean the size of the wager could influence the punishment? Does their status as a first-time offender or repeat offender potentially come in to play?
"Yes, that is how we would define appropriate," a Purdue spokesman said.
And to think that students weren't originally part of the language of the policy, according to a memo obtained by Out of Bounds.
"[Purdue General Counsel] Steve [Schultz] has added highlighted and square-bracketed language to the policy that would allow it to cover students," corporate secretary and senior executive assistant to the Board of Trustees Janice Indrutz wrote in an email to the Board of Trustees on Oct. 8, 2019, which was obtained by Out of Bounds. "If the Board elects (following discussion) to go the latter route, we would include the yellow-highlighted language covering students. If the Board elects to go with the original recommendation and wait for the [Executive Policy Review Group] to study this further, we would go with the version that does not have the yellow highlights."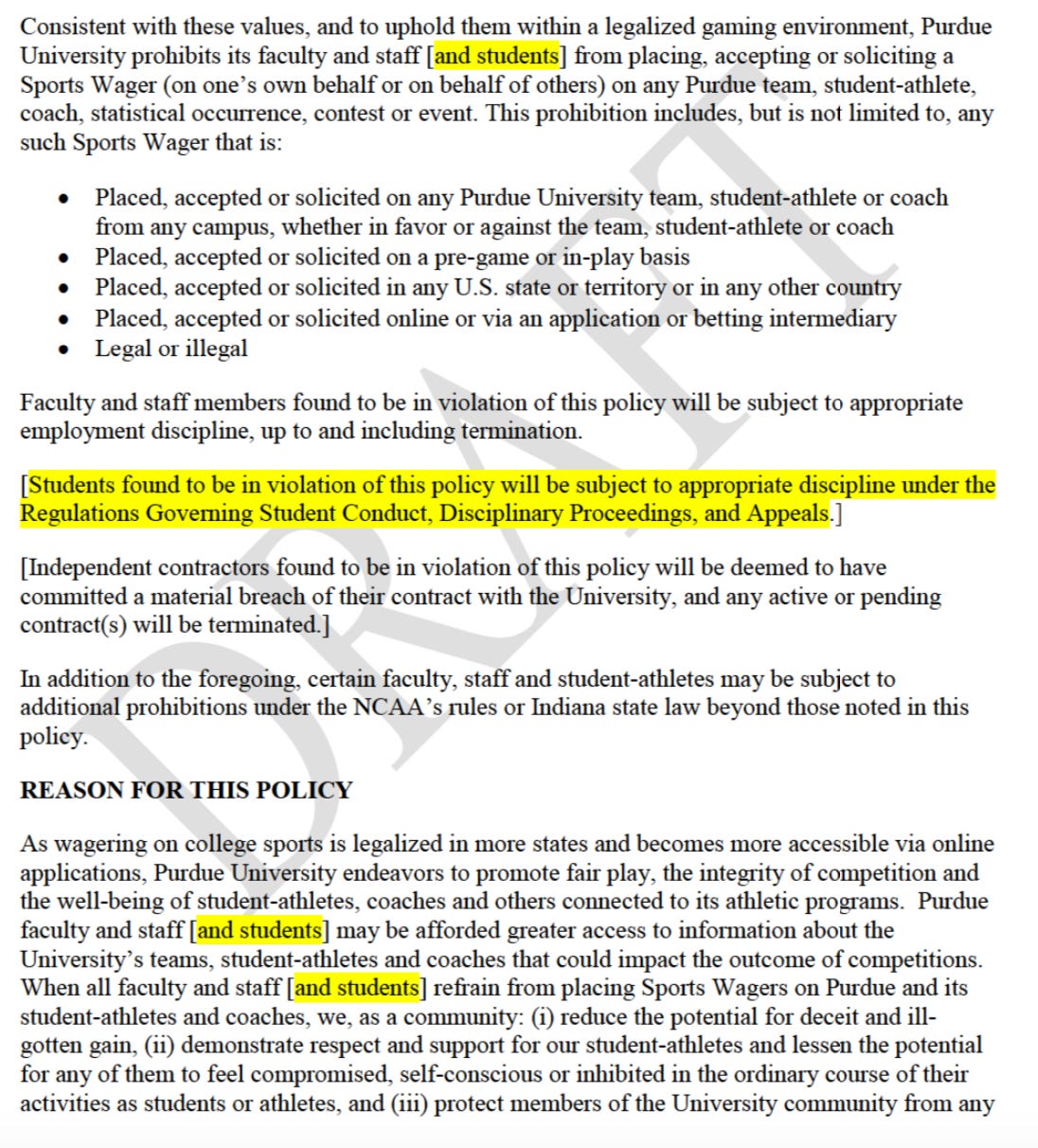 "Please also note that, at President [Mitch] Daniels' suggestion, Steve has provided additional language elaborating on the question of 'why' this policy is necessary," Indrutz wrote. "In relevant part, that language now reads as follows:"
The italicized text below shows text that was highlighted for the Board of Trustees to determine if students should be part of the policy.
"When all faculty and staff [and students] refrain from placing Sports Wagers on Purdue and its student-athletes and coaches, we, as a community: (i) reduce the potential for deceit and ill-gotten gain, (ii) demonstrate respect and support for our student-athletes and lessen the potential for any of them to feel compromised, self-conscious or inhibited in the ordinary course of their activities as students or athletes, and (iii) protect members of the University community from any interference of profiteering from inside information, exercising undue influence or other improper conduct."
Look, in a potentially pearl-clutching, "let's not forget about the 1919 Black Sox scandal" sense, the basic principles behind Purdue's policy make sense. I don't think anyone would argue otherwise. No one wants someone coming up to Purdue's running back after an engineering lecture and mentioning the point spread for Saturday's game.
Take a look at the Twitter mentions of any NFL skill position player after a quiet performance, because you're bound to see a lot of angry fantasy owners complaining because the NFL player may have risked the fan's $20 or $50 buy-in for their fantasy league. NFL players shouldn't be subjected to that, and college players definitely shouldn't.
Purdue's sports wagering policy, which the university admits hasn't resulted in a single infraction in its first year, and the mentality behind it arguably furthers the divide that can exist between athletes and non-athlete students. Even prior to the pandemic, college athletes expressed concerns about online classes, and I've read end-of-year athlete surveys in which athletes have said they've met classmates who didn't know that their school even sponsored a team in the athlete's sport or that classmates didn't know where the athlete's team competes on campus. Even if unintentional, framing sports wagering as dangerous because other students, faculty and staff members have access to athletes can only deepen this divide between athletes and the rest of campus.
The whole point of college is to meet new people – classmates, professors, mentors, professional connections – and to learn as much as you can from them and about them. If you trace the family lineage of college athletics far enough, sports wagering policies like the one at Purdue might be a distant cousin of the high-tech nap pods that are installed in lavish football locker rooms, because both are designed to keep athletes over here and the rest of campus over there.
In a memo sent to the Board of Trustees on Oct. 3, 2019, from Schultz, Purdue's General Counsel, he referenced the creation of a task force of universities in Indiana, including Purdue, "to discuss risk mitigation strategies." Schultz's memo quoted an advisor to the task force who said, "Collegiate student-athletes are very accessible, much more than professional athletes (i.e. they are approachable while in class, walking on campus, living in the dorms, etc.) by nefarious third parties seeking to gain an advantage in the betting markets."
(Click the image below to open in a new window)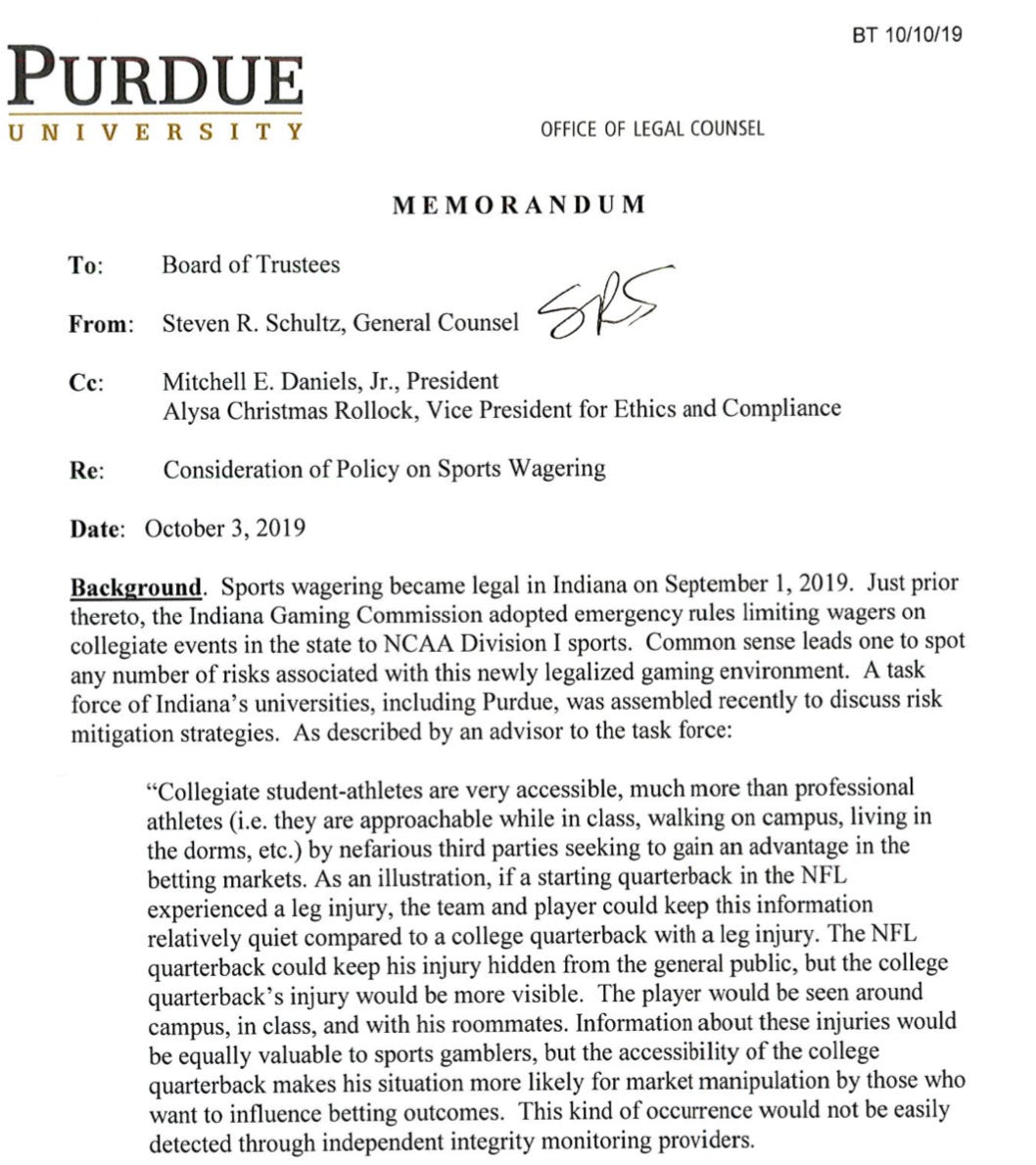 If colleges and universities need another reason to support name, image and likeness rights for athletes, this is it. In a hypothetical world where early 1900s-era gangsters or mobs are lurking in the dark shadows of a college campus, if college athletes were to presented with the chance to earn, I don't know, like $750 for an Instagram post or the opportunity to get a small cut of a wager placed against their team in Vegas that is contingent upon the athlete intentionally allowing the opposing team to score more points, potentially forever scarring the athlete and school's reputation, which one do you think they'd choose?
Harry's Chocolate Shop has venmo'd you $500 for "Instagram post."
Even if the advisor quoted in the memo above was more concerned about regular students simply learning of an athlete's previously undisclosed injury rather than athletes intentionally throwing games in exchange for illicit payouts, I guess the advisor wasn't technically wrong when he or she said that "collegiate student-athletes are very accessible."
Once again, that's kind of the entire point of college.
During the 2013 college football season, I reported that Indiana running back Tevin Coleman wouldn't be traveling with the team during its road trip to Wisconsin, after a student athletic trainer for the football team let it slip in a class. In 2014, Coleman finished seventh in the Heisman Trophy voting, one spot behind Florida State's Jameis Winston and one spot ahead of Mississippi State's Dak Prescott, so while Coleman wasn't yet a star at that point in 2013 (even by Indiana football standards) and even though Indiana had made it a habit of losing to Wisconsin by scores of roughly 800 to seven, Coleman not traveling to the game was far bigger news compared to my Jeremiah April anecdote, especially when viewed through the lens of the modern-day sports betting climate.
But to be fair, the spread of insider information happens in the pros, too. At a former employer, I worked with some people who loved putting action on games. One of them checked his sports betting account at the end of a basketball season and he had placed something like four- or five-thousand wagers over the course of the season. Well, one of my old co-workers had an in with the Golden State Warriors and he learned before a Warriors game that Steph Curry and Kevin Durant weren't going to play against the Sacramento Kings, before the information was public, so he and some buddies all hammered the Kings.
The Kings won the game outright.
Curry and Durant's injuries were later announced publicly prior to the game, by the way, because professional sports leagues have standardized injury reports. Last August, the NCAA Board of Governors "determined that player availability reporting is not a viable option at this time."
The subheadline of the announcement read, "Board concludes player availability reporting does not improve competition integrity or student-athlete well-being."
As we've seen in the pandemic, some coaches have treated COVID-19 – a public health issue – like a competitive advantage issue, as Oklahoma coach Lincoln Riley did prior to a game against Missouri State, of all opponents, which is a byproduct of college football's larger access and control issue.
It may have taken less than a year for Purdue's sports wagering policy to look outdated.
In August, the University of Colorado announced a partnership with PointsBet, a "premier global gaming operator." PointsBet is building a new North American headquarters in Denver and the announcement specifically mentioned the company's commitment to recruit Colorado grads with a tech background.
Colorado will receive at least $1.6 million during the five-year contract, plus a $30 referral fee for each new customer it refers to PointsBet, according to Sports Illustrated.
"The exclusive partnership is one of the few in existence between a sports betting operator and a major NCAA Division-I Athletics Program," the news release stated.
Less than a year after Purdue essentially said no one who works, lives or operates on campus can bet on any Purdue game without the threat of punishment, Colorado just rollerbladed backwards through West Lafayette, Indiana, while juggling blindfolded, whistling and submitting a five-team parlay on its phone.
Sure, get your Colorado/weed/gambling jokes off on Twitter, but given the times, especially when athletic departments need to maximize their revenue and seek new sources of it, doesn't it seem more likely that schools will line up behind Colorado and embrace the sports betting industry, responsibly, rather than going the route of Purdue and shunning it completely?
That's a bet that I'll make, and as we've learned from the last year, there's no way I'll get in trouble for betting against Purdue.
---
Recap of last week's newsletter
Click the image below to read the newsletter.

"Under normal circumstances this would be ok," Cobb wrote, "except in the rush to test 3 times this week to play, we caused undue stress on the lab by delivering 1/3 of the samples late yesterday needing a quick turnaround by this morning, causing human error in running the tests."
Read the full newsletter here.
---
Connect on social media
---
Thank you for reading this edition of Out of Bounds with Andy Wittry. If you enjoyed it, please consider sharing it on social media or sending it to a friend or colleague. Questions, comments and feedback are welcome at andrew.wittry@gmail.com or on Twitter.