Big Ten football is back. Here's how the conference got here
A look at the early cardiac concerns in August, the issue of whether or not a vote took place and, yes, angry emails
One-hundred and seven days after the Big Ten announced in July that it would hold a conference-only football season, the Big Ten football season is finally here, starting with Illinois's trip to Wisconsin for an 8 p.m. ET game Friday night. But in the three-and-a-half months in between, there was the release of a conference schedule grid, which was followed by the postponement of the season less than a week later, after a vote that either did or didn't happen – and if the vote did happen, it may or may not have followed the conference's agreed-upon bylaws.
Eight Nebraska football players filed a lawsuit against the Big Ten.
Heisman Trophy winner and ESPN analyst Desmond Howard went on TV and said, "I would demand a public apology from Nebraska. If I'm Kevin Warren, right now, I'm working on a way to get their ass out of the Big Ten."
A two-deep's worth of relatives of Big Ten football players protested the conference's decision outside of the conference office and the Fogo de Chao in Rosemont, Illinois, where there seemed to be almost as many media members as there were protestors at the event.
Ultimately, the Nebraska football players dropped their lawsuit against the Big Ten after the conference's decision to play football this fall, and many college football fans seemed to take a similar approach in regards to their previous calls for transparency and answers from the conference.
There will be Big Ten football and at the end of the day, that's all that a lot of fans really care about.
But the behind-the-scenes details of the Big Ten's decision-making process and the feedback its leaders received along the way is worth examining, too. Based on reporting Out of Bounds has done over the last three months, here's an examination of how the Big Ten got to today – the opening day of the Big Ten's 2020 fall football season.
The first signs of trouble
On the evening of Aug. 4, a day before the Big Ten announced its Council of Presidents and Chancellors (COP/C) had approved a 10-game, conference-only football schedule, Wisconsin Athletic Director Barry Alvarez emailed Big Ten Assistant Commissioner Kerry Kenny:
Have we had other heart issues in the league. Our trainer said there were other issues discussed by league trainers.
The agenda for a meeting scheduled for the University of Wisconsin's Health and Safety Team for that same day said that additional cardiac cases had been identified in the conference in the previous week. One discussion topic on the meeting agenda was "General concerns among committee members about moving forward with in-season practices," based on the perspectives shared during the Big Ten's most recent Sports Medicine Committee meeting.
Later in August, The Athletic reported that the Big Ten was aware of at least 10 players with myocarditis – the inflammation of the heart muscle.
Also on Aug. 4, there had been a meeting among doctors in the Autonomy 5 (otherwise known as the Power Five). Out of Bounds obtained a copy of notes from the meeting.
Two doctors whose perspectives were cited in the document were Dr. Jon Drezner of the University of Washington Sports Medicine, who's the director of the Center for Sports Cardiology, and Dr. Kyle Goerl, the medical director for Kansas State University's Lafene Health Center and the school's team physician.
According to the meeting notes, Drezner believed the cardiac concerns were valid and he expressed concern about long-term cardiac complications from COVID-19, while noting the difficult of isolating college athletes who weren't in an NBA-like "bubble" environment.
Goerl "expressed concerns about pressing forward at this time," according to the meeting notes. A week later, the Big 12 reached out to the Mayo Clinic's Dr. Michael Ackerman "because they had gathered from what I had put out in the Twitter world might have been a different perspective on the heart and COVID-19 in the heart," Ackerman previously told Out of Bounds.
(Click the image below to open in a new window)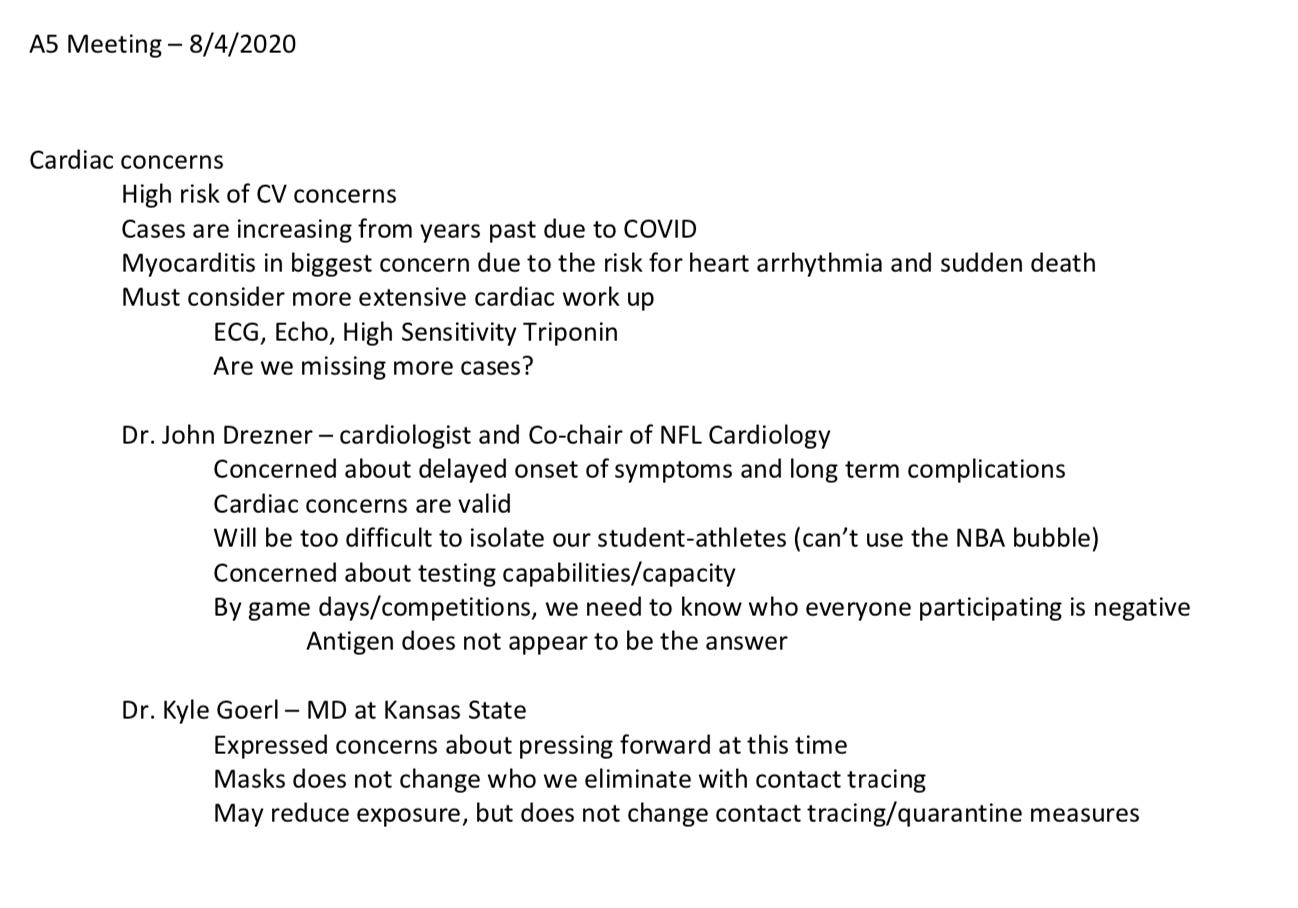 Late on Aug. 7, and again the next morning, the Big Ten sent a notice to its COP/C members and athletic directors about joining a pair of conference-wide calls.
"The impetus for the calls was to outline my recommendation that we remain in the first two days of the acclimatization period for football and all other fall sports will consult locally with their team physicians and athletic trainers to determine the appropriate level of activity," Big Ten Commissioner Kevin Warren wrote. Later that morning, the Big Ten released a statement announcing its decision to remain in the acclimatization period.
The next day, team physicians from around the Big Ten shared what cardiac tests and evaluations they had implemented at their respective schools.
Dr. Andy Peterson, the head team physician for Iowa and the director of primary care sports medicine, wrote in an email on Aug. 9 that anyone at Iowa who tested positive or had an illness consistent with COVID-19 after Feb. 1 would undergo a troponin test, an echocardiogram, an electrocardiogram and a clinical evaluation.
"We also have easy access to cardiac MRI, but are not doing it routinely unless there is ambiguity in the other parts of their eval," Peterson wrote. "The worst we've seen in any of our post-covid cases is a couple of small pericardial effusions."
According to the Mayo Clinic, a pericardial effusion is "the buildup of excess fluid in the sac-like structure around the heart."
"I think it is likely that some mild myocarditis is slipping by us," Peterson wrote, "but our cardiologist (Ian Law, who is past president of the pediatric electrophysiology society – PACES) thinks that any myocarditis that isn't evident on ecg/echo and/or has elevated enzymes is very unlikely to impair function or be arrhythmogenic.
"Obviously, no one knows the answer to this. But this is what we are doing and our rationale."
Dr. Brad Nelson outlined Minnesota's protocols, including a troponin test, an EKG and an echocardiogram for individuals who tested positive from an antigen test. "We get serology on all our athletes when they arrive and also do a cardiac work-up on those athletes with antibodies," Nelson wrote. "I have had discussions with our cardiology folks and they are not recommending cardiac MRI for routine screening at this time."
Dr. Asheesh Bedi, the chief of sports medicine and shoulder surgery at Michigan Medicine, responded to Nelson, "Same protocol as you have defined is in place for NFL clearance."
Maryland's Yvette Rooks wrote that after hearing the discussions among the conference's doctors, she added a cardiac MRI to the school's protocol. "I have had long discussions with our Cardiologist and the concerns about myocarditis," she wrote. "We have not pulled anyone from activity as of yet but all will be scheduled for cardiac mri in very near future."
Penn State Director of Athletic Medicine Wayne Sebastianelli said, "We have very limited access to cardiac MRI presently. Our cardiologist is using ECG/troponin and echo when indicated for the moment. We are now working up all positive athletes."
Northwestern Director of Intercollegiate and Health Service Sports Medicine and Head Team Physician Jeff Mjaanes wrote, "We felt we are lacking information on otherwise young, healthy asymptomatic controls to know how to manage someone with mild findings of scarring but who has normal troponin, normal echo and no symptoms. Obviously CMR findings of myocardial edema would indicate acute myocarditis but scarring or necrosis could be from prior infection, maybe even years prior, and without wall motion abnormalities on echo or elevated hsTn to indicate diseased myocytes, clinical relevance is felt to be unknown.
"Then we would be taking a healthy young individual and committing them to likely months of detraining/deconditioning with no guarantee they had a clinically relevant disease or that their CMR scarring would ever change."
"This is such a challenging situation," Mjaanes wrote. "There is so much we don't know about this virus."
Some of the Big Ten's talking points from August are revealing
Out of Bounds obtained a Big Ten document titled "2020 Fall Schedule Update Q&A," which included various talking points for the conference after it announced its original conference-only schedule and medical protocols on Aug. 5.
The excerpts below show the questions prepared by the Big Ten in bold font with the conference's recommended answers in bullet points below each question.
What is your response to the reports yesterday about Indiana football student-athlete Brady Feeney and his experience with COVID-19 (or any other student-athlete)?

Our thoughts and prayers are with Brady and his family

As we navigate this pandemic, the health, safety and wellness of our student-athletes are at the forefront of our decision making
The mother of Feeney, a freshman at Indiana, announced on Facebook in early August that her son had tested positive for COVID-19. "Here was a kid in perfect health, great physical condition and due to the virus ended up going to the ER because of breathing issues," his mother, Debbie Rucker, wrote.
The conference went the "thoughts and prayers" route as its first bullet point, then reaffirmed its stated commitment to safety in the second bullet point – but, even with respect to student and medical privacy laws, neither of those talking points actually addressed the short- and long-term health concerns for Feeney.
Maybe Feeney's bout with COVID-19 played a role in the Big Ten's initial decision to postpone the conference's fall sports season. After all, Feeney appeared in a slideshow that was part of the final update from the Pac-12's Student-Athlete Health and Well-Being Initiative and its COVID-19 Advisory Committee before the conference postponed all sports in August.
Does releasing a football schedule mean you are confident that the season will take place?

While the Big Ten Conference remains hopeful for a September 2020 start in all fall sports, including football, issuing a schedule does not guarantee that competition will occur

In making this announcement, the Conference acknowledges that there is much work to be done on our campuses, in our communities and across the country to gain control of a virus that continues to spread at an alarming rate
With numerous Big Ten programs such as Rutgers and Northwestern temporarily shutting down due to positive tests and Major League Baseball struggling with outbreaks on multiple teams, does that impact the likelihood of us competing this year?

These are the kinds of challenges that we are trying to navigate

We remain hopeful to compete this fall, but we will not do so if it cannot be done in a safe manner
In the Big Ten's fall schedule update Q&A document and in another document with similar talking points that was labeled "2020 Fall Schedule Update Messaging," the Big Ten repeatedly stated that announcing a fall schedule didn't guarantee a fall season.
Perhaps other than the timing of the Big Ten's announcement that it had postponed the fall sports season – just six days after announcing its conference-only fall football schedule – the conference's greatest messaging misstep may have been that Big Ten fans didn't hear the "issuing a schedule does not guarantee that competition will occur" message as often as it was written in internal documents.
An internal email sent by Big Ten Assistant Commissioner Adam Augustine said the Big Ten "worked with a number of outlets to amplify the announcement, including BTN, the Chicago Tribune, The Athletic and Yahoo Sports."
The Athletic's primary story about the Big Ten's schedule release had multiple cautionary clauses – such as, "if [fall competition] can happen" and "if it is safe enough to play" – but somehow in the Chicago Tribune's story about "10 things to know about the schedule and the conference's new safety protocols," none of the 10 takeaways was that the football season wasn't guaranteed despite the schedule release. The story did quote Big Ten Commissioner Kevin Warren saying, "Just because we release a schedule doesn't mean we are going to play."
Yahoo's story included a quote from Warren in which he said, "Issuing a schedule does not guarantee competition this fall will occur in the Big Ten Conference," although the closest the story got to a disclaimer of its own was the clause "as coaches and administrators attempt to navigate a path to play football in 2020."
Long story short, arguably the most important aspect of the Big Ten's messaging – its escape hatch – was either lost in translation or largely buried in the attention surrounding a flashy conference schedule grid.
On what days will football student-athletes be tested?

Currently the plan requires two surveillance tests per week, with one occurring early in the week and the second within 3 days of competition
Roughly two and a half months after announcing its twice-a-week testing plan, the Big Ten's fall football season will kick off with daily testing, or 3.5 times as often as the conference's original plan.
Of course, twice-a-week PCR testing was the minimum requirement, which meant that Big Ten schools could've elected to test more frequently, but doing the bare minimum in terms of testing could've caused the Big Ten to experience as many postponements as some conferences have already experienced this season, if the Big Ten had started its conference-only season as originally scheduled.
Last week's newsletter analyzed which states are responsible for the most postponements entering Week 7 and daily testing is the Big Ten's best hope for avoiding the scheduling disarray that FBS programs in Texas, Florida and North Carolina have experienced.
Are you concerned that you will potentially be taking tests from others in your local communities who might need them more?

That is certainly part of our decision-making process and we have that sensitivity

The Conference is currently evaluating a partnership with external vendors that would utilize private supply chains in an effort to minimize the impact on capacity in each of our local communities
The Big Ten announced partnerships with Quidel Corporation and Biodesix, Inc., for the aforementioned daily testing, which is something the conference referenced in the second bullet point above. And it might clear the conference from any ethical questions raised in the question above, which weren't necessarily answered in the first bullet point.
Similar to offering "thoughts and prayers" to Feeney after his hospitalization, stating "sensitivity" regarding the use of COVID-19 tests that are made available to the general public is simply giving lip service to a serious public health issue. Even though the Big Ten has privatized its COVID-19 testing, any conference should have more thorough answers prepared if it's using part of its local community's public testing capacity, or if one of its players experiences serious symptoms related to COVID-19.
Was there ever a vote in the first place? Internal documents say yes
With the Big Ten's decision to proceed with a fall football season, the debate about whether or not the conference's COP/C members had officially voted to postpone fall sports mercifully came to an end. Despite Penn State Athletic Director Sandy Barbour saying, "It's unclear to me whether there was ever or a vote or not" and Minnesota President Joan Gabel saying, "We didn't vote, per se," documents from the University of Minnesota obtained by Out of Bounds say that Gabel did vote in favor of postponing fall sports.
(By the way, watch Barbour's body language as she gave that answer and you can come to your own conclusion about whether she really believed what she was saying. Earlier this year, she recommended a search firm to one of Penn State's Big Ten East foes – Michigan State, through athletic director Bill Beekman – after former Spartans football coach Mark Dantonio retired, so it seems hard to believe that she didn't know if a vote had taken place, or that she didn't have the contacts in the conference who would know if the vote happened.)
In the comments prepared for Gabel on Aug. 11 for her to present to the University of Minnesota Foundation Board of Trustees on Aug. 12 included the comment, "Yesterday, I joined BIG Ten Presidents in voting to postpose (sic) college football and all other fall sports seasons as a result of the ongoing COVID-19 pandemic."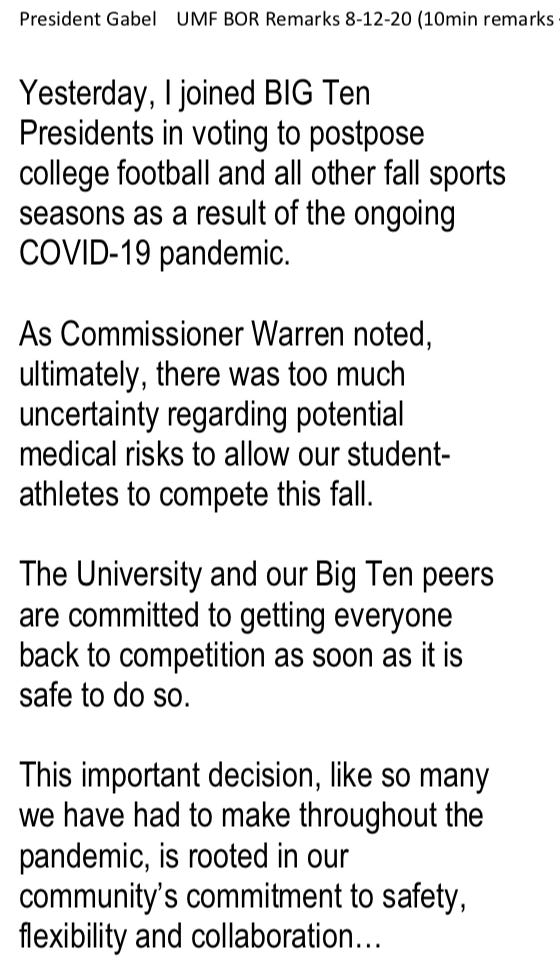 A separate document that was sent to Gabel on Aug. 11 by Vice President of University Relations Matt Kramer stated in italics: "If specifically asked: I voted in favor of postponing fall football and explore other options."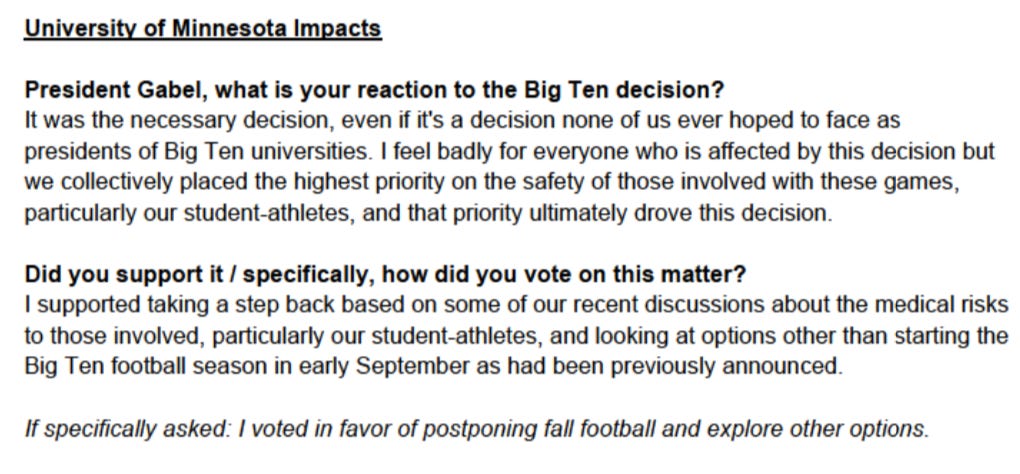 When it came time for the Big Ten to vote to resume its fall football season, the conference didn't leave anything to chance. Warren sent the COP/C members a message that outlined the results of the voting process, in accordance with the conference's bylaws.
"As a follow-up to the COP/C meeting this evening, attached please find the resolution that was passed by unanimous vote," Warren wrote. "The vote occurred after a motion was made and seconded, and was taken as required by the Big Ten By-Laws."
One AD copied and pasted part of the Big Ten's release, which could be quietly revealing or it means nothing
Minnesota Athletic Director Mark Coyle sent an email to the university's athletes just 10 minutes after the Big Ten sent its official press release that announced the conference was postponing fall sports. Coyle copied and pasted the second line of the Big Ten's announcement, which provided the justification for the decision:
In making its decision, which was based on multiple factors, the Big Ten Conference relied on the medical advice and counsel of the Big Ten Task Force for Emerging Infectious Diseases and the Big Ten Sports Medicine Committee.
In Coyle's email, you could see that the sentence was a different font size and color than the rest of the email since it was copied and pasted. The only difference in the sentence was that Coyle changed the third word from "its" to "this."
Maybe it was simply easier to copy and paste the wording used by the conference office, or maybe it was because it was hard for some administrators in the conference to explain why, exactly, the Big Ten had postponed fall sports.
It wouldn't be college football without angry emails
If you were one of the Big Ten's decision-makers, there's a pretty good chance that your inbox was flooded with angry emails in the last four months, regardless of whatever decision the conference had made most recently.
No, not everyone was angry. But the decision to postpone fall sports angered football-starved fans in the Midwest. Then the decision to proceed with a fall football season enraged some parents of students at Big Ten institutions who had seen their son or daughter's dorm or Greek house placed under quarantine restrictions and their classes moved online.
Even if you weren't technically the one voting on behalf of one of the 14 Big Ten institutions, but you had a title that suggested you might be the one voting, you probably received these types of emails too.
On Aug. 10, the day before the Big Ten announced that fall sports had been postponed, University of Illinois System President Thomas Killeen received an email from an Illinois alum who said that "as a country and in the best interest for the student athletes" that "college football needs to happen. Please."
It turns out Chancellor Robert Jones was the one voting for Illinois, not Killeen.
A month to the day after the Big Ten announced the postponement of fall sports, Killeen, Jones and Athletic Director Josh Whitman received an email that read, "Life needs to return. Sports need to return. If those of us wish to attend end up with covid, it's because it is OUR choice. But right now, I'm being deprived of my ability to make choices."
The emailer urged the three recipients to do their "own independent research" on the virus. "Be a front runner (sic) in giving the world the truth about this disease and not perpetuating the fear that has overtaken America," the emailer wrote.
The next day, Jones received a somewhat ominous email that told him "you have a vote tomorrow to choose the student athletes wishes over your own. If you vote no, you won't be able to survive this. You'll be ousted so quick as president (sic). Keep that in mind."
The input Big Ten presidents and chancellors received wasn't exclusively from fans and alumni. University of Minnesota Professor and Director of Graduate Studies for Earth & Environmental Studies David Fox emailed Minnesota President Gabel on Sept. 12, stating, "I am very concerned about the public health and social implications of the current movement to restart Big 10 football with the participation of UM."
"With the first reports recently that President Trump was discussing the football season with Big 10 Commissioner Warren, I was worried that politics would override both public health policy and consideration of the issues of racial discrepancies in the impact of Covid-19 and social justice and equity on campus," Fox wrote.
The University of Minnesota community is acutely aware of the connections between race relations, social justice, COVID-19 and athletics.
"Additionally, I am sure you are not unaware of the disproportionate impact of Covid-19 on African Americans and other Americans of color, including within the Twin Cities metro region," Fox wrote. "As well I am sure you are aware of the fact that the football team is, relative to the student population and that of the state of Minnesota, disproportionately African American. In the context of the murder of George Floyd and the national issues surrounding the economic role of student athletes in major sports such as football, support by the University of Minnesota for a resumption this fall of football does not seem consistent with stated goals of working towards greater racial justice and equality on our campus and beyond.
"A decision to allow a specific subset of students who are economically valuable to the university but that are without power (if not desire to play) and are unrepresentative of that university and are generally underprivileged in society at large seems morally complicated at best."
The University of Minnesota's Big Ten neighbor, Wisconsin, also received its share of feedback from its university community. On the day that the Big Ten announced its return to play, Wisconsin Chancellor Rebecca Blank received emails from Wisconsin students, parents of Wisconsin students and Wisconsin alumni, who expressed their displeasure with the Big Ten's decision.
"Your decision to have even partial sports season (sic) during the pandemic, especially considering the high positive Covid-19 test percentage for UW students, is dangerous and troubling," one student wrote. "Furthermore, to make the decision to have football during a time where classes have been switched to online and several dorms and sororities have been placed under quarantine is not only perplexing in its inconsistency, it is frustrating and insulting to those of us who are trying to do our part to keep our community safe by obeying your orders to socially distance and not go to in person classes."
The parent of a current freshman at Wisconsin wrote to Blank, "My son is not able to attend any in-person classes for concerns over the spread of covid-19 and there are no facilities on the campus that are open for him to do anything. The union, student fitness centers, classes all closed. The university has gone so far as removing the rims from the basketball courts outside of the dorms.
"Yet you are now going to allow the small portion of your student body the exemption from the restrictions you have placed on the rest of the student body. Is our university an institution for higher learning or a sports team?"
The parent repeatedly contrasted the average Wisconsin student with the university's football players:
"You have put the money from sports revenue above the concerns for your student's (sic) safety."

"Please explain to the students like my son, why they (the majority of your students) do not have the same privileges as the kids involved in athletes (the minority of your students). Your actions have sent a message to all nonstudent-athletes that they are somehow not equal to those chosen few who were gifted from birth with athletic abilities."

"My guess is that if the university were to send students home as it did this past spring, football would continue as if nothing ever happened. The money my son pays in tuition will be in your pocket whether he gets his education on your campus or from my house in [redacted]. You will only receive compensation from the television contracts if you allow football to be played."
The email was signed, "From an extremely frustrated parent helping to pay my son's tuition."
Another parent of a Wisconsin student wrote to Blank, "It is with dismay that I read today that you have voted for the return of fall Big 10 sports after everything that is transpiring on campus. There are over 2000+ dorm students in lock down, 22 fraternity and sorority houses on lock down, no in person classes and not enough testing occurring to stem the outbreaks that are occurring. Yet this University which prides itself on its 'academics' is reinstating football and prioritizing athletics over academics."
The parent closed by asking Blank to reinstate in-person classes.
"So why, and how, can you justify sending athletes back but not students back to the classroom?" the parent pleaded.
One Wisconsin alum, Kerry Dwyer, told Blank that she was ashamed to be a Badger.
"I am disgusted to read this morning's news that the Big 10 intends to play football this season despite the fact that campus just had to return to virtual classes due to COVID-19," Dwyer wrote. "UW-Madison is a leading research institution and its glorification of football over education is unconscionable particularly in light of a pandemic. While the focus of sports (mainly men's, high profile sports) over academics has been prevalent for decade (even in my college days of the 80s when Badger football was abysmal), it is shocking to see it occurring at this time in history. The hypocrisy of our institution makes me ashamed to be a Badger."
What other schedules were considered by the Big Ten?
In an email sent to the conference's athletic directors on Friday, Sept. 11, Northwestern Athletic Director Jim Phillips wrote that the slides attached in the email "reflect the desire to begin competition on October 17." The Big Ten ultimately decided on starting the football season the weekend of Oct. 23-24, so the conference could've potentially kicked off its season in Week 7, which could've given every team an additional game or a built-in bye week.
"There are cascading options available to us if we need the medical flexibility to push the season back," Phillips wrote.
One model appeared to be built around a football season that would start in December, but Ohio State Athletic Director Gene Smith expressed concern that such a model could lead to an entire Big Ten team electing not to play.
"Not something to put in the December model now, but we need to ensure everyone will still play!" Smith wrote. "That is a REAL possibility that a team might opt out because players may want to pass… I should have raised that before… but again, not for presentation…"
Some Big Ten schools, which had their athletic directors, football coaches, players and their players' parents beg for transparency in August and September, have tried their damndest to avoid making the document containing the conference's scheduling models public. Out of Bounds filed a public records request at every public Big Ten school for the emails that included the document, as well as requests for the document itself, but to no avail. Appeals filed to the Nebraska Attorney General and Illinois Attorney General were unsuccessful.
In an attempt to comply with Nebraska state law, Out of Bounds argued in its appeal that the document was "of or belonging" to the University of Nebraska since it is a member of the Big Ten, but Nebraska's Attorney General's office disagreed. Part of the Attorney General's response read, "there is no indication that the University used the presentation 'to make a decision affecting public interest.'" This is the same university whose athletic director recently pushed to "nudge up to 50 percent" capacity at its football stadium and a university that canceled an indoor watch party for its football season opener – just one day after scheduling it – after receiving public backlash.
And that's how the university, whose football players sued the conference in order to receive more transparency, has contorted itself under the law in order to avoid providing the same transparency for which its constituents had previously asked.
Reason No. 493 to fire the phrase 'stick to sports' into the sun
Jesse Ruiz, the Deputy Governor of Illinois, emailed Illinois Governor JB Pritzker in the evening of Saturday, Sept. 12, letting Pritzker know he had talked to University of Illinois System President Killeen that morning, and that Chancellor Jones would be the one to vote for Illinois.
"This will add to the growing cry to resume HS football and all other fall sports," Ruiz wrote in an email, along with a link to an ABC7 Chicago story about the Big Ten's discussions about proceeding with a fall football season.
"Rather than discuss this by email, call me in the morning," Pritzker wrote, ever-aware of the state's public records laws.
On Sunday, Sept. 13, Ruiz emailed Killeen, Jones and Senior Director of State Relations Jennifer Creasey: "Need to brief the Governor this morning, so would appreciate any further information or a quick call this morning."
By 7:30 a.m. CT that Sunday, Ruiz and Jones had finished a 45-minute phone conversation about the fall football season, as one of the 14 presidents or chancellors with voting power in the Big Ten talked with the state's deputy governor, on behalf of the governor.
But there's no place for politics in sports, right?
The Mountain West is back, too. Is Boise State the Ohio State of the MWC?
When news broke that the Big Ten had reversed course and its COP/C had voted to resume the fall football season, University of Toledo Deputy Director of Athletics David Nottke emailed Athletic Director Mike O'Brien, "I am sure we will start to get the questions about when we will play now! Seems like Ohio State was the one driving the bus here!"
Ohio State, ranked No. 2 in the 2020 preseason AP poll, represents the best team in the Big Ten and, potentially, the best team in the country in 2020 – that is, if the Buckeyes were allowed to play.
While maybe an imperfect comparison, Boise State might represent the closest version of Ohio State that exists in the Mountain West, which also returns to play this weekend with six games scheduled for Saturday, Oct. 24. The Broncos finished at No. 19 in the final College Football Playoff rankings last season, just two spots behind Memphis, which was the highest-ranked Group of Five program.
No other team in the Mountain West appeared in the final CFP rankings.
Behind the scenes, Boise State head coach Bryan Harsin and athletic director Curt Apsey both pushed the Mountain West towards a fall football season.
On the morning of Sept. 17, Harsin emailed Mountain West Commissioner Craig Thompson, Deputy Commissioner Bret Gilliland and Associate Commissioner Jaime Hixson to request that they set up a Zoom meeting with the conference's head football coaches and medical advisors as soon as possible "so we can get some answers as we push forward on playing."
Gilliland responded saying there was an ADs meeting scheduled for that afternoon and that the conference office would get their thoughts on the next steps with the medical team. Gilliland suggested Harsin reach out to Boise State's representative on the Mountain West Health & Safety Advisory Committee.
"I can certainly do that but I believe our coaches & medical folks need to talk," Harsin replied. "If you don't feel that's going to be beneficial please tell me why. Thank you."
On the same day that Harsin reached out to the conference office, Apsey emailed Thompson and Gilliland, after Gilliland had asked the Mountain West's athletic directors to provide feedback on the conference's scheduling models. Apsey said that this year "will not be fair for all."
"Some teams might play less than 8 games due to COVID, weather, etc., but it is what it is," Apsey wrote. "Some teams may not be able to play at all for whatever reason, but again, may not be able to avoid this season. This is a different year for sure and will not be fair for all."
Apsey also raised questions that are especially relevant to Boise State.
"I would also have the group consider ending a potential fall season on the 19th instead of the 26th for postseason opportunities and additional revenue from a CFP standpoint," Apsey wrote. "Another topic [of] conversation will be the distribution plan if some teams are playing and others are not."
On Sept. 18, Eli and Dina Currran, the parents of Boise State redshirt sophomore offensive lineman Garrett Curran, emailed Boise State president Dr. Marlene Tromp:
My wife and I are in support of having our son Garrett Curren #69 play football this season. We feel that the positive benefits of playing football far out way (sic) the risk. Letting the boys play ball is good for everyone. As you know several other group of 5 conferences are playing as well as several power 5 conferences. You also know that the big 10 recently decided to move forward with play. Why not the mountain west?
You can see how the dominoes began to fall with this sort of "Why not us?" attitude. Ohio State coach Ryan Day issued a statement on Twitter on Sept. 10 that said in part:
These young men and their parents have asked so many questions that I do not have an answer to, but the one that hurts the most is "Why can other teams and players play and we can't?" Duke is playing Notre Dame, and Clemson is playing Wake Forest this weekend.

Our players want to know: why can't they play?
The coach of the premier program in the Big Ten pointed to the ACC to make his point. Once the Big Ten announced it would play football this fall, then football players, coaches, parents and fans in the MAC, Mountain West and Pac-12 could point to the Big Ten and say, "If the Big Ten can play, why can't we?"
Heck, even UMass, an FBS independent that finished last season ranked 130th out of 130 FBS teams in ESPN's SP+ rankings, exhumed its football season for a $60,000 check and a 41-0 loss to Georgia Southern.
From the bottom of the sport (UMass) to the top (Ohio State), college football at the FBS level is gradually returning. What are universities returning to?
Well, that varies on a week-by-week and campus-by-campus basis, but that's the reality of college football in 2020, and really the history of the sport – a sport that has always been governed by a collection of universities and conferences that are often disparate in their geography, educational missions and success on the gridiron.
---
Thank you for reading this edition of Out of Bounds with Andy Wittry. If you enjoyed it, please consider sharing it on social media or sending it to a friend or colleague. Questions, comments and feedback are welcome at andrew.wittry@gmail.com or on Twitter.