Big Ten could ask NCAA 'to waive whatever needs to be waived to let us execute our plan'
The Big Ten will likely seek a waiver in the lead-up to the fall sports season, which could include relief from weekly 12-hour practice limits
In an email obtained by Out of Bounds that was sent by Big Ten Associate Commissioner Chad Hawley to the Big Ten's athletic directors and other members of the conference's leadership on Monday, Aug. 31, Hawley explained that there's a connection between the conference's "overall game plan–which I simplistically think of as, 'When can we play our next game?'" and "our frustration over the made-up, 12-hour rule."
Less than two weeks before Hawley's email, on Aug. 19, the NCAA's Division I Council approved that schools that postponed their fall football seasons and plan to instead hold a spring season are allowed to have up to 12 hours of "countable athletics activities" per week, along with two mandatory days off and including a cap of four hours of activities per day.
"No more than five of those hours can be skill instruction, during which footballs, helmets and spider pads can be used," the NCAA announced. "No contact would be allowed, but strength and conditioning, team, position and individual meetings and film review would be allowed within the 12-hour weekly limit. A four-hour daily limit on athletics activities is included."
The practice limits started Aug. 24 and run through Oct. 4.
Hawley expressed the Big Ten's frustration about its reliance on the decisions of other conferences. In the email, Hawley wrote that the "governance structure is jamming us up as we've been beholden to votes of every other conference, none of which are in the exact same situation as we're in with respect to what we're planning."
On July 9, the Big Ten announced it would hold conference-only schedules in fall sports, becoming the first Power Five conference to announce a modified fall schedule.
The Big Ten then became the first Power Five conference to postpone fall sports on Aug. 11.
On the morning of the day the Big Ten postponed fall sports, Big Ten athletic directors agreed to 20 hours per week of discretionary football activities, according to an email obtained by Out of Bounds. "Of course, any school can do all or none of the attached at their discretion," wrote Michigan State AD Bill Beekman.
Eight days later, the 12-hour rule was approved.
Below is a copy of what the Big Ten athletic directors had previously agreed to.
Click the images below to open in a new window.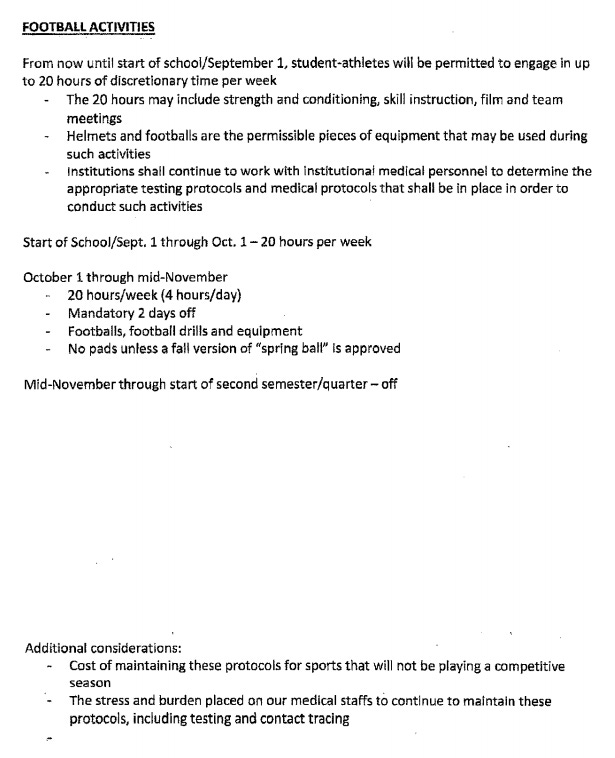 "Working through the governance structure would either be a dead end or at best pushing a big rock up a steep hill," Hawley wrote.
It was suggested that the Big Ten create a plan, not just for a competitive fall sports season but also for the lead-up to the season, and take it to the NCAA and "ask them to waive whatever needs to be waived to let us execute our plan," Hawley wrote.
"All of the above is to say, I know there are lots of reasons to have the game plan established sooner rather than later," Hawley wrote, "but the sooner we have it (and doesn't need to have every single detail filled in), we can take it to NCAA staff and seek whatever relief we need to put the plan into effect, which may include–for example–getting out of the 12-hour business."
---
Recap of last week's newsletter
Click the image below to read the newsletter.

"The tradition of pregame music in college football may have been started out of self-interest, by a defensive end who played for one season, who lost to Iowa's current Big Ten West foes Wisconsin and Nebraska by a combined score of 80-0, and who held up at least one courtroom to make sure those in attendance knew that he had played football in college."
Read the full newsletter here.
---
Connect on social media
---
Thank you for reading this edition of Out of Bounds with Andy Wittry. If you enjoyed it, please consider sharing it on social media or sending it to a friend or colleague. Questions, comments and feedback are welcome at andrew.wittry@gmail.com or on Twitter.