The Superior Court Chief Justice who helped bring pregame music to college football
A historical look-back, inspired by the ACC coaches who have to agree on the noise level this season
Because it's 2020, one of the pregame considerations this college football season, at least in the ACC, is the agreed-upon noise level. Wake Forest coach Dave Clawson reportedly brought up the topic with Clemson coach Dabo Swinney in preparation for the season opener between the Demon Deacons and Tigers on Saturday, Sept. 12.
Swinney reportedly "started listing songs he wanted played instead of volume level."
"They can pipe in Marvin Gaye or whatever they want. Crank it up," Swinney said, according to The News & Observer. "I'm just excited that we get the opportunity to play. Fans, no fans, we're just trying to win the opener."
The tradition of playing music before and during college football games may have become mainstream the last time there was a major worldwide event that could be mentioned in the same breath as a pandemic: World War II.
The newspapers.com archives show a spike in search results for the phrase "pregame music" right after 1945, when World War II ended.
According to Axios, the playing of the National Anthem before the start of Major League Baseball and National Football League games started in 1941-42, so you could probably draw a dotted line in pencil, if not Sharpie, from the U.S.' participation in World War II to southern schools Swag Surfin' before a big football game.
It's probably a fruitless task to try to figure out who was the very first person who thought to merge two incredibly broad and popular topics like "music" and "sports."
It was probably someone who was named, like, Maximus or Aurelia back in 20 B.C.
Good for them.
But, ironically, even though in the year 2020, Iowa football players are just now noting that they're "being able to listen to more diverse music," the Hawkeyes may have been one of the first programs, if not the first, to introduce pregame music to college football.
On Sept. 22, 1942, the Bristol (Tenn.) News Bulletin reported, "the University of Iowa is trying out a theory that music will overcome pre-game jitters."
Prior to this newspaper excerpt, Out of Bounds was unable to find a single reference on the newspapers.com database to "pregame music" in regards to music being played at a college football stadium for the benefit of those in attendance, and if Iowa deciding to play music before football games was considered newsworthy by multiple newspapers in 1942, then the Hawkeyes might very well have been one of the first programs to embrace the idea.
The Associated Press offered some more context. Iowa football alumnus Michael McKinley, who at the time was a Superior Court judge in Illinois, is credited as the one who suggested the Hawkeyes listen to pregame music:
"Judge McKinley Friday will present an automatic record changing machine and 10 records to Coach Eddie Anderson at Iowa City. 'I know what it means to lay around a dressing room before game-time, worrying your head off,' Judge McKinley explained. 'I think music will relieve the tension.'"
However, McKinley may have had a self-centered motive to push music onto his former program. Some of the music was about him.
"One of the records is 'Mike McKinley of Iowa U,' dedicated to the jurist two years ago," the AP reported.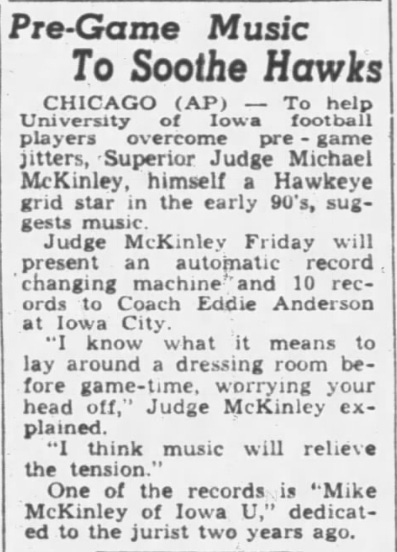 McKinley was reportedly a standout end on Iowa's 1894 football team, which went 4-4-1, beating Cornell 60-0 and Augustana 34-0, but the Hawkeyes lost to Wisconsin 44-0 and Nebraska 36-0, as well as to rival Iowa State in the first-ever Cy-Hawk game.
But apparently playing on a .500 team that went 1-4 against schools that currently compete at the FBS level (Iowa did beat Kansas!) was enough for someone to write a song about McKinley.
I can only assume "Mike McKinley of Iowa U" was the "Mo Bamba" of its day.
The song dedicated to McKinley was written by a man named W.R. 'Bob' Law, who really should've started a before-its-time law blog.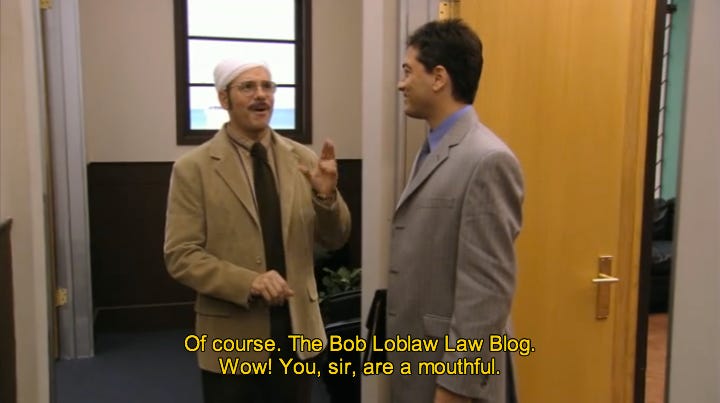 Law had also written the songs "On Iowa" and "Iowa Fights," and his latest Iowa-focused song was what led to McKinley, the star football player-turned-Superior Court judge, putting the song in rotation for his Hawkeyes before football games.
McKinley wasn't shy about bringing attention to himself or to his former playing days on the gridiron. In June 1944, The Des Moines Register published a story with the headline "Grid Pals Hold A Real Reunion, Trial Can Wait," which detailed McKinley reuniting with former Iowa teammate Richard Kepler for the first time in 50 years. To celebrate the occasion, McKinley, then the chief justice of the Illinois Superior Court, delayed court proceedings for 45 minutes while he and Kepler "replayed the 1890 Iowa-Chicago football game," according to The Des Moines Register. "It was in that game Kepler ran 57 yards for a touchdown. The game ended 18-18."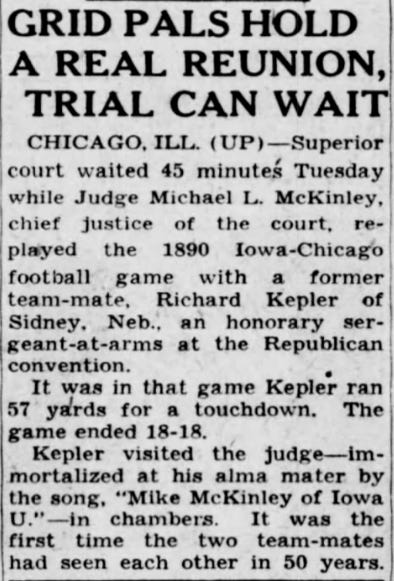 I can only speak for myself – someone who's lived with former DIII athletes whose program is 2-18 in the last two years – but I, for one, love hearing old stories about bad teams that I have no connection to, so I'm sure the plaintiff and defendant didn't mind the significant delay in their court proceedings.
Anyways, in addition to McKinley giving his alma mater a copy of the record that was about him, he later gave a high school band director a copy of the original score of "Mike McKinley of Iowa U" – one of the three copies that existed, according to The Gazette of Cedar Rapids, Iowa. The other two copies belonged to the University of Iowa and the National Guard band in Fort Worth, Texas, so McKinley really wanted musically-oriented people with large platforms to have access to the song about him.
"And on more than one occasion, when McKinley visited Postville in the spring of the year, the band played the song for him," The Gazette reported in September 1949.
When the band director, Harold Gamble, switched schools, he introduced the song to his new band, too.
As Wake Forest coach Dave Clawson prepares a list of acceptable decibels for his team's season opener and Clemson coach Dabo Swinney counters with a catalog of Marvin Gaye albums that he'd approve of being played over the PA system, they might try to do so selfishly, based on whatever they think best suits their team and gives them even the slightest competitive advantage in an otherwise empty stadium.
But that's alright, and arguably fitting, because the tradition of pregame music in college football may have been started out of self-interest, by a defensive end who played for one season, who lost to Iowa's current Big Ten West foes Wisconsin and Nebraska by a combined score of 80-0, and who held up at least one courtroom to make sure those in attendance knew that he had played football in college.
So, Dave and Dabo, find a copy of "Mike McKinley of Iowa U" and turn the volume up to 10, because the music might be the only thing you can control this football season.
---
Connect on social media
---
Thank you for reading this edition of Out of Bounds with Andy Wittry. If you enjoyed it, please consider sharing it on social media or sending it to a friend or colleague. Questions, comments and feedback are welcome at andrew.wittry@gmail.com or on Twitter.