What led to a Week 1 coaching change and what comes next?
Southern Miss parted ways with a coach who tried to hire Art Briles. Will Hugh Freeze return to his alma mater? How does a Big Ten coach factor in?
Technically speaking, Week 1 of the college football season wasn't even over when the top level of the sport's top division experienced its first coaching change of the 2020 season. On Labor Day afternoon, former Southern Miss coach Jay Hopson was officially replaced by assistant coach Scotty Walden, four days after the Golden Eagles lost their season opener and hours before BYU and Navy kicked off in the final game of Week 1. Walden is now the interim head coach after what the university called a "transition in leadership."
"After heartfelt discussion with [Athletic Director] Jeremy [McClain], we have come to a mutual agreement for me to step down as head coach," Hopson said in a statement in the official news release.
Sure, Southern Miss lost its season opener by double digits at home to a really bad opponent in South Alabama – a program went 2-10 in 2019, 3-9 the year before that, and 4-8 the year prior to that – but is that enough to cause a Week 1 coaching change amid a pandemic-altered season?
Out of Bounds filed a series of public records requests to try to learn what other factors may have been at play behind the scenes, and to figure out where Southern Miss might go from here.
Hopson had previously considered Art Briles for offensive coordinator
In February 2019, I reported on Southern Miss's then-Interim Athletic Director Jeff Mitchell dissuading Hopson from hiring former Baylor coach Art Briles as his offensive coordinator. "I can't get to a place to support it," Mitchell had emailed Hopson, before adding, "This is the right thing to do, and it is in the best interests of the University. Please go in another direction for your OC hire."
Mitchell and President Rodney Bennett released a joint statement announcing, "We have met with Art Briles regarding a position with the Southern Miss football program. Following that meeting, we informed him that he is not a candidate."
Hopson then responded with a statement of his own, which stated in part, "Although I respect the decision of Dr. Rodney Bennett, I disagree with it…I have interviewed Art Briles for an assistant position @ Southern Miss & I believe he is a man who deserves a second chance. He is a man that seemed sincere & humble in his interview & personally he committed no crime. He may not have acted in the the proper protocol, but that would be my JOB at Southern Miss!"
Now, Hopson himself is out of a job.
Also in February 2019, The Athletic's Nicole Auerbach reported a story with the headline "Southern Miss coach shows pattern of pursuing personnel connected to sexual assault cases," which detailed the school's pursuit of a junior college transfer who had previously been accused of raping two women at knifepoint, as well as incidents from Hopson's tenure at Alcorn State:
Hopson's previous tenure as a head coach at Alcorn State included recruiting a registered sex offender and a player who saw game action while awaiting rape charges.
This year-and-a-half-old reporting might be as close as we'll get to a trail of breadcrumbs regarding any potential off-the-field factors that may have led to the "transition in leadership." Out of Bounds filed multiple public records requests for emails sent to or from Hopson, Southern Miss Athletic Director Jeremy McClain and President Rodney Bennett – starting Aug. 31 (three days prior to Southern Miss's season opener) and ending Sept. 11 – but none of the responsive emails provided any indication of what, specifically, may have led to coaching change.
'Hopson has destroyed Southern Miss'
After Southern Miss's loss to South Alabama, it didn't take long for at least one angry email to roll in to the inbox of athletic department administrators.
At 12:38 a.m. CT on Friday, Sept. 4 – hours after Southern Miss lost 32-21 at home – Robert Ingram, the President and CEO of Common Sense Economic Development, LLC, sent an email to Southern Miss Athletic Director Jeremy McClain that had the subject line "The end." Southern Miss Senior Associate Athletic Director for Development Brian Morrison was CC'd.
Ingram, who lists himself as a 1971 graduate of Southern Miss on LinkedIn and who said in his email that he's been a football season ticket holder since the school's stadium was built, wrote that "Hopson has destroyed Southern Miss football." Ingram said that, given his age, he "can't afford to waste" his time or money on the program:
Been an Eagle Club member for 50 years, football season ticket holder since the stadium was built in 76.
Hopson has destroyed Southern Miss football. Will not have to worry about social distancing anymore, there will not be anyone at the games.
At 72 years old I can't afford to waste my time or money on the product we have put on the field.
Embarrassed ourselves in front of a national tv audience.
No more for me.
You have a real problem on your hands.
A year and a half ago, while reporting on Art Briles's failed bid to be the offensive coordinator at Southern Miss, I obtained more than 80 emails that were sent to or from Hopson, President Rodney Bennett, then-interim AD Jeff Mitchell and Executive Assistant to the Head Coach Andrew Sims over a 10-day period. Among the emails sent from fans, 31 expressed support for hiring Briles (for what it's worth, 28 men and three women) and 19 were against the hire (11 men and eight women). Concerned emailers in both the pro and anti-Briles camps threatened to withdraw their financial support for the university or the athletic department if they didn't get what they want.
After the loss to South Alabama, the tone and financial threat expressed in Ingram's email began to sound familiar, only this time it was because of what was happening on the football field, rather than off the field.
Where does Southern Miss go next?
After Southern Miss announced the head coaching change on Monday, Sept. 7, a man named Trey Bobinger – for what it's worth, there's a Southern Miss grad with the same name who's an attorney and a lobbyist in the state – emailed Southern Miss AD Jeremy McClain about the potential hiring of Liberty coach Hugh Freeze, who's a Southern Miss grad.
Bobinger cited a direct conversation that he reportedly had with Freeze. Bobinger said Freeze told him he was planning to go to Southern Miss after the 2011 college football season, before an Archie Manning-led Ole Miss coaching search resulted in Freeze going to Oxford, Miss.
"I would ask u to keep an open mind to all credible coaching candidates as the season progresses," Bobinger wrote. "As always, I understand money is an obvious issue, but I am not so sure that coach Freeze might possibly leave Liberty for 'some' less money given Jerry Farewell, Jr.'s serious personal issues. Coach Freeze told me personally in Oxford that [former Southern Miss President] Dr. [Martha] Saunders had told him that he was her number one choice back at that time. Freeze said that he was headed to Southern Miss until Archie [Manning] and Ole Miss came calling."
Last December, Freeze reportedly received a five-year contact extension at Liberty worth an average of $2 million annually, per ESPN.
Bobinger described himself in the email as "a loyal fan for 40 years but as of late a disenchanted and discouraged one."
Two potential candidates whose representation has expressed interest in the Southern Miss job are Kansas State Assistant Head Coach Van Malone, who's also the defensive passing game coordinator and cornerbacks coach, and UAB defensive coordinator David Reeves.
A representative of Malone reached out to Southern Miss on Sept. 14 with a 32-page presentation that addressed many topics relevant in 2020: COVID-19, social justice, name, image and likeness, and fundraising. The second and certainly timely bullet point of his "Coaching Career" slide read, "Assisted Head Coach with formulation of COVID-19 Crisis Response Plan and Return to Play model," and the third bullet point was about how Malone was responsible for Kansas State's 2020 Social Justice Action Plan and Player Improvement Awareness Action Plan.
The presentation noted that if hired, Malone would be the first African American head coach in program history. There were also two slides dedicated to the name, image and likeness of athletes.
The presentation highlighted how Malone's defense at Kansas State ranked second in the country in third down defense last season and held opponents to 21.4 points per game, which was the program's best mark since 2003.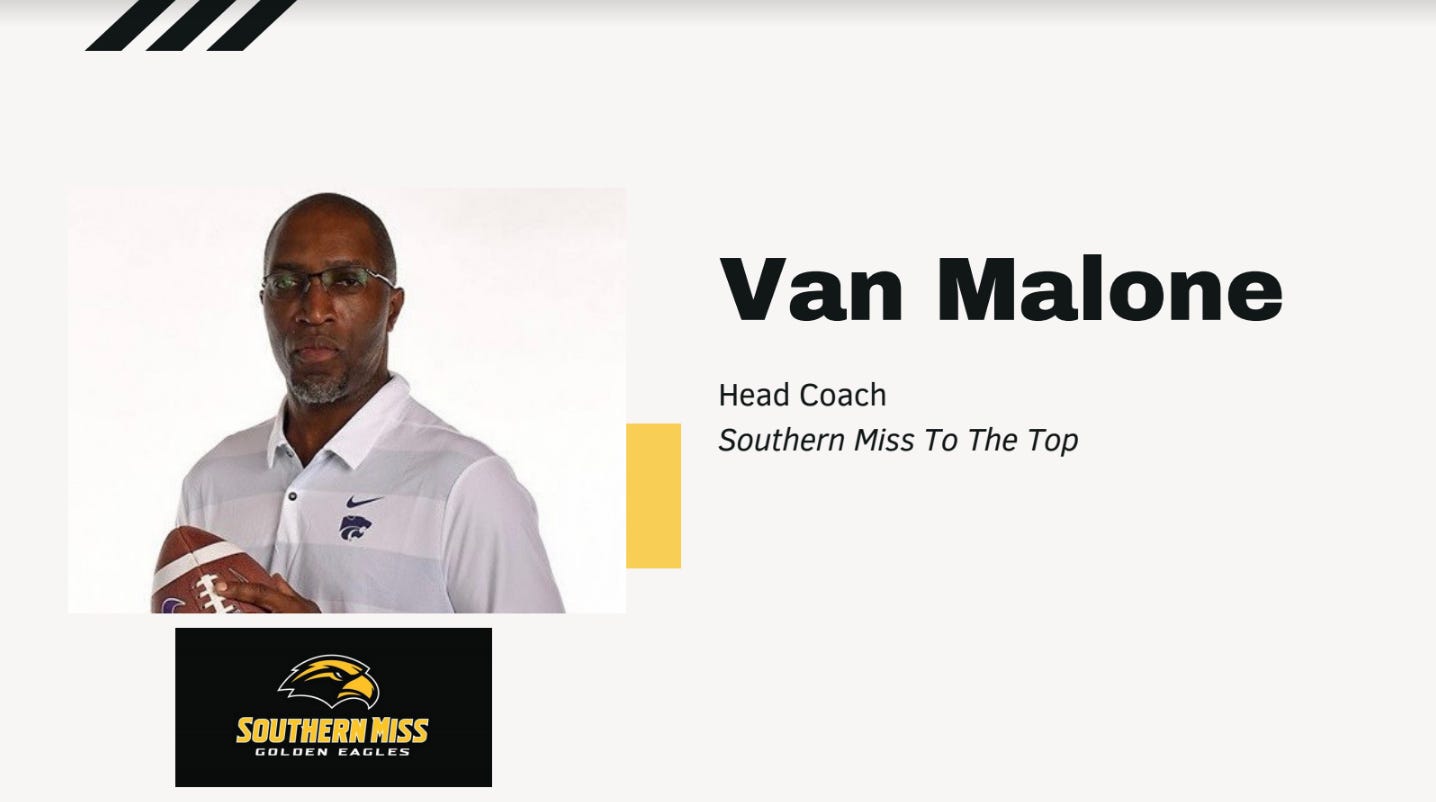 Malone's plan for Southern Miss would be to run a multiple spread offense, a defense with a pass coverage based on a quarters system and a special teams unit that would feature the team's best players, according to the presentation.
The day after Walden replaced Hopson, a representative of UAB's David Reeves reached out to Southern Miss AD McClain.
"At year's end, for the position of head football coach for the University of Southern Mississippi, I respectfully submit UAB DC David Reeves, a two time Broyles Award candidate, for consideration," wrote the representative.
In 2018, Reeves was a semi-finalist for the Broyles Award, which is given annually to the top assistant coach in the country, and he was a quarter-finalist for the award last year. Reeves's candidate portfolio noted that he "became a graduate assistant at 35 for Alabama with a young family," and "worked his way up the ladder."
Working at Alabama – first as a defensive grad assistant and then as a cornerbacks coach in the 2005 and 2006 seasons – was his first experience at the college level.
The portfolio also compared Reeves's team's performance in 2019 to other defensive assistants who became head coaches in the last coaching cycle: Jimmy Lake (Washington), Brady Hoke (San Diego State) and Danny Gonzalez (New Mexico).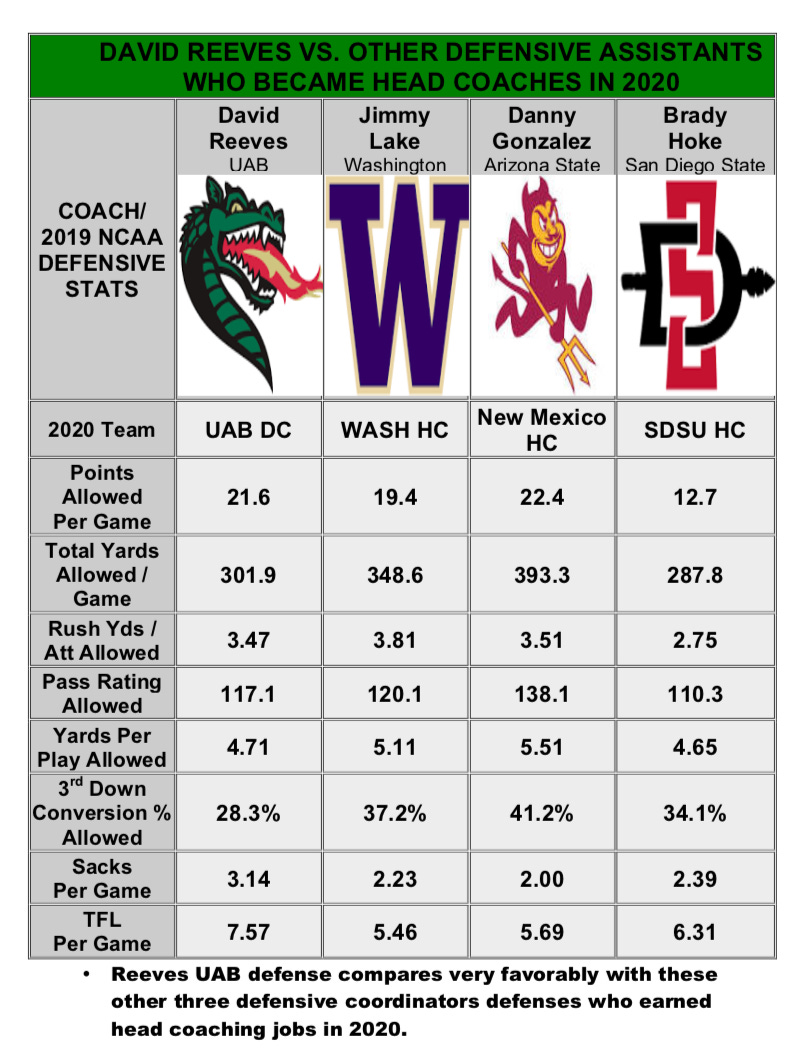 The most high-profile emailer in Jeremy McClain's inbox was another former Alabama assistant: current Maryland head coach Mike Locksley.
However, Locksley reached out to McClain as the President of the National Coalition of Minority Football Coaches (NCMFC), not as an interested candidate.
"In short, I wanted to touch base and offer my assistance as the President and founder of the National Coalition of Minority Football Coaches as you navigate finding strong candidates for your football program," Locksley wrote in an email. "Feel free to contact me via email or phone and I would be happy to discuss how my team and I may be able to assist you."
Locksley founded the NCMFC in June as a "nonprofit dedicated to preparing, promoting, and producing minority coaches at all levels of football," according to the note written on official letterhead that he sent to McClain.
Locksley said that "minorities are disproportionately excluded from or limited in coaching opportunities."
The NCMFC is "actively vetting highly qualified minority coaches," Locksley wrote:
Football is more than a game; it is a microcosm of life. Unfortunately, many of the disparities we see in society are reflected in several aspects of football. Despite the vast numbers of minority football players in college football, minorities are disproportionately excluded from or limited in coaching opportunities. The reasons for this exclusion are inextricably interwoven into the societal roadblocks that underrepresented individuals frequently face. This is why I recently formed the NCMFC, which is committed to removing the barriers to coaching opportunities for minorities through innovative programming, networking and first of its kind promotion strategies.

As an FBS school with a strong football history, I know you are dedicated to finding a coach who will advance your program – so is the NCMFC. We welcome the opportunity to work with you to find the strongest candidates for your program. The NCMFC is actively vetting highly qualified minority coaches and I am confident we can add value to this important decision ahead. As an FBS head coach myself, I have a unique perspective on the process and am confident the NCMFC can be a valuable resource as you embark on this process. I look forward to the chance to talk to you about worthy candidates to consider during your selection process.
As noted by one emailer, a Southern Miss fan named Tim Smith from Hattiesburg, interim head coach Scotty Walden has already started his interview process, too.
"You have your 1st candidate for the new head football coaching hire now in place for an 11 week interview," Smith wrote to Southern Miss AD McClain.
In Walden's first game as interim head coach, the Golden Eagles lost to Louisiana Tech 31-30 on a 4th-and-Goal touchdown pass with 14 seconds left in the game.
Ultimately, whoever holds the title of Southern Miss head football coach next fall might depend on how deep the university's pockets are, and how much deeper they can get, amid a time in college athletics that has been characterized by layoffs, furloughs and pay cuts within athletic departments.
How much money can Southern Miss raise and how much will it spend?
As the emailer Trey Bobinger – the one who said Hugh Freeze told him that he was originally headed to Southern Miss after the 2011 season – noted to Southern Miss AD McClain, "As always, I understand money is an obvious issue."
He wasn't the only one to tell Southern Miss's athletic department about Southern Miss's own financial situation.
"I think none of us are under the delusion that we can reach the level we want to at the current salary level," wrote Brett Rushing, a 2013 Southern Miss grad, to McClain and Senior Associate AD Brad Smith.
"I intend to get behind you in this small way for the purpose of making our football coaching salaries competitive," wrote Southern Miss fan Tim Smith, who declared his intention to "jump on board with this thing" through a donation.
Out of the 122 FBS schools for which 2019 head coaching salary data is listed in USA Today's database, former Southern Miss coach Jay Hopson's $500,000 salary ranked tied for 114th. Excluding Rice, which is a private university, Southern Miss's coaching salary ranked last among Conference USA schools.
"It's going to have to be raised, in my opinion over $1 million," wrote Rushing, the 2013 Southern Miss grad, "but that presents some obvious problems for a school with Southern Miss' financial problems. If all I hear is correct, we don't have the money to pay a coach that, never mind the assistants we'd also have to invest more into to get and retain quality ones.
"We're probably over $2 million a year total staff salary investments when it comes down to it."
Rushing noted that ever since he started following Southern Miss athletics in the mid-2000s, the university's fundraising strategy was to push its Eagle Club and rely upon big-time donors.
"What if, instead of relying on the few, we call upon the fan base at large to fill the financial gap we need," he wrote. "I know this has been done passively (Invest in Eagle Club!), but I'm speaking more in line with a targeted, financial campaign."
Rushing's vision is to make Southern Miss the best Group of Five program in the country, starting with a four-year contact for its new head coach.
"It also creates financial investment from an apathetic-at-best fan base," he wrote.
He suggested the transparency of Southern Miss's athletic department telling, if not negotiating with, the fan base: "This is what we're willing to offer, this is what we're going to need."
The idea appeared to land favorably with Southern Miss' athletic department, or at least reinforced a campaign the athletic department was already planning internally.
Senior Associate AD Brad Smith forwarded the email to McClain, adding, "See below and been meaning to chat with you about using 'Rise and Soar' as a launching point to capture some of the momentum our fans seem to have. It could be developed in a way to secure donations to help the football program."
Southern Miss's ability to capture the momentum of its fans through donations amid a pandemic could determine the level of coaching candidate the school can hire. Even if Hopson's 2019 salary was doubled, it only would've ranked fifth among public schools in Conference USA. That salary would have to increase by more than three times to reach even a mid-level American Athletic Conference head coaching salary, which is the neighborhood that at least one Southern Miss fan referenced in an email, when he talked about the Golden Eagles becoming one of the best Group of Five programs.
Hugh Freeze's average annually salary is reportedly four times what Hopson's base salary was last season. If that's too steep of a drop-off for Freeze, whose now-former university president Jerry Falwell Jr. resigned in August, then perhaps Southern Miss looks to a Group of Five coordinator like UAB's David Reeves, a veteran Power Five assistant like Kansas State's Van Malone, or any number of potential candidates that Locksley's National Coalition of Minority Football Coaches could help to identify and vet.
If we've learned anything from the head coaching hires in Mississippi in the last 12 months, from Ole Miss hiring Lane Kiffin, to Mississippi State hiring Mike Leach, to Jackson State hiring Deion Sanders, whatever Southern Miss does next is bound to be interesting.
---
Recap of last week's newsletter
Click the image below to read.

"I'm hoping there is more to this story other than her pads expired in November of 2019 and she's just now doing a check to identify that. If that is the case, there are too many issues with that scenario to list in this email!"
Read the full newsletter here.
---
Connect on social media
---
Thank you for reading this edition of Out of Bounds with Andy Wittry. If you enjoyed it, please consider sharing it on social media or sending it to a friend or colleague. Questions, comments and feedback are welcome at andrew.wittry@gmail.com or on Twitter.