These are the three COVID-19 testing suppliers working with the NCAA
Daily antigen testing for a Big Ten team that makes the College Football Playoff could cost nearly $300,000 from October through the title game
In mid-October, NCAA President Mark Emmert contacted the conference commissioners in all three of the NCAA's divisions to let them know the NCAA had been working with several manufacturers of COVID-19 testing supplies and Emmert provided the commissioners with three suppliers that had committed to providing available tests and equipment on a first-come, first-served basis at a fixed cost.
"As I have spoken with many of you over the past several months on the challenges facing your conferences and members, one topic consistently rises to the top: the lack of available COVID-19 testing," Emmert wrote in a memo to the NCAA's conference commissioners. "To help in your search for accurate and affordable testing, the national office has been working diligently with several manufacturers of COVID-19 testing supplies to offer reliable resources to you and your members."
The three suppliers are Henry Schein, Quest Diagnostics and Quidel Corporation, according to the memo obtained by Out of Bounds.
As reported in yesterday's newsletter about the MAC's return to football, the MAC has a testing program with Quest Diagnostics, and Quidel Corporation has partnerships with the Big Ten and Pac-12 for daily testing.
Among the options presented by Emmert to the conference commissioners, the least expensive option is a $23 antigen test from Quidel Corporation, while Quest's antigen test is $29 per test (26 percent more expensive) and Henry Schein's antigen test costs $35.75 per test (55 percent more expensive).
The complete pricing structure is shown below, which doesn't include staffing or shipping, when necessary.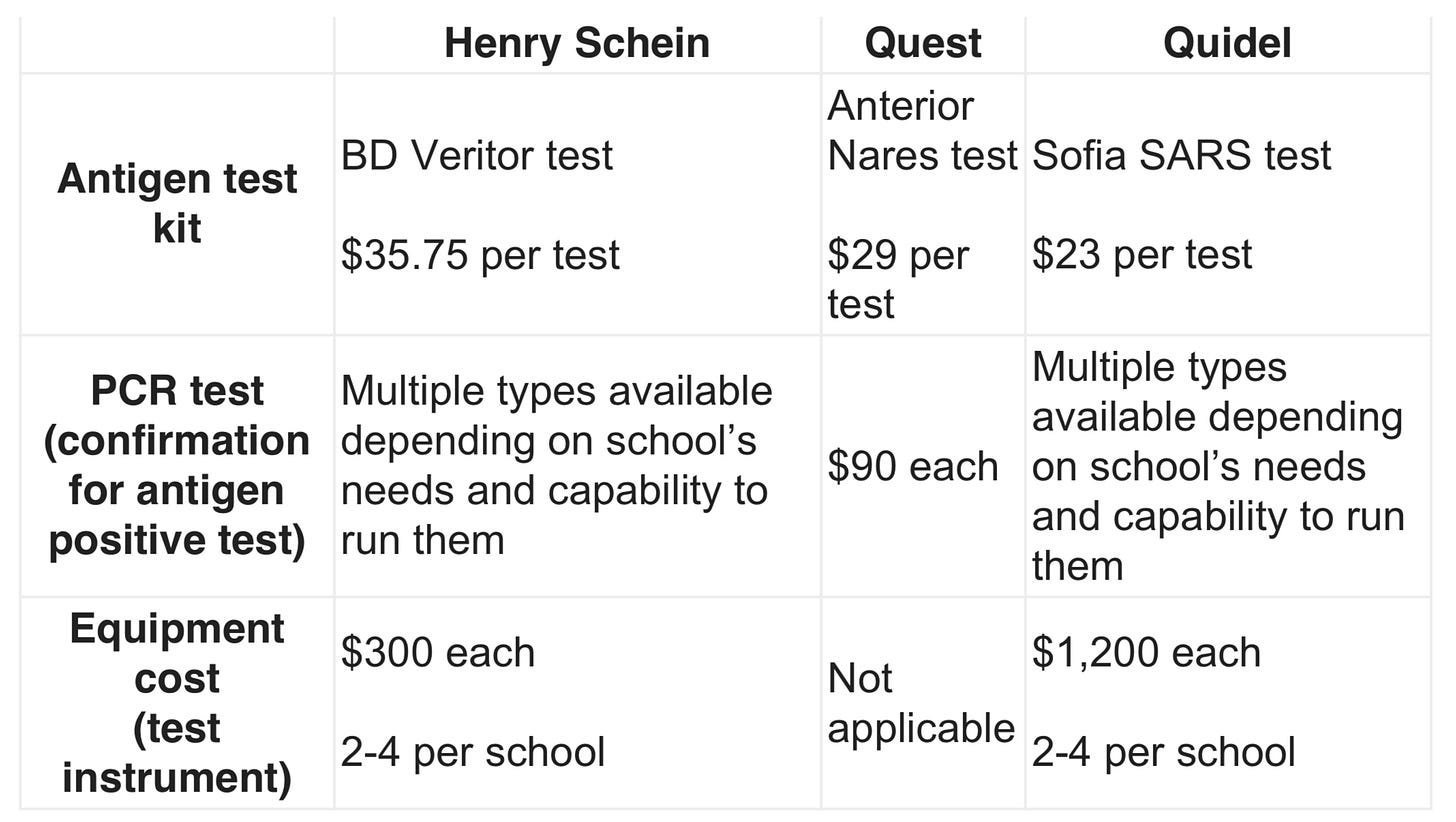 The prices listed above provide a glimpse at the amount of money that Big Ten and Pac-12 schools will pay for their daily testing this football season, assuming they purchased antigen tests from Quidel Corporation for the same, or at least similar, price as was provided through the NCAA.
Ohio State's online football roster lists 119 players and 20 members of the coaching staff, which includes grad assistants and quality control coaches. The cost of conducting antigen testing for 139 people, seven days a week, at a cost of $23 per test is $22,379 per week.
Plus, there's a chance there are other support staffers or strength and conditioning coaches who are part of the Buckeyes's inner circle and who fall under the umbrella of the Big Ten's requirement that "student-athletes, coaches, trainers and other individuals that are on the field for all practices and games to undergo daily antigen testing." Daily antigen testing for 150 people would cost $24,150 per week at $23 per test.
If Ohio State were to play in the College Football Playoff National Championship on Jan. 13, 2021, the Buckeyes's daily antigen testing of its 139 players and coaches, assuming a cost of $23 per test starting Oct. 5 and ending the day of the national championship, would cost $274,942 – not including the potential costs of staffing, shipping and PCR tests if any antigen tests come back positive.
If the MAC's four-times-per-week testing program with Quest Diagnostics allows schools to purchase antigen tests for $29 per test, as the chart above shows, each school participating in the program will pay $116 per person per week. However, one positive antigen test for an individual would nearly double the cost of testing that individual for that week, since a PCR test from Quest Diagnostics costs $90.
Two weeks before the MAC's football season was set to kick off and in light of the testing options presented by the NCAA, the MAC was already planning to have discussions about whether its member schools want to continue the conference's relationship with Quest Diagnostics for basketball season and the rest of the conference's sports, under the terms it received for its football teams.
The prices arranged by the NCAA could be a game-changer for many schools and conferences that didn't previously have a partnership with a private supplier. Out of Bounds previously reported that Northern Illinois University – as an institution, not an athletic department – bought 6,000 tests at $80 per test and one university employee estimated Northern Illinois would need 3,000 more tests to get through the fall semester.
Those numbers didn't include athletics, either.
As another reference point, Out of Bounds learned through a series of public records requests that NC State's athletic department conducted 3,009 tests from the start of May through the end of August that cost a total of $257,445. The tests cost $115 per test through the first week of June, then as the availability and pricing of testing improved, NC State bought tests at $85 per test for the rest of the summer.
But that's still more than triple the cost of the cheapest antigen test presented by the NCAA. That's also NC State we're talking about – a university whose athletic department reported a profit of $2.6 million on $92.7 million in total revenue on its 2019 NCAA Financial Report. If the Wolfpack and its ACC and Power Five peers can potentially benefit from large-scale testing partnerships, then imagine the difference those relationships with manufacturers could make for Division I schools that compete at the Group of Five or FCS level in football, let alone DII or DIII institutions.
"The suppliers included in this message have committed to a price and their ability to fulfill the orders you place with them," Emmert wrote. "However, the information is based on the testing available today."
Henry Schein
Based on an information sheet obtained by Out of Bounds, Henry Schein is offering the antigen test kits that cost $35.75 per test in boxes of 30, so a single box costs $1,072.50.
Analyzers are $300 per unit and an InfoScan, which Henry Schein says helps with record keeping and reporting, cost $425 each. The document says that Henry Shein is working with Quidel Sofia Antigen Testing, which means that Henry Schein is also offering test kits for $23 per test.
(Click the image below to open in a new window)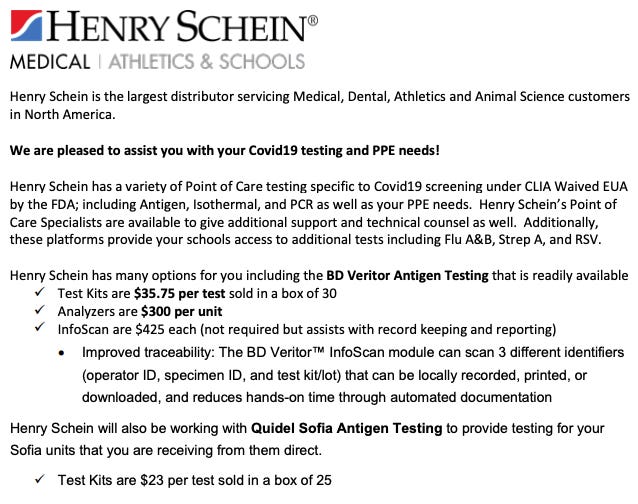 Quest Diagnostics
Quest Diagnostics prepared a seven-page slideshow to present the NCAA with options for rapid antigen testing. The company says that with its tests, schools can perform, read and provide the result of a POC test in 15 minutes, and that on-site equipment isn't required.
(Click the image below to open in a new window)
Quest Diagnostics offers three different types of services: its Quest Managed Turnkey Program, University/Quest Hybrid Managed Program and University Managed. While the cost of a molecular test, which Quest Diagnostics says has a 100-percent specificity and would be used by schools to confirm a positive antigen test, would stay at $90 per test for each of the three programs, the cost per antigen test decreases for the programs in which a university assumes more responsibility in managing the testing process.
When Quest Diagnostics manages the program, each antigen test costs $55, but the cost is just $29 per antigen test with the University Managed option, which was the one listed in Emmert's memo to the conference commissioners.
Below is the pricing and programs requirements slide, which states that pricing is based on a minimum of 75 participants tested per day and that samples must be collected at least three days per week.
(Click the image below to open in a new window)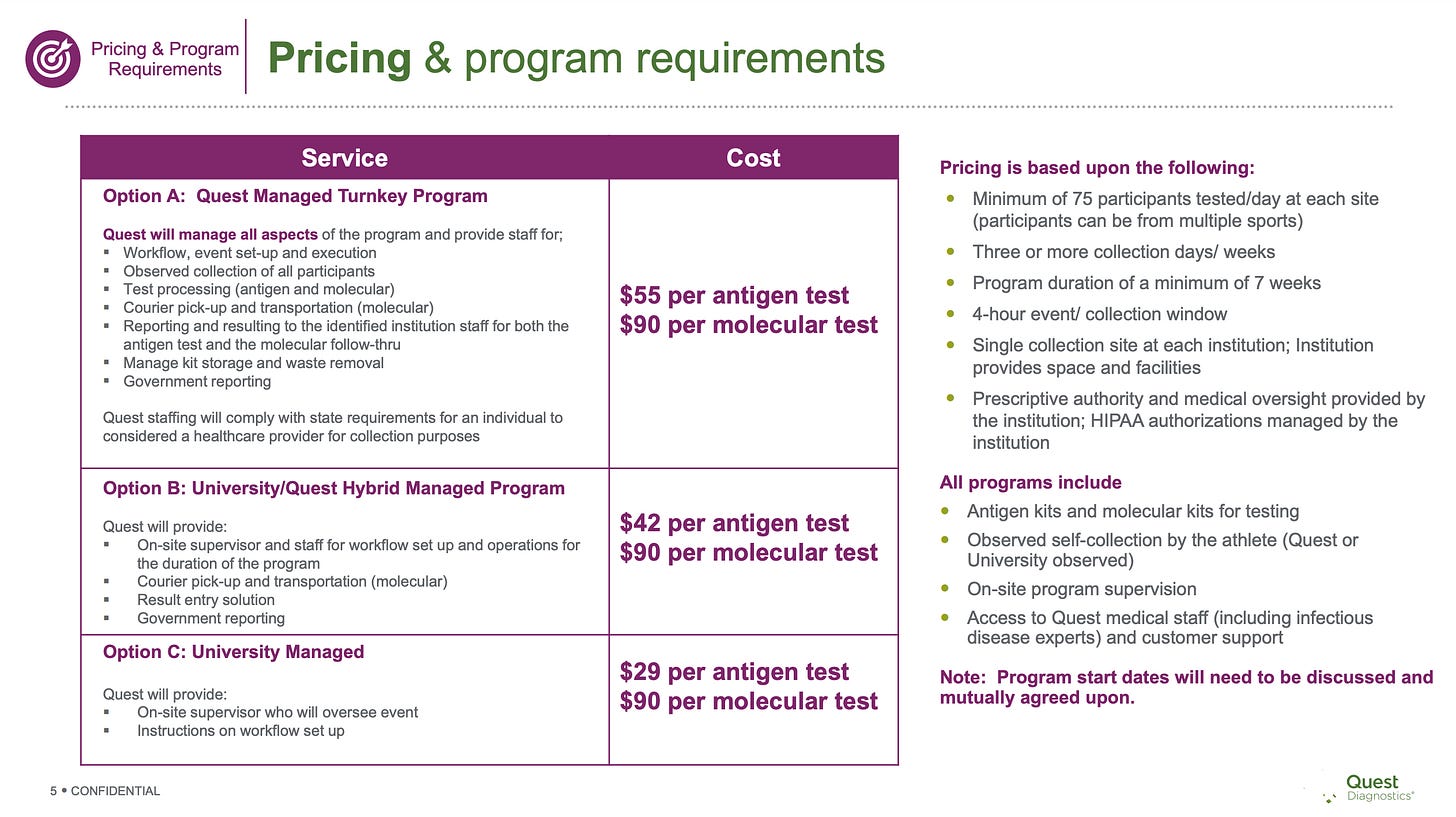 Quidel Corporation
Here's a document containing details about Quidel's $23 antigen test.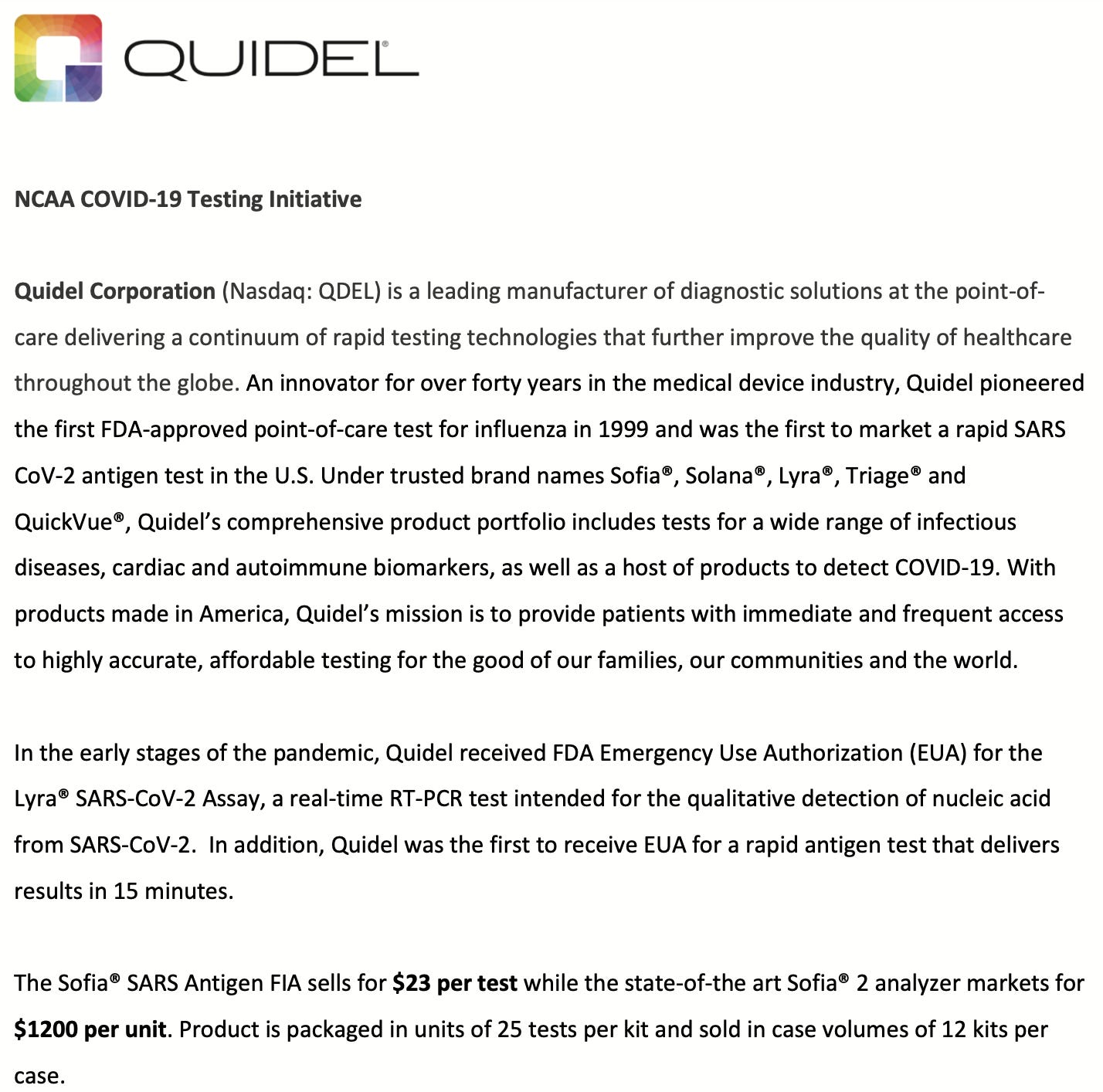 What about that $5 test you've heard about?
The NCAA contacted other suppliers, including Abbott, which is responsible for the $5 test that made headlines in August, but Emmert told the conference commissioners that Abbott's tests are not expected to become publicly available until the supplier fulfills its current contracts, which are backlogged.
Emmert encouraged conference commissioners to determine which of their member schools need help obtaining testing supplies, and if they need test management services, too.
"It is important that conferences initially contact suppliers so the volume of requests from individual schools does not overwhelm the suppliers," Emmert wrote.
According to the memo, one supplier can't provide testing supplies for every sport at every school, but the three suppliers with whom the NCAA arranged fixed pricing for antigen and PCR tests promised that they will fulfill every order that they accept.
"Orders will be accepted on a first-come, first-served basis," Emmert wrote.
The phrase "pay to play" will take on a whole new meaning this school year as the decision to play football comes with a testing cost that's almost guaranteed to be at least six figures, amid a time in which athletic departments aren't seeing the same revenue from tickets, concessions or parking, and maybe not the big one – TV rights.
And that's just football. Stanford, for example, has 35 other athletic programs on its campus, and those athletes and coaches will need to be tested, too.
Three suppliers are committed to making their COVID-19 tests available to the NCAA at established prices. How many schools and conferences will be committed to paying what's required, and for cash-strapped schools, where does the collision occur between testing frequency and testing cost?
If schools – especially those with the smallest budgets – want to maximize the safety of their students while also minimizing their costs, they'll find themselves somewhere in the middle, feeling the push and the pull between doing what's safest and doing what's necessary to survive financially.
---
Recap of the last newsletter
(Click the image below to read the newsletter)

"On Friday, Sept. 25 – the day the MAC announced a unanimous vote to return to play football – all of the MAC athletic directors were contacted by the conference office, asking if they wanted to opt in or opt out of the conference's COVID-19 testing program with Quest Diagnostics."
Read the full newsletter here.
---
Connect on social media
---
Thank you for reading this edition of Out of Bounds with Andy Wittry. If you enjoyed it, please consider sharing it on social media or sending it to a friend or colleague. Questions, comments and feedback are welcome at andrew.wittry@gmail.com or on Twitter.