Examining which states have caused the most postponements this college football season
A Pac-12 president in September: 'What is going on in the South with regard to football is really dangerous'
On Sept. 15, Oregon State President F. King Alexander received an email from Paul Basken, the North America Editor of Times Higher Education. The email included a link to an ESPN story about LSU coach Ed Orgeron announcing that "not all of our players, but most of our players have caught [the coronavirus]."
"Wow," Basken wrote, before sharing the link to the story. "Have to wonder how that's even possible -- unless maybe they all did it on purpose or something…"

"What is going on in the South with regard to football is really dangerous," Alexander replied the next morning.

Basken wrote back, in part:
It's so difficult to watch… Kids aren't going to school when they need to be, people can't get jobs when they need to be, and instead folks are keeping infection rates high by going inside restaurants and bars, playing contact sports, attending political rallies…And now the Big 10 does this today… American exceptionalism!

Hope you're keeping enough distance from the fires…
"This is our very sad reality right now," Alexander wrote in the final email of the exchange.
Eight days later, on Sept. 24, the Pac-12 announced it had reversed course after suspending all sports through the end of the calendar year and that it would indeed play a fall football season, behind the unanimous agreement from the conference's CEOs.
But at least one Pac-12 school was prepared for the conference to potentially make an announcement a week before that – just two days after Alexander expressed concern about the state of football in the South – according to emails obtained by Out of Bounds. The Pac-12 had a Zoom call for the conference's ADs at 8:30 a.m. PT on Friday, Sept. 18, followed by a meeting for its football coaches at 11 a.m. PT, then another meeting for the conference CEOs from 1:30 to 3 p.m. PT.
However, the day before the CEOs meeting, Pac-12 Commissioner Larry Scott wrote to the CEOs, "Please note that I do not expect we will cast any votes related to return to sports on our call tomorrow."
Alexander wasn't the only Pac-12 administrator who privately expressed either that the optics of the state of football in the South were concerning or that the optics of the Pac-12's decision to postpone all sports were positive for the conference.
On Aug. 30, Cal Associate Athletic Director of Communications Herb Benenson sent to Cal AD Jim Knowlton a copy of an editorial from The New York Times Editorial Board that was headlined "College Football is Not Essential."
Part of the editorial read:
The Big Ten and Pac-12 conferences, whose members include powerhouses like the University of Michigan and the University of Southern California, this month decided to suspend their coming football seasons until it is prudent for players to return to a sport that is impossible to play while staying six feet apart.

Until there is such a thing as socially distanced quarterback sack, the other three so-called Power 5 conferences ought to follow suit.
"Sharing the NY Times editorial - looks good from a Pac-12 perspective," Benenson wrote.
"Agree - thank you for sharing," Knowlton responded.
Roughly five weeks ago, NJ.com's Steve Politi published an interview with Rutgers University President Jonathan Holloway, in a rare on-the-record interview with a Big Ten decision-maker after the conference postponed fall sports.
"If I'm wrong because I was erring on the side of safety, I don't have a problem with that," Holloway told NJ.com. "I don't think I'm wrong, though. I just don't think it. And if I had to put money down, we're going to see some radical changes within a month – no later than October. I'm really worried about what we're heading toward, on just college campuses in general, not just sports. It's deeply concerning."
Well, October is here. Are the "radical changes" that Holloway predicted going to be here soon, too?
Two SEC games scheduled for Week 7 – LSU at Florida and Vanderbilt at Missouri – have been postponed, as was Oklahoma State's trip to Baylor and Cincinnati's game at Tulsa. Alabama coach Nick Saban and athletic director Greg Byrne announced Wednesday that they had tested positive for COVID-19, while Ole Miss coach Lane Kiffin said "a number of guys are out" due to positive tests or contact tracing, although he also said Wednesday "if we were to play today, we could play."
The Big Ten is now a week away from kicking off its fall football season, soon to join the AAC, ACC, Big 12, Conference USA, SEC and Sun Belt – all of which have a football presence in the South, the state of which Oregon State's president called "really dangerous" a month ago.
The Pac-12 will join the fray in three weeks.
Out of Bounds analyzed every college football game this fall that has involved an FBS team, including games that have been postponed or canceled due to COVID-19.
While acknowledging that most games this season have involved at least one school from the South given the geographic footprints of the conferences that are currently playing football, as the college football season enters the Saturday slate for Week 7, the programs responsible for 26 of the 31 games that have been postponed or canceled are located south of the line that connects the southern borders of Virginia, Kentucky, Missouri, Kansas, Colorado and Utah.
Schools in Texas have been responsible for a national-high six postponements or cancelations, while Florida and North Carolina have both led to five games affected by COVID-19. On a percentage basis, schools in Florida have been healthy enough to compete in just 81.5 percent of their games, just behind Tennessee (83.3 percent), Arkansas (84.6 percent), and North Carolina (86.5 percent), while the schools in 11 states have been healthy enough that they could've played in 100 percent of their scheduled games through Oct. 15 (including games that were postponed by their opponents).
Below is a map that shows the location of every program responsible for the postponement or cancellation of an FBS game this season, as identified by a red dot on each school's campus – the size of which corresponds to the number of games affected. The shading of each state indicates the percent of teams in the state – as examined on a game-by-game basis – that have been healthy enough to play their games as scheduled, such that a school isn't penalized for a postponement or cancelation if its opponent was the one that experienced positive cases of COVID-19. Week 7 games that have been postponed are included in this data.
The darkest shade of blue represents 100-percent game availability and a hypothetical state that's white would represent one whose schools have been unable to play in any games due to COVID-19 outbreaks within their programs.
FCS programs that had games scheduled against FBS opponents were included in the data. The data also assumes that in the case of a game that was postponed or canceled, the school that wasn't responsible for the postponement/cancelation would've been healthy enough to play. States that are shaded grey have not had an FBS team compete in a game this fall, through Thursday, Oct. 15.
(Click the image below to open an interactive version of the map in a new window)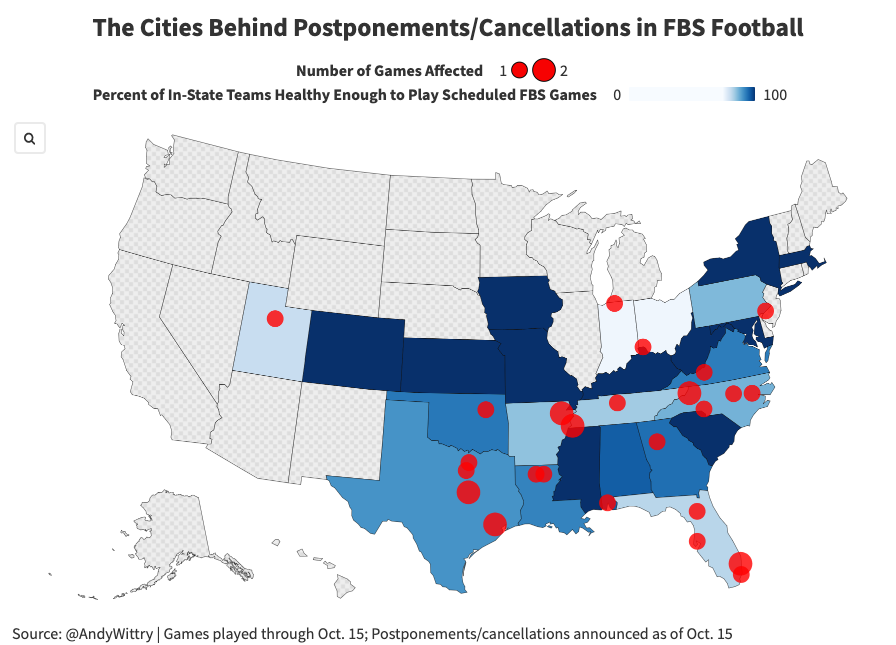 The map above is not to suggest that every state north of this Utah-to-Virginia line has a perfect track record of insulating its college football programs from COVID-19 or that every state south of that line has been affected by the virus. Mississippi and South Carolina, for example, have been perfect so far. The 14 times that a school from South Carolina has had an FBS game scheduled, their football teams have been healthy enough to play.
Mississippi-based programs are 11-for-11 in regards to their health through Oct. 15, with FAU being the program responsible for postponing its Week 6 game against Southern Miss.
Meanwhile, Indiana and Ohio have each experienced one postponement as of Thursday, Oct. 15, while the active FBS schools in those two states – Notre Dame and Cincinnati, respectively – have played just three FBS games apiece.
If you divide the U.S. along the imaginary line that splits Colorado, Kansas, Missouri, Kentucky and Virginia from Oklahoma, Arkansas, Tennessee and North Carolina, you get the following groups of states that have had schools compete in FBS games this season, through Thursday:
North of the line: Utah, Colorado, Kansas, Missouri, Iowa, Kentucky, Indiana, Ohio, West Virginia, Virginia, Maryland, Pennsylvania, New York and Massachusetts.

South of the line: Texas, Oklahoma, Arkansas, Louisiana, Mississippi, Tennessee, Alabama, Georgia, Florida, South Carolina and North Carolina.
The data from the first six-plus weeks of the college football season tells us that teams south of the line are roughly 82 percent more likely to not be healthy enough to play, compared to the teams north of the line.
North of line: Five times a team was not healthy enough to play, 90 total chances to play: 5.6 percent of teams not healthy enough to play
South of line: Twenty-six times a team was not healthy enough to play, 256 total chances to play: 10.2 percent of teams not healthy enough to play
Entering Saturday of Week 7, there have been 173 scheduled games involving FBS teams that have been played, postponed or canceled this season and 31 of those games were postponed or canceled, which is 17.9 percent.
Just 12 teams out of the 62 teams affected by the 31 postponements or cancelations have been north of the line, and only five of those 12 schools were the team in their scheduled matchup that was affected by COVID-19.
Once again, it's not surprising that there have been more games postponed or canceled in parts the South or Southwest, given the schools that are currently playing football, but the rectangular region of the country with the four corners of North Carolina, Florida, Texas and Oklahoma has also had a higher percentage of postponements and cancelations, not just higher raw numbers.
As part of their return to play plans, the Big Ten and Pac-12 have announced rapid, daily testing thanks to deals with Quidel Corporation. Big Ten programs started testing daily by Sept. 30, so while testing doesn't inherently prevent someone from catching COVID-19, testing daily can help programs identify positive cases sooner and allow them to isolate the affected individuals, which could in turn limit the number of players who are held out of practices and games due to contact tracing.
Alabama's football program tests its players and coaches daily, but the protocols in the SEC, just like the ACC and Big 12, only require programs to test three times per week.
Like the medical community's understanding of the potential long-term consequences of COVID-19, the literal and figurative map to a successful, completed college football season is still incomplete. And soon, four more conferences will resume playing a sport that's averaging more than four postponed or canceled games per week, and which has had COVID-19 affect some of its biggest programs and coaches.
A Big Ten university president predicted radical changes would occur no later than October, and in September, a Pac-12 university president called the state of football in the South "really dangerous," yet both conferences will soon join their Southern football-playing peers, about whom those university presidents had been skeptical. The Big Ten and Pac-12 will have more frequent testing but almost no margin for error when it comes to their conference schedules, which means they'll be more likely to catch and isolate positive cases sooner, but that each potential postponement will have a greater impact on the conference, respectively.
Only time will tell whether other decision-makers deem that the state of football in the South is really dangerous, or if it's just as dangerous there as it is everywhere else.
---
Recap of last week's newsletter
(Click the image below to read the newsletter)

"The state of Covid-19 in Arizona and the Nation as a whole is not near what medical professionals would deem as under control," Bowman wrote on July 25. "The short term prognosis is not a positive one. The risks of infection in the larger university setting and during travel are real. The uncertain status of all competition is of concern."
Read the full newsletter here.
---
Connect on social media
---
Thank you for reading this edition of Out of Bounds with Andy Wittry. If you enjoyed it, please consider sharing it on social media or sending it to a friend or colleague. Questions, comments and feedback are welcome at andrew.wittry@gmail.com or on Twitter.